Breast Reconstruction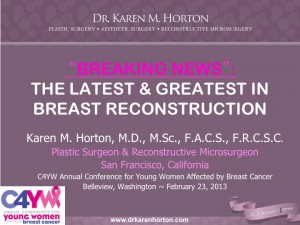 Click to view Dr. Horton's presentation on
"The Latest & Greatest in Breast Reconstruction Techniques" from the C4YW 2013 Annual Conference for Young Women Affected by Breast Cancer in Belleview, WA
As a breast cancer survivor, Dr. Horton helped ease my transition to the "new normal" with a beautiful new breast. She is a caring woman and skilled artist. I am whole again.


What is Breast Reconstruction?
Reconstruction of the breast involves recreating the breast form following its removal for cancer. Although the reconstruction will not function just like a normal breast, restoration of the breast form and recreation of symmetry has many immeasurable psychological and quality-of-life benefits.
Breast reconstruction helps to restore a woman's sense of body image after facing breast cancer treatment, and can also enhance self-esteem and self-confidence, a sense of femininity and being complete as a woman. For delayed reconstructions, another unique advantage is that breast reconstruction enables a woman to permanently discard her external prosthesis!
While facing breast cancer and all the potential treatment that accompanies it can be overwhelming, we aim to help make the breast reconstruction journey as Positive as possible for our patients! Reconstruction of the breast can be empowering, and even fun! Recent advances in surgery that preserve the nipple, use Microsurgery, and specialized single-stage implant techniques allow for exciting, state-of-the-art options that were not available even a few years ago.
Thank you so much for the support and care you have provided me. All of you are wonderful angels in the darkness that is BRCA/breast cancer.
The goal of breast reconstruction is to recreate the breast form following removal, considering Aesthetics (beauty), Symmetry (matching the breasts to one another), Longevity (creating a long-lasting result), with Minimal "Morbidity" (without giving up function, which means without sacrificing major muscles of the body).
In our practice, we offer all types of breast reconstruction, including implant-based reconstruction in a single stage, Microsurgical free flap reconstructions and local tissue rearrangements after lumpectomy (breast reconstruction via reduction or lift). Our goal is to create a beautiful and well-proportioned breast reconstruction for each woman undergoing cancer treatment, both while in clothing and when nude.
Many of the procedures we offer reconstruct the breast in a single operation, including the nipple and areola, or in the fewest surgical stages possible. We aim to avoid additional surgeries, enabling breast cancer survivors to move forward, feel whole again, live life to the fullest and be proud of their reconstruction!
Options for Breast Reconstruction
Breast reconstruction techniques are as widely varied as women are. Some procedures make use of prosthetic materials (breast implants), other procedures make use of the body's own tissue, and some procedures use a combination of both.
Breast reconstruction can be classified into two major categories based on the Timing of surgery (immediate or delayed) and on the Material used to reconstruct the breast (an implant or the body's own tissue).
What is Immediate Breast Reconstruction?
Immediate breast reconstruction refers to a single surgery in which both the mastectomy and the reconstruction are performed at the same time. Immediate reconstruction preserves all of the breast skin in addition to the nipple and areola in many cases ("nipple-sparing mastectomy"), maintaining the natural shape and contour of the breast.
Advantages of immediate reconstruction include having just one major surgery with one general anesthetic, a single recovery period and avoiding the "loss" experienced by women who do not have immediate reconstruction. Immediate breast reconstruction creates the most natural cosmetic results possible in breast reconstruction. Many women's breasts look just the way they did prior to surgery, and others look even better after reconstruction than before!
Who is a Candidate for Immediate Breast Reconstruction?
Most women with breast cancer are candidates for immediate breast reconstruction. Women considering "prophylactic" (preventative) mastectomy to decrease their cancer risk (strong family history or BRCA gene positive) are also excellent candidates for mastectomy and reconstruction at the same time.
Immediate breast reconstruction may not be appropriate for women with very advanced or rapidly growing tumors where surgical margins may be involved, those with multiple or serious medical problems, and those who are psychologically unprepared for reconstruction. Smokers are at increased risk of complications and should quit smoking as far in advance of surgery (6 weeks) if possible.
What is Delayed Breast Reconstruction?
Delayed breast reconstruction indicates a period of time has occurred between the mastectomy and reconstruction. Delayed reconstruction is possible any time after cancer treatment is complete. There are neither age limits nor a finite length of time after mastectomy (or lumpectomy) when reconstruction would not be considered.
In delayed reconstructions, as opposed to immediate surgery, missing breast skin usually must be expanded by an implant or replaced using a flap. Additional scars may be visible when compared to immediate reconstruction (where the breast skin and often the nipple is preserved), and a secondary procedure will be required to reconstruct a nipple and areola (as opposed to nipple-sparing procedures).
Is Reconstruction Still Possible If I Have Chemotherapy or Radiation?
Chemotherapy before Breast Reconstruction
If "neoadjuvant" chemotherapy (given before the mastectomy to help shrink the tumor) is needed, mastectomy or lumpectomy is usually scheduled 6 weeks after "chemo" is over to allow the body and the immune system to recover as much as possible before surgery. However, a breast reconstruction consultation can occur at any time during a woman's cancer journey so that she may become fully educated about her options for breast reconstruction and to plan for the future.
Chemotherapy before reconstruction slightly increases the risk of wound healing difficulties, overall fatigue after surgery and increases the risk of infection. It is important that you maintain the best possible nutrition and take care of your body during this time! Please see our Preparing for Surgery section to learn more about preparing for your reconstructive journey.
Chemotherapy after Breast Reconstruction
Postoperative chemotherapy (after mastectomy or lumpectomy and reconstruction) usually does not start for at least six weeks after surgery, or when your healing is complete and your incisions are maturing. Implant inflation will be complete by this time, and you will be well on the way to healing after an implant reconstruction or a flap. The implant port is often kept in place during postoperative chemotherapy to enable additional changes in implant volume if desired. Learn more about Implant Reconstruction, Flap Reconstruction and Reconstruction using Breast Reduction or Lift options.
Radiation Before Breast Reconstruction
If you have had radiation prior to breast reconstruction or if you are currently undergoing radiation therapy, At Least Six Months must pass after the completion of your radiation before reconstruction can occur. It takes at least 6 months, occasionally up to a year for the initial swelling ("edema") of radiation to settle. After the initial phase of radiation fades (redness, swelling, warmth, tingling and occasionally blisters), you may develop chronic, permanent changes to your skin (slightly darkened skin color, firmer texture to the skin). Radiation effects are permanent and considerably influence your reconstructive options.
If you are planning your cancer treatment and have a high chance of needing radiation therapy, we usually request that implant reconstructions be done before radiation is given. This will enable full inflation of the implant, creation of a natural breast shape and often implant exchange and/or nipple-areolar reconstruction before radiation. Wound healing will occur under the best possible circumstances if radiation can be delayed until after reconstruction is complete.
If you have already had a mastectomy and radiation therapy with a flat contour to your chest (no skin excess), then a Flap is usually recommended. Placing an implant beneath stiff and contracted radiated chest skin has an increased risk of complications such as infection, thinning of the skin, implant exposure, "extrusion" (coming through the skin), and the consequent need for implant removal. A flap helps to counteract radiation-related damage by bringing new, healthy, living tissue with a robust blood supply to the area of radiation. Please see our section on Flap Reconstruction for more information about this option.
Radiation after Breast Reconstruction
If postoperative radiation will be required, planning for the future is important. An immediate reconstruction can still be done even if radiation is planned after mastectomy. Often, any final stages of reconstruction (such as implant port removal and nipple and areola reconstruction) will be done prior to radiation to ensure the best possible aesthetic outcome and to decrease complications.
Radiation will not harm a breast implant, nor will it ruin a flap or tissue rearrangement reconstruction. As long as the implant is fully inflated prior to radiation therapy, immediate implant breast reconstructions should maintain their natural and beautiful shape in the long term. Implants are usually fully inflated by 2 weeks after a single-stage reconstruction, even for very large breasts. Radiation therapy does not usually start until 6 weeks after surgery or even later, after completion of chemotherapy, which can be many months later.
Radiation of an implant reconstruction slightly increases the risk of infection or capsular contracture in the long term. Please see our Special Considerations for Breast Surgery and Postoperative Instructions for Breast Surgery for additional information about maintaining your best implant reconstruction results in all circumstances.
Radiation of a flap or a Reconstruction via "Local Tissue Rearrangement" (breast lift or reduction after lumpectomy) usually causes some shrinkage of the tissue (up to 20%, but often less depending on the radiation dosage). If it is known that radiation therapy is planned after reconstruction, to plan for radiation-related changes, the tissue reconstruction will then be made approximately 20% larger than the opposite breast.
It takes at least six months up to a year or more for the full effects of radiation changes to be evident. Should the reconstruction change significantly, any residual asymmetry can be corrected by a minor outpatient procedure if needed for balancing once radiation-related changes are final.
When Will I Have Nipple and Areola Reconstruction?
For women who do not have nipple-sparing mastectomy, a nipple prominence and an areolar circle are reconstructed during a second procedure as the final step in surgical restoration of the breast. Nipple reconstruction is usually done 3-6 months after the reconstruction to allow healing to occur and for the breast to assume its most natural form. Please see our section on Nipple Surgery for additional details about nipple-areolar reconstruction.
Will My Other Breast Be Balanced to Match the Reconstruction?
A balancing procedure is usually recommended for your opposite breast to match the reconstructed breast. Balancing procedures may include a breast reduction, breast lift, or breast augmentation based on the details of your reconstruction. Surgery on the non-cancer breast is also covered by insurance and can be done at the time of initial reconstruction or later (with nipple reconstruction or port removal).
Will My Breast Reconstruction Be Covered by Insurance?
By law, a woman has the right to a mastectomy or a lumpectomy if she chooses and to have the breast reconstruction option of her choice. Likewise, if a "balancing procedure" to the other breast is recommended by your surgeon (such as a lift, reduction or a breast augmentation) in order to best match the reconstructed breast, this is also covered by insurance.
Occasionally, women wish to have a prophylactic mastectomy on the non-cancer side and have both of their breasts reconstructed at the same time. We encourage our patients to speak to their Oncology team about their individual risk and to receive additional guidance about having a second mastectomy with reconstruction.
If you have previously had reconstruction but wish to have an improvement of your results, you are still a candidate for Revision Breast Surgery in order to make your reconstruction more symmetric, balanced, or beautiful. Please see this section of our website for more information.
Your personal financial responsibility for surgery depends on the specifics of your insurance plan and whether your surgeon is a participating provider for your particular plan. Our Patient Coordinator Mary will go over this with you in detail as we plan your surgery and will assist you in using your insurance to your greatest advantage.
How Do I Know Which Breast Reconstruction Method is Right For Me?
When first meeting a woman in consultation for breast reconstruction, we ask her: "If we could just wave a magic wand (how nice would that be!), how would you WISH your breasts to be? Larger, smaller, fuller, perkier, or just the same as you are now?" Breast reconstruction should be viewed as an opportunity, and we aim to make the reconstructive process a rewarding and positive experience for each of our patients facing breast cancer. As one patient put it, "Let's make lemonade out of lemons!"
We encourage you to do some "soul searching", and consider yourself a strong, empowered breast cancer survivor who deserves to look and feel beautiful, healthy and proud of her breasts! Evaluate what your personal goals are for breast reconstruction. Make a wish list and jot down questions to bring with you to your consultation and preoperative visit so that we can best answer your questions, address your concerns and together determine which procedure(s) will best achieve your goals.
Artistry in Breast Reconstruction
Breast reconstruction is a very personal procedure, and is individualized to each patient on a case-by-case basis. No single procedure is right for everyone; each woman's lifestyle and body type differs.
The most appropriate reconstructive option considers a woman's unique desires, her anatomy and the way she uses her body, her personal circumstances and her specific medical situation. The best fit of reconstruction for a woman therefore takes into account her body shape, lifestyle, the details of her cancer and its treatments. From Flap methods to reduction techniques, our goal is always to create a beautiful, natural, long-lasting breast reconstruction.
How Can I Best Prepare for Breast Reconstruction Surgery?


In addition to our website and additional educational materials given to you at your preoperative office visit, please print out and read the comprehensive Preparing for Breast Reconstruction Surgery handout. This pamphlet, written by Nurses and Doctors at the hospital where your surgery will take place, describes in detail your hospital experience and helps to educate you what to expect in the hospital and during your recovery.
We also recommend speaking with other patients who have had the procedure you are seeking. You will be offered Patient References at your consultation: women you are closely matched with (cancer situation, reconstructive procedure, age, personality, body type). Our patient references are volunteers who have offered to speak to other patients, who want to "pay it forward" and help other breast cancer survivors! They are a few steps ahead of you in their reconstructive journey, and they will be able to educate you in ways that only someone who has "been there" can in a caring, detailed and intimate way.
Please also visit our Before and After Photo Gallery to see images of breast reconstruction methods and our Testimonials section to hear our patients' experiences in their own words.
Breast Reconstruction Patient Experience
Click on this video to see a breast reconstruction patient's experience over a full year of treatment. She underwent bilateral nipple-sparing mastectomies, immediate single-stage implant reconstructions, followed by chemotherapy and radiation therapy. This strong, brave woman and her supportive husband created this video on their own to share with others, and to demonstrate how she remains an empowered, bold, beautiful breast cancer survivor! Click on the box on the lower right of the video to make the slideshow larger to and to be able to read the text that accompanies her slides.
Tools for Breast Reconstruction Recovery
Dr. Horton encourages patients planning their breast reconstruction to read this guide, created by the American Society of Plastic Surgeons and BRA Day USA. The Breast Reconstruction Recovery Planner is a fantastic guide for patients planning to have reconstruction. It includes tips from patients and ASPS Member Surgeons for managing a successful recovery.
*Individual Results May Vary