Procedures for Men
Men take pride in their appearance. Men want to look as good as possible and maintain a youthful and healthy physique as they age, just as much as women do. Dr. Karen Horton and our team offer procedures and products specifically tailored to men, recognizing that men have a different facial aesthetic and body habits than women. We tailor cosmetic treatments for men specifically to the male aesthetic, considering men's anatomy and their goals for treatment, all the while maintaining a masculine appearance.
CoolSculpting® Non-Surgical Fat Reduction
Men are ideal candidates for CoolSculpting® non-surgical, permanent fat reduction. As men age, fat accumulates around their abdomen and creates 'love handles' (also known as the flanks or 'spare tire'). These fatty areas can be difficult or impossible to eliminate with regular exercise and a healthy diet, even for the most physically active men. CoolSculpting® is a non-invasive office procedure that can permanently reduce fat from stubborn and unsightly bulges without surgery, incisions or any downtime. Just one 60-minute "fat freezing" treatment per area can provide a smoother, more contoured physique for men.
Learn more about CoolSculpting®.
Liposuction
Liposuction is a surgical outpatient procedure that involves general anesthesia and takes 1-2 hours. Liposuction produces more dramatic results than non-surgical options for fat reduction but involves approximately 1-2 weeks of surgical recovery (no exercise). However, work can be resumed in a few days. Through tiny incisions hidden in natural creases, a small cannula is inserted into localized fat deposits in the abdomen, flanks, back, neck or other areas, permanently removing fat and contouring the body for a more chiseled physique and a fitter, more slender appearance. Though liposuction permanently removes fat, an ongoing healthy diet and regular exercise are recommended to maintain the improved body contour.
Learn more about Liposuction.
Dear Dr. Horton and Team,

Thank you all for making me look and feel so amazing! Though I'm still recovering I don't doubt that the work that you and the surgical team have done is absolutely fantastic.

I've never felt this good about the shape of my body, how I perceive my body to look and how I fit into my clothes now!!

I really needed this step to maintain a healthier lifestyle and will always be grateful for what you've done. Thank you so much and keep up the great work!
A gentleman patient
Post-Weight Loss Body Contouring
Following significant weight loss 'naturally' (through hard work, a healthy diet and exercise) or after bariatric surgery, men can have excess, hanging skin or residual fatty deposits that remain. Post-weight loss body contouring can address the chest (male breast reduction or gynecomastia correction), the abdomen (liposuction, CoolSculpting® or abdominoplasty), the flanks, back, thighs or other areas. Following major weight loss, the face also undergoes transformation, with a more aged appearance in many cases. A facelift, neck lift or non-surgical procedures at Horton SPA can help rejuvenate the face, neck, jowls and skin of men following major weight loss.
Learn more about post-weight loss body contouring surgery.
Gynecomastia Correction (Male Breast Reduction)
Men want to have a masculine chest and to feel comfortable with their shirt off at the beach, when swimming or playing sports. Weight gain, aging, genetics and some medications can create 'gynecomastia' (male breast development), which can create self-consciousness for men. Male breast reduction is performed as a short, safe outpatient procedure where ultrasonic-assisted liposuction removes excess male breast tissue and fat from the male breast area, creating a smoother and more masculine chest contour. Depending on the severity of gynecomastia, additional incisions may be used to lift the nipples and remove excess skin, maintaining a masculine chest contour.
Learn more about gynecomastia correction (male breast reduction).
Poland's Syndrome Correction in Men
Poland's syndrome is a developmental anomaly that is not inherited, but is in fact an error of development of the chest wall during growth in utero. The chest is underdeveloped on one side, with absence of the pectoralis major muscle and often differences in the nipple and areola and/or other chest muscles and upper extremity. Chest wall deformities from Poland's syndrome in men can be corrected by placement of a specially-designed implant, by free fat grafting or Microsurgical transplantation of fat from the lower abdomen (known as the DIEP flap) to create symmetry of the chest wall.
Learn more about Poland's Syndrome correction.
Male Facelift, Eyelid Surgery and Neck Lift
Facial cosmetic surgery in men has a different approach than in women because of the unique anatomy of men and the goal of maintaining a masculine, rugged appearance. Facelift, eyelid surgery, neck lift and neck liposuction are popular procedures in men that will rejuvenate a man's face and neck but will avoid a feminized look or obvious results. Results of facial Plastic Surgery in men should be "subtle, but significant", maintaining a masculine appearance but creating a refreshed and more youthful result. Performed under general anesthesia in the operating room for absolute control and safety, recovery is often about 2-4 weeks, and results are permanent.
Learn more about facial cosmetic surgery.
BOTOX® Cosmetic and Dysport®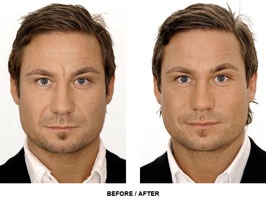 BOTOX® Cosmetic is an excellent method for men to rejuvenate their looks and achieve a refreshed, natural-looking appearance without surgery or downtime. Men have thicker skin and stronger facial muscles than women, forming deep brow creases that can become permanent with time. Horton SPA specializes in natural-looking results without a telltale 'frozen' expression. We have extensive experience in treating men and recognize that BOTOX® Cosmetic and Dysport® injection sites in men are different than in women to preserve a masculine appearance. Results are natural and typically last for 3-4 months.
Learn more about BOTOX® Cosmetic.
Dermal Fillers
Loss of facial volume and deep creases in specific areas of men's faces and skin can often be corrected by injection of semi-permanent dermal fillers, natural gel-like substances that instantly create a refreshed and rejuvenated appearance. The approach to fillers in men is vastly different from that in women, in order to maintain a masculine facial form. We tailor dermal filler treatment to each man individually, based on their anatomy and the effects of aging. Results are natural-looking and last for about 6 months to 2 years or more.
Learn more about injectable dermal fillers.
Hyperhidrosis Treatment (excessive underarm sweating)
Hyperhidrosis, or excessive sweating, can occur in the hands, feet or underarm areas and can often be embarrassing in social settings. Hyperhidrosis treatment can reduce stress-related perspiration and enable greater comfort shaking hands, wearing shoes and wearing shirts that show underarm sweat. Hyperhidrosis treatment is multi-factorial and can include topical therapies and BOTOX® injections.
Learn more about hyperhidrosis treatment.
Chemical Peels
Men can benefit from in-office chemical peels that exfoliate the skin for a rejuvenated and healthy appearance to their skin. Without downtime or recovery, peels in men can target the face, neck, arms or hands to gently remove the outermost layer of dead skin cells, leaving behind improved skin tone and texture. Gentle chemical peels can help reduce acne and fine lines, minimize pore size, and improve the appearance of hyperpigmentation, acne scars and sun damage. Treatments vary in depth of peel and chemical strength, so the most appropriate peel is determined for each man based on his individual goals.
Learn more about chemical peels.
IPL Treatments
Intense Pulsed Light (IPL) is a non-ablative, non-surgical office 'laser' treatment that uses light energy to photo-rejuvenate men's skin, correct sun damage, treat broken capillaries ('telangiectasias') from sun and wind damage (golfers, runners, windsurfers and sailors), and to treat abnormal pigmentation on the face, neck and hands. The appearance of red or brown scars from surgery or trauma can be optimized even years after surgery with IPL treatments. Downtime is zero and results are evident even after one treatment, though a series of IPL treatments are often recommended for men to achieve optimal results.
Learn more about IPL treatments.
Medical-Grade Skin Care
A skin care regimen does not need to be complicated to be effective, particularly when the regimen is for men!  'Medical grade' skin care products can treat and prevent sun damage as well as signs of aging, and they are clinically studied, based in science, FDA-approved and are generally only available at Physicians' offices. Products contain the highest concentrations of the active ingredients and are not heavily packaged, scented or marketed to the public. At Horton SPA, men work together with our Aesthetic Nurse Practitioner Emily to create a plan that works for them. Our patients are provided with a simple but effective skin care regimen, including all products they need and a written treatment plan that instructs how and when to use the products.
Learn more about medical-grade skin care.
To learn more about cosmetic treatments for men and rejuvenative procedures specifically designed for and tailored to men, read our related blog posts.
Contact Our Office
For more information about male plastic surgery, or to schedule a consultation at our office, please contact us today.
*Individual Results May Vary