How Can I Avoid Bruises from Injectables?
Perhaps one of the most commonly asked questions in my practice!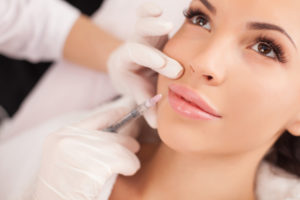 Here are a few tips to take into consideration prior to any cosmetic injectable treatment (Botox/Dysport and dermal fillers):
Avoid taking anything that can thin your blood for 2 weeks before your appointment. There is a LONG list of medications and supplements that fall into this category, but some of the most common ones are: Aspirin, ibuprofen (such as Advil and Motrin), Aleve, vitamin E supplements, fish oil supplements, and alcohol. So lay off the wine the night before your treatment, because you don't want a hangover AND a bruise! (*Tylenol/acetaminophen is not in this category so it is ok to take these if needed for pain in the week leading up to you appointment.)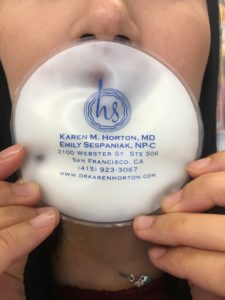 Apply a cold pack to the treatment area before and after your injection. I always provide my patients with a cold pack to use before and after a treatment. I recommend applying that to your face (in the area we are going to treat) for 5 minutes before I treat you. I know it can be uncomfortable to apply something so cold directly to your face, but it's worth it for no bruising! Cold applied to the skin constricts blood vessels. Constricted blood vessels are smaller and less likely to get in the way of the needle. And the cold also desensitizes the area so you will get better pain relief if you pre-chill your face. Win-win!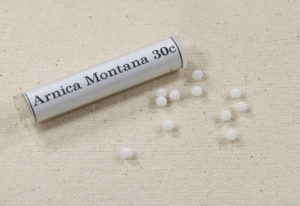 Arnica Montana– This herbal dietary supplement has been used for centuries to reduce bleeding and inflammation. You may find this at vitamin shops and whole/natural food stores, or here in my San Francisco office. If you go to the pharmacy or vitamin shop, ask for the 12x- it's the strongest; just follow the instructions on the bottle. I recommend patients start the pellets 2-3 days prior to their treatment and continue with them until after bruising has resolved. You may also apply an Arnica topical cream or gel to a bruise after it has occurred, but I recommend the pellets for bruising prevention. (*If you have significant medical problems and/or are on multiple medications from your health care provider, please contact your health care provider to ask if there are any reasons why you should not be taking Arnica.) We carry Arnica Montana pellets for sale in the office.  Patients are welcome to come in and pick some up before their treatment with me.
Try not to move during your treatment! I try my best to keep patients very relaxed and as comfortable as possible during their treatment with soft music, squeezable stress balls, and topical anesthetic. I will let you know when a "pinch" is coming but please try your best not to move during an injection. I realize that flinching can be involuntary, but when that happens it can cause the needle to go in the wrong place, or go deeper than I want it to, which can cause bruising.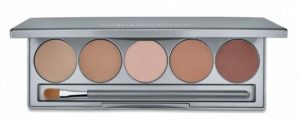 Color-Correcting Concealer Palette- Okay, so this is not actually a way to prevent bruising, but it's great to have if you do get a bruise (or even if you don't have a bruise!). We offer the mineral color correcting palettes from Colorescience, in tones to match all skin types. I was turned on to this by a woman who is quite "in-the-know" about all types of plastic surgery and injectable treatments (in fact, she's made it her business!). This slim, compact 5-color palette even provides tips on the packaging for which color to use for whatever you are trying to conceal. It contains colors that counteract the changing colors you would see as a bruise is progressing- blue, reds, browns and yellow. No need to go out and buy a ton of different concealers if you get a bruise- this nifty little palette has it all, including a mirror and an application brush.
Here's the truth of the matter: Ask any medical professional and they will tell you that any time you stick a needle in someone's skin, you can get a bruise.
Before a treatment, I discuss with patients the potential risks of doing any kind of a treatment. I don't recommend doing any kind of new or injectable procedure at minimum 2 weeks before a big event, ideally 1 month prior. Sometimes people can get unexpected reactions, but for the most part, people look fine after a treatment.
This is certainly not intended to scare anyone away from a procedure that is right for them. As a Nurse Practitioner, patient education is of the utmost importance to me. I would rather my patient take a pragmatic approach to their non-surgical cosmetic treatments: inform yourself, follow pre- and post-treatment instructions, plan for bruising, but hope for none. In the grand scheme of things, remember that a bruise lasts 1-2 weeks, but your cosmetic results will last much longer. I think you'll love your results!
I look forward to treating you!
Emily Sespaniak, NP-C