What Is the Best Anti-Aging Skincare Regimen?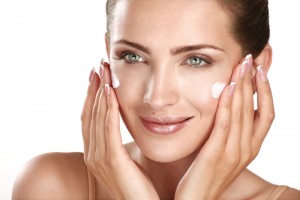 A well-rounded skincare regimen should incorporate, first and foremost, a good broad-spectrum physical sunscreen. A physical sunscreen contains zinc oxide and/or titanium dioxide as its main active ingredient(s) and has been shown in numerous clinical studies to perform better than chemical sunscreens (with active ingredients like oxybenzone, for example). I like SkinCeuticals® Physical Fusion SPF 50, as it is water resistant, good for sensitive skin, and has a universal tint so you don't get that strange white cast in photos!
Next, I always recommend using a daily antioxidant serum such as SkinCeuticals® Phloretin CF. Antioxidants protect the skin from the elements (smoke, smog, and other harmful substances we're exposed to on a daily basis that release free radicals), and they have been shown to lighten sun spots and boost the efficacy of sunscreen. I recommend applying the antioxidant serum on top of clean skin, underneath sunscreen and makeup.
Retinol is a staple in any good anti-aging regimen. Applied nightly as the first thing to layer over clean skin, retinol increases the rate of cell turnover, creating brighter, smoother skin over time. Replenix® makes a complete line of retinol serums that are both effective and great for all skin types (even very sensitive skin!).
Lastly, a good nighttime moisturizer is key to replenishing the moisture we lose from daily cleansing. Moisturizer should be the final step of the nighttime skincare routine, layered over the retinol to lock in moisture. My absolute favorite is NeoCutis® BioCream, as it is rich in texture but not greasy, and it's fragrance-free. It also contains anti-aging ingredients that, together with retinol, work to improve the skin's texture over time (read: great for battling fine lines!).
By strictly adhering to this anti-aging skincare regimen on a daily basis, you can be well on your way to successfully maintaining radiant, youthful-looking skin for many years to come.
Contact Our Practice
To learn more about anti-aging skin care, or if you would like to schedule a consultation, please contact our practice today.