Injectable Dermal Fillers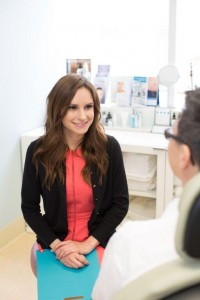 Injectable fillers are a semi-permanent way to provide an immediate non-surgical cosmetic enhancement to the face and body. These products are smooth, gel-like substances that come in a sterile, pre-filled syringe, and are injected under the skin to provide volume, structure and support in the soft tissue under the skin.
The injectable fillers we offer include Restylane-L, Restylane Lyft, Juvederm Ultra XC, Juvederm Ultra Plus XC, Radiesse, Belotero and Voluma XC. These products are FDA-approved for safety and reliability, and depending on how much filler is used and your body's unique metabolism, these products have been shown to last between 6 and 24 months.
There is a high patient satisfaction rate associated with injectable fillers because results can be seen immediately and they do not involve surgery or lots of downtime. The cost of the treatment depends on how many syringes are used for the treatment. Emily Sespaniak, Board-Certified Nurse Practitioner, will advise you during your consultation of how many syringes she recommends to achieve your goals.
Injectable fillers can enhance a variety of areas on the face and body, including:
Nasolabial folds (corners of the nose to the corners of the mouth)
Vertical lip lines or "smokers lines"
Minimization of the "jowl" appearance along the jaw line
Marionette lines (lines from the corners of the mouth to the chin)
Downturned smile
Cheek fullness
Chin symmetry and shape
Tear trough (hollows under the eyes)
Filling of the temple depressions on the sides of the face
Deep and fine lines and wrinkles throughout the face
Volume loss on the top of the hands
Eyebrow lift and definition
HIV-related lipodystrophy
Lines on the chest and between the breasts
Scar augmentation for hypertrophic scars
Injectable fillers are FDA-approved to be injected into areas that have been extensively studied in clinical trials. There are other areas of the face and body that are frequently and safely treated with fillers in clinical practice, some of which are considered "off-label". We offer injectable dermal filler treatment for both "on-label" and "off-label" areas, with safety and patient satisfaction being our utmost priorities.
At your consultation appointment, our Board-Certified Nurse Practitioner will discuss with you your short and long-term goals for anti-aging and cosmetic enhancement. Based on knowledge of the injectable products and your unique facial structure, Emily will advise you as to your best options for injectable fillers. Please expect to spend approximately one hour for your injectable filler treatment. Emily is extremely detail-oriented and a perfectionist when it comes to your face, so this is not a treatment you want to be rushed! We generally recommend coming in for a consultation prior to your treatment so that we can come up with a treatment plan and advise you about any pre- and post-treatment instructions ahead of time, although this is not required.
We offer dermal fillers using a blunt-tipped cannula method of injection for your safety and comfort. This highly specialized technique is not offered at many locations because of the training and experience involved. Blunt-tipped cannulas allow for greater patient comfort, less bruising, fewer needle pokes, and most importantly, higher degree of safety associated with the procedure. Our patients have been extremely satisfied with the results of their dermal filler treatment using this method.
For your comfort, we offer options for management of discomfort related to the injection process. If you have special requests or questions/concerns about pain related to the injection process, please discuss this with the practitioner during your consultation. We advise all our patients that with any injectable treatment there is the possibility of bruising or redness on the skin, so please plan accordingly. It is best to schedule any injectable treatment at least 2 weeks prior to any important event for which you would like to look your best, to allow any swelling or skin discoloration to subside. We also offer a homeopathic anti-bruising kit available for purchase in our office that we recommend starting before your treatment.
Our goal is always a noticeable result that is so natural that no one will know! Please contact our office to schedule a consultation to learn more about injectable fillers and how the minimally invasive cosmetic enhancement may benefit you.
My face looks amazing! You're the best. I look 10 years younger today. I can't believe the difference in my cheeks/under eye area. You are a miracle worker.
C.H.
*Individual Results May Vary