BOTOX® Cosmetic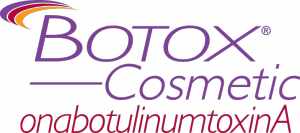 BOTOX® Cosmetic is a prescription medicine that is injected into muscles to improve the appearance of moderate-to-severe frown lines between the eyebrows. With real, noticeable results within days, no surgery and no recovery time, this treatment has been chosen by millions of individuals (both men and women) and their doctors as their rejuvenation procedure of choice. In fact, BOTOX® is one of the most common and popular cosmetic procedures in the history of plastic surgery!
BOTOX® Cosmetic and its alternatives (such as Dysport®) are known as "neuromodulators". They work by temporarily relaxing specific muscles to prevent their contraction, resulting in an improved cosmetic appearance, lasting 3-4 months for most people. BOTOX® Cosmetic is indicated for the frown lines between the eyebrows, known as the "glabella". There are a number of other areas on the face and body where Botox® can safely be injected, however these other areas are considered "off-label". Some of these areas that are frequently treated "off-label" are in the forehead, around the eyes ("crow's feet"), "bunny lines" around the nose, the platysmal bands in the neck, correct a downturned smile, and even to soften a square-shaped jaw line!
People get lines or winkles in their face for a number of reasons: age, genetics, lifestyle factors, sun exposure, and strong facial expressions. When we make facial expressions, the muscles under the skin contract, and the skin moves with it. After years of frequent contraction, those wrinkles can linger even after the muscles are at rest and are often the first lines to form in an otherwise youthful face. Over time, the skin can develop a crease in that area that does not go away, even when relaxed.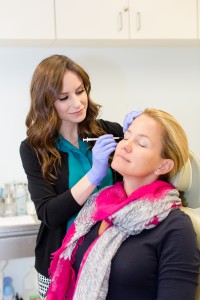 In addition to improving the appearance of certain types of facial lines, BOTOX® and other neuromodulators can be used to treat a variety of other medical conditions including migraine headaches, persistent muscle spasm, stiffness in the neck and arms, certain types of eye muscle problems, and to treat the symptoms of severe underarm sweating ("axillary hyperhidrosis").
Injection of BOTOX® takes approximately 15 minutes and any discomfort is usually minimal and brief. Possible temporary side effects associated with the injection include localized pain, inflammation, tenderness, swelling, redness, bleeding or bruising. Most people will notice the Botox® starting to work in about a week, and Dysport® tends to produce results even sooner. We recommend that all our patients return to our office two weeks after their first treatment for a "perfection check" to ensure you are pleased with the results and everything looks "perfect"! The results will continue to improve over the next 30 days, and should last between 3-4 months for most people (results may vary).
The goal of any treatment in our office is a natural result. Although your results will be visible, treatment will not radically change your facial appearance or make you look as if you've "had work done." While the muscle activity in the treatment area will be reduced, you should still be able to make expressions with your face. At your consultation we will discuss the areas on your face that concern you the most, and review your treatment goals.
Please contact our office to learn more about BOTOX® Cosmetic and to schedule a personalized consultation with Emily Sespaniak our Board-Certified Nurse Practitioner.
I highly recommend Emily for Botox and fillers. She is absolutely brilliant! She is very knowledgeable and does a thorough service. I love how well she explains everything and puts me at ease. I have had both Botox and Juvederm by Emily and she does such a natural job. The results are just perfect.
*Individual Results May Vary