BRA (Breast Reconstruction Awareness) Day 2016 in San Francisco!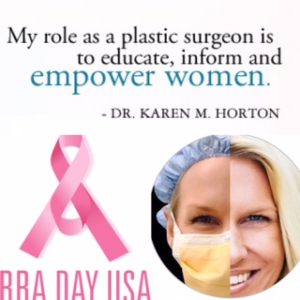 2016 marks the 5th time I have hosted the only San Francisco Breast Reconstruction Awareness (BRA) Day event.  And this year topped all the others!
BRA Day Eve at Pure Barre San Rafael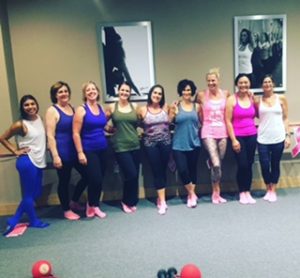 We started off celebrating breast reconstruction awareness by hosting our second annual private fitness class at Pure Barre San Rafael.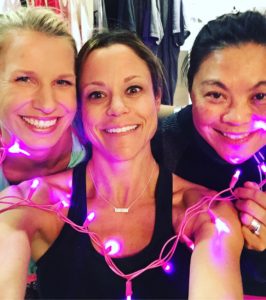 Taught by the studio's owner Shannon Piro, whose mother is a breast cancer survivor, we endured a tough class where we lifted-toned-burned our bodies!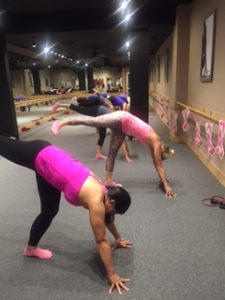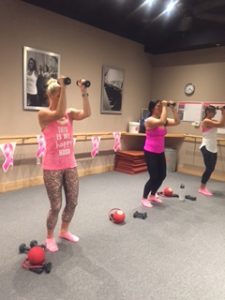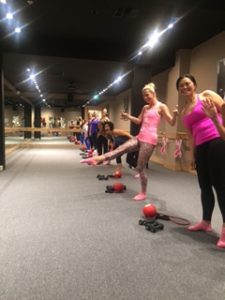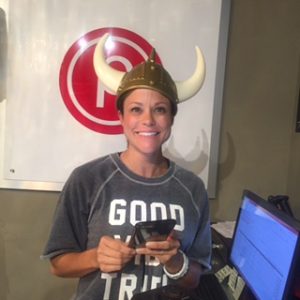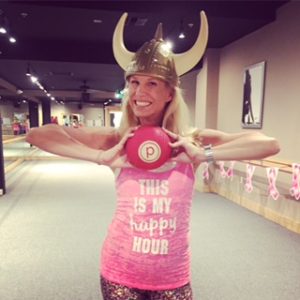 And OF COURSE I brought a few props in advance of the next day's activities in my office!  Surviving a Shannon Piro Pure Barre class brings out the inner viking warrior in us all!
Afterward, we celebrated with pink champagne, non-alcoholic bubbles & healthy snacks.
Getting ready for BRA Day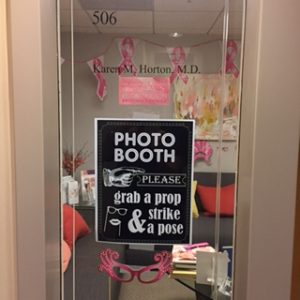 BRA Day 2016 event in Dr. Karen Horton's Plastic Surgery office
The next day, on the actual Breast Reconstruction Awareness Day, Wednesday October 19, 2016, we hosted an office lunchtime reception for breast reconstruction patients and their friends and family, breast cancer survivors, pre-vivors, and the general public.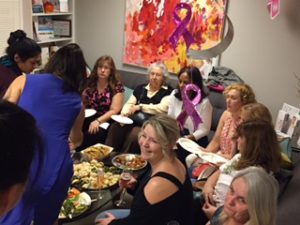 During a lunchtime reception with amazing Mediterranean food from La Meditteranee on Fillmore, many of my breast reconstruction patients shared their stories with other guests.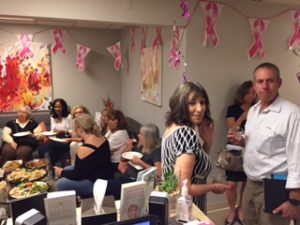 Breast Reconstruction patients shared their stories at BRA Day 2016
We were lucky enough to receive permission to video record some of our patients' stories – click this link to hear Valerie discuss some of her experiences here.

The highlight of BRA Day 2016 – PHOTO BOOTH!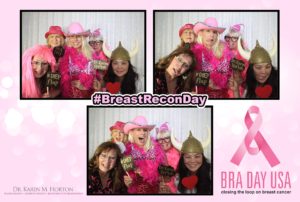 Hosting a photo booth and taking fun and silly photos wearing breast cancer pink props was certainly a highlight of this year's event!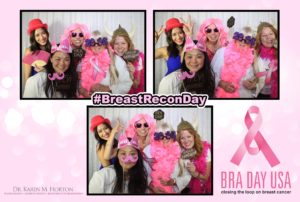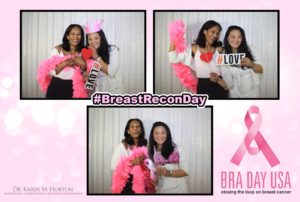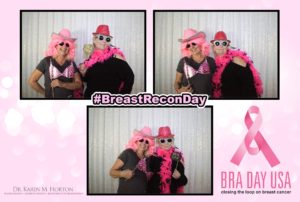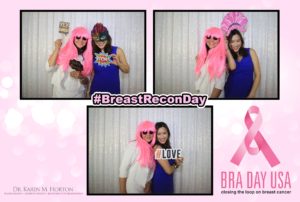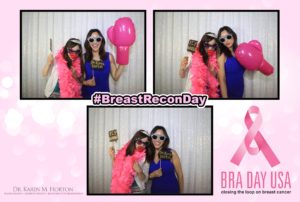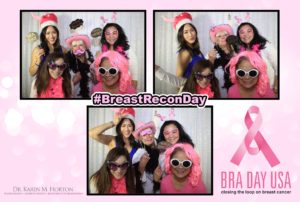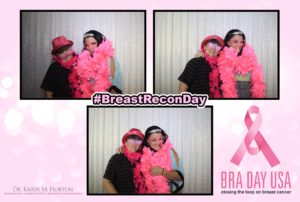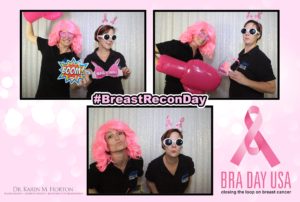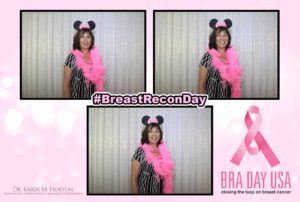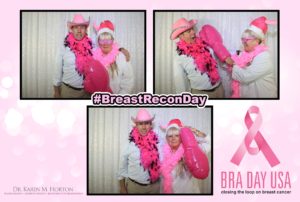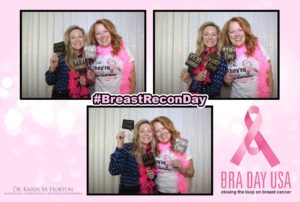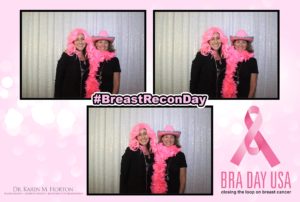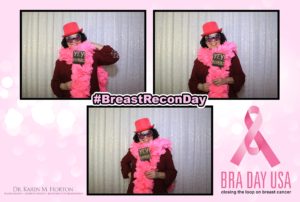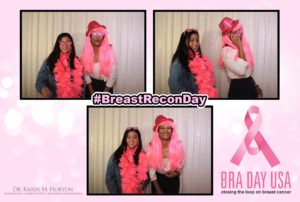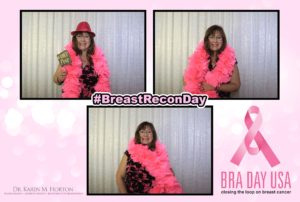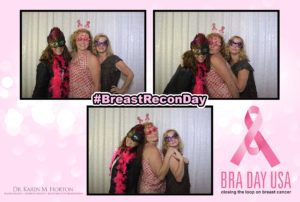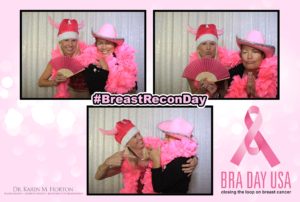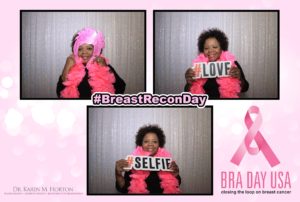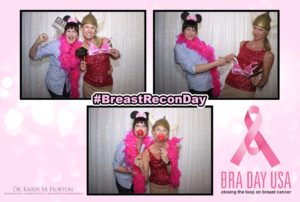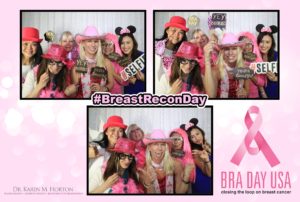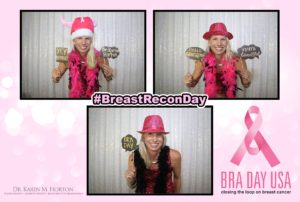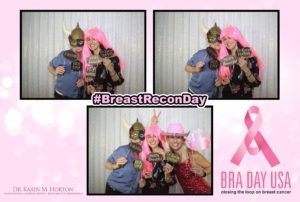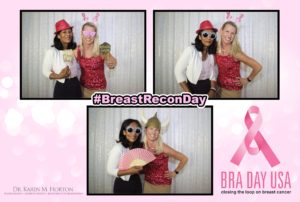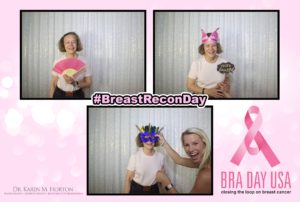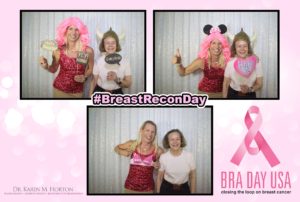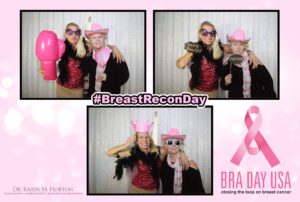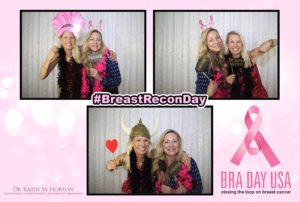 Attendees of our event can download full-size images of their photos at BRA Day 2016 SF with Dr. Karen Horton.
THANK YOU to Monica Buglia of Joy Squad for the amazing photo booth services and for helping to make our BRA Day 2016 event so much fun!
So what's in store for BRA Day 2017?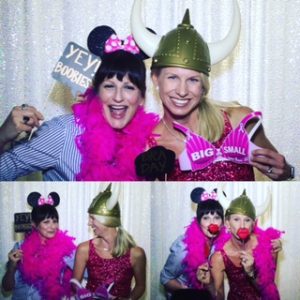 Well, we are already thinking ahead and planning an unforgettable event for next year!
Here are my thoughts at this point – subject to change, of course – for the bigger and better!  I also welcome your input:  info@drkarenhorton.com.
Host an Everviolet lingerie line fashion show with breast reconstruction patients as the models!  In advance of Everviolet's launch, Keira Kotler is asking for input to help her best meet the needs of breast cancer patients.  Please help her by completing this survey.
Have another Joy Squad BRA Day photo booth!
Invite the San Francisco media to attend!  Each year, I reach out to local media through whatever channels I can – mostly social media.  I'm very active on Facebook, Twitter and Instagram.  However, I don't have a personal connection with any specific media outlet.  So that's where YOU come in!  Please help spread the word to get local television stations, radio, bloggers, newspaper outlets to attend our 2017 event and further increase awareness about the amazing breast reconstruction techniques available to women in San Francisco and surrounding areas!
Host BRA Day 2017 in a patient's small business venue.  Many of my patients are local business owners of wine bars, restaurants, shops or wineries.  I always want to promote other women business owners, particularly if they are also my patients!
Ask for feedback from YOU!  What worked, what didn't and what you'd like to see next year!  Please email your comments and suggestions to info@drkarenhorton.com
Offer to volunteer for BRA Day 2017.  It takes a village to put on a special event, and we are always looking for help!  While my Plastic Surgery office team is fantastic and they go above and beyond to make every office activity a huge success, the best way to pay it forward is to give back!  Email us if you'd like to help plan and execute next year's BRA Day event.
For more information about BRA Day events elsewhere across the country, visit the BRA Day USA website.
Visit my BRA Day San Francisco web page to see photos from past events and to learn more about breast cancer reconstruction and the latest and greatest techniques available to women.
Thanks for enjoying this blog post!  Share with others on social media and email!  
– Dr. Karen Horton