Bay Area Plastic Surgeon Reveals All about Liposuction for Men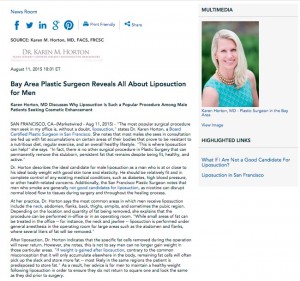 Karen Horton, MD discusses why liposuction is such a popular procedure among male patients seeking cosmetic enhancement.
San Francisco, CA — "The most popular surgical procedure men seek in my office is, without a doubt, liposuction," states Dr. Karen Horton, a Board Certified Plastic Surgeon in San Francisco. She notes that most males she sees in consultation are fed up with fat accumulations on certain areas of their bodies that prove to be resistant to a nutritious diet, regular exercise, and an overall healthy lifestyle. "This is where liposuction can help!" she says. "In fact, there is no other surgical procedure in Plastic Surgery that can permanently remove this stubborn, persistent fat that remains despite being fit, healthy, and active."
Dr. Horton describes the ideal candidate for male liposuction as a man who is at or close to his ideal body weight with good skin tone and elasticity. He should be relatively fit and in complete control of any existing medical conditions, such as diabetes, high blood pressure, or other health-related concerns. Additionally, the San Francisco Plastic Surgeon notes that men who smoke are generally not good candidates for liposuction, as nicotine can disrupt normal blood flow to tissues during surgery and throughout the healing process.
At her practice, Dr. Horton says the most common areas in which men receive liposuction include the neck, abdomen, flanks, back, thighs, armpits, and sometimes the pubic region. Depending on the location and quantity of fat being removed, she explains that the procedure can be performed in-office or in an operating room. "While small areas of fat can be treated in the office – for instance, the neck and jawline – liposuction is performed under general anesthesia in the operating room for large areas such as the abdomen and flanks, where several liters of fat will be removed."
After liposuction, Dr. Horton indicates that the specific fat cells removed during the operation will never return. However, she notes, this is not to say men can no longer gain weight in those particular areas. "If weight is gained after liposuction, contrary to the common misconception that it will only accumulate elsewhere in the body, remaining fat cells will often pick up the slack and store more fat – most likely in the same regions the patient is predisposed to store fat." As a result, her advice is for men to maintain a healthy weight following liposuction in order to ensure they do not return to square one and look the same as they did prior to surgery.
Ultimately, Dr. Horton says liposuction can be an excellent and rewarding procedure for men, though it should not be considered a treatment for obesity or weight loss. "When considering a Plastic Surgical procedure such as liposuction, I strongly urge patients to strive to achieve all their health and fitness goals prior to planning their operation. In addition to improving their overall well-being, this can help ensure they receive the safest, most effective treatment possible."
About Karen Horton, MD
Certified by the American Board of Plastic Surgery, Dr. Horton is renowned for her expertise in Cosmetic Surgery of the face, breasts, and body. In addition to liposuction, she provides a comprehensive span of aesthetic treatments and procedures, including abdominoplasty, breast augmentation, blepharoplasty, the Mommy Makeover, and more. Dr. Horton is a Fellow of the American College of Surgeons, and she remains actively involved in the American Society of Plastic Surgeons and the California Society of Plastic Surgeons, among numerous other medical organizations. She is available for interview upon request.
For more information, visit drkarenhorton.com, plus.google.com/+Drkarenhorton/about, and facebook.com/drkarenhorton.
Contact:
Dr. Karen M. Horton
2100 Webster St.
#506
San Francisco, CA 94115
415-923-3067
Rosemont Media
(858) 200-0044
www.rosemontmedia.com