Labiaplasty
What is a Labiaplasty?
Labiaplasty is a surgical procedure that corrects excessively long, enlarged or redundant labia minora tissue and can make the external genitalia (the "vulva") more cosmetically appealing. Women who seek labiaplasty are often self-conscious about hanging inner labia tissue when standing up or during intimate situations, about asymmetry of their labias, or they may have pain or discomfort during sex or with exercise. Occasionally, redundant labia tissue predisposes to yeast infections or creates friction tears of the tissue.
During a labiaplasty, excess or stretched-out labia minora tissue is excised to create a more neat and tidy appearance to this region and to treat associated physical concerns. Occasionally excess tissue around the clitoral hood is also carefully trimmed as part of the procedure.
Labiaplasty usually addresses just the labia minora (inner lips of the external genitalia of women). It does not commonly treat the labia majora (outer lips), nor does it alter the vagina. Surgery can be done for either cosmetic or functional reasons. However, labiaplasty is usually considered cosmetic and is not covered by insurance.
After several years of feeling self-conscious, I finally got the courage to see Dr. Horton in January about a labiaplasty. Dr. Horton is one of the warmest and kindest people I've ever met, and from the moment I met her she put me at ease with what is of course a very personal surgery. She has a disarming bedside manner, and I felt like no question was too embarrassing or silly. The surgery itself went perfectly. I felt very safe with Dr. Horton on day of the actual surgery, and again very safe in every follow-up appointment since. The results have been exactly what I wanted: even a few weeks after the surgery I was able to run again, and I finally feel like I look "normal." I'm able to run, soul cycle, and go to the gym without feeling self-conscious, and I also feel a million times better about my body, generally.
Who is a Good Candidate for Labiaplasty?
Labiaplasty is a personal procedure that should certainly not be associated with embarrassment or shame. Women of all backgrounds, shapes, sizes and cultures seek labiaplasty. Sometimes after childbearing, labial tissue can become stretched out or redundant, and following menopause the vulvar lips can droop with loss of collagen and elastin. Many women are congenitally born with asymmetric or excess labial tissue.
Women who experience awkwardness, pain with intercourse, or discomfort when walking or with exercise due to excess labia tissue are candidates for a labiaplasty. Other women are simply looking to improve the appearance of this part of their body to look as youthful as they feel. Rejuvenation of the labia area can be an empowering experience, potentially improving a woman's body image, self-esteem and comfort during intimacy. It should not be performed during active menstruation if possible.
Is a Labiaplasty Part of a Mommy Makeover?
Labiaplasty can indeed be part of a Mommy Makeover! After repeated pregnancies and/or vaginal deliveries in some women, the inner labia tissue of the external genitalia can become redundant or hang lower than the outer labias. Please see our Mommy Makeover section to learn about changes that commonly occur in the body after pregnancy, and about labiaplasty as a component of a Mommy Makeover.
Can Labiaplasty Be Done Before Pregnancy?
A labiaplasty can certainly be performed at any time in a woman's life. Labiaplasty is considered a "quality of life" procedure, and is a personal decision. Having surgery will in no way influence future pregnancies or childbirth delivery options.
Dr. Horton shares more about her approach to labiaplasty on her blogs. Read More.
What Are the Different Types of Labiaplasty?
Labia Minora Reduction
A labiaplasty usually involves trimming the inner lips of the labia, known as the "labia minora", as described below. Only the inner or outer lips of the vulva are treated; the vagina is not normally addressed during a labiaplasty.
Labia Majora Reduction
Occasionally, the outer lips of the genitalia ("labia majora") are trimmed to additionally reduce their prominence. This procedure involves incisions in the skin of the labia majora and is associated with-potentially additional scars and post-surgical swelling during healing.
Clitoral Hood Reduction
For women with redundant clitoral hood tissue, a reduction of the clitoral hood can also be performed as part of a labiaplasty. Clitoral hood reduction involves careful trimming of excess skin that hangs over the clitoris. The overlying skin is then rearranged without risking nerve injury or affecting sexual sensation or stimulation.
What Really Happens During a Labiaplasty?
Please see our Preparing for Surgery section to learn about what happens in the operating room on the day of surgery.
In order to ensure complete comfort and relaxation, we perform labiaplasty as an outpatient procedure in the operating room, under a short and safe general anesthesia. The area to be trimmed is marked after you are asleep. Surgical loupes (Microsurgical magnifying glasses) are used to ensure a meticulous procedure and repair.
Local anesthetic is used to prevent bleeding and bruising during surgery, and to keep the area numb for many hours after surgery. Excess labial tissue is trimmed, the clitoral hood is reduced if appropriate, and a neat and tidy closure is performed in multiple layers using dissolving (absorbable) sutures. Antibiotic ointment is applied, and an absorbable pad is placed over the incisions. Surgery takes around 1-2 hours to complete, and women are allowed to return home a few hours after awakening.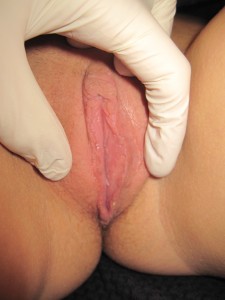 To learn more details about labiaplasty, please read our multiple educational blog posts about labiaplasty, which go into additional detail about the procedure, its recovery and expected results.
Typical location of a labiaplasty scar, hidden in a natural fold. To see before & after labiaplasty results, visit our Before and After Photo Gallery.
Is Liposuction Done Together with Labiaplasty?
Liposuction can be added to a labiaplasty to additionally contour the pubic region above the labia and/or the inner thighs or buttocks to provide the most aesthetic appearance when rejuvenating the genital region. Alternatively, liposuction can be done on other body areas (abdomen, flanks, thighs, arms, bra rolls, back, neck) at the same time as a labiaplasty to further accentuate the procedure. Please see our Liposuction section for more information. A Tummy Tuck is also selected by some women as a complimentary procedure to a labiaplasty, particularly as part of a Mommy Makeover.
What is the Recovery After Labiaplasty?
Mild discomfort is treated with oral pain medication for a few days. Swelling and bruising of the genital region can develop over the first few days. You may shower the next day, and will apply antibiotic ointment daily and wear a panty liner to absorb any spotting or light bleeding for a week or two after surgery. If you start your menstrual cycle, it is recommended you avoid using tampons for your next 1-2 cycles to avoid irritation of the incisions while they are healing.
Most women feel mostly recovered within a few weeks. At least couple of days should be taken off work or arrange to work from home during this time. Aggressive physical activity should be avoided for at least a week or two after surgery. Many women carry a small pillow in their purse to help additionally cushion their surgical sites if they must sit on a hard surface after surgery. Sexual intercourse should be avoided for approximately 6 weeks after a labiaplasty.
Like any surgery, it takes at least 6 weeks for the initial swelling to recede, and 6 months up to a year for the results to be absolutely complete. Incisions are hidden in the natural crease of the labia region. There is usually very little scarring, as incisions are made in the labial "mucosa" (similar to the inside of the mouth or the gums) rather than the skin.
What Are Potential Risks and Complications of Labiaplasty Surgery?
When you are considering any type of surgery, you should be fully educated about potential risks and complications. Please see our Preparing for Surgery section to learn about risks and potential complications related to surgery and Postoperative Instructions for additional information pertaining specifically to labiaplasty.
Where Can I See Before and After Photographs of Labiaplasty Procedures?
Please click here to see before and after labiaplasty results!
How Do I Know Whether a Labiaplasty is Right For Me?
As women Plastic Surgeons, we intimately understand how a woman's feelings about her body can influence her self-confidence, self-esteem and her femininity, and we aim to give you the result you are looking for! At your labiaplasty consultation, your surgeon will spend a great deal of time with you to get to know you personally and take a complete medical history. We will explore your reasons for seeking a labiaplasty, examine you, and if you are an appropriate candidate for surgery, your options will be described in detail.
I am 30 years old and had thought about having this procedure for about 5 years before finally deciding to go ahead with it. My labia were very uncomfortable, and beyond the physical discomfort I was experiencing, was extremely self conscious about how I looked. After meeting with Dr. Horton, I immediately knew that I wanted to have the labiaplasty procedure done.

I had the surgery 2 weeks later and really only felt any bad pain that very first night. I rested in bed for 2 days just to make sure I did not push myself, but after having had the surgery on a Friday afternoon, I was back at work on Monday and felt fine.

After researching all the good and the bad about the surgery, I was really surprised that I did not have very much swelling and had absolutely no bruising. I felt general discomfort for about two to three weeks but did not have any actual pain, and the discomfort seemed mainly to be because of the stitching that was dissolving. The first few days I did have to take the Ativan and Vicodin I was prescribed, however I was able to taper off of the medication throughout the following week.

It is about 2 1/2 months since surgery and I feel absolutely amazing. Dr. Horton and her team were wonderful throughout the entire process – they took the time to thoroughly educate me, get to know me, and made sure I was doing this for the right reasons. I was given excellent, genuine care from the very start.

For anyone seriously considering this procedure, I highly recommend it – I finally feel comfortable, confident, and am so thankful for the wonderful care that I received from my doctor and her staff.

Thank you for being a wonderful doctor 🙂 xo
*Individual Results May Vary