The Art of Multitasking: How I Juggle Balls and Remain Successful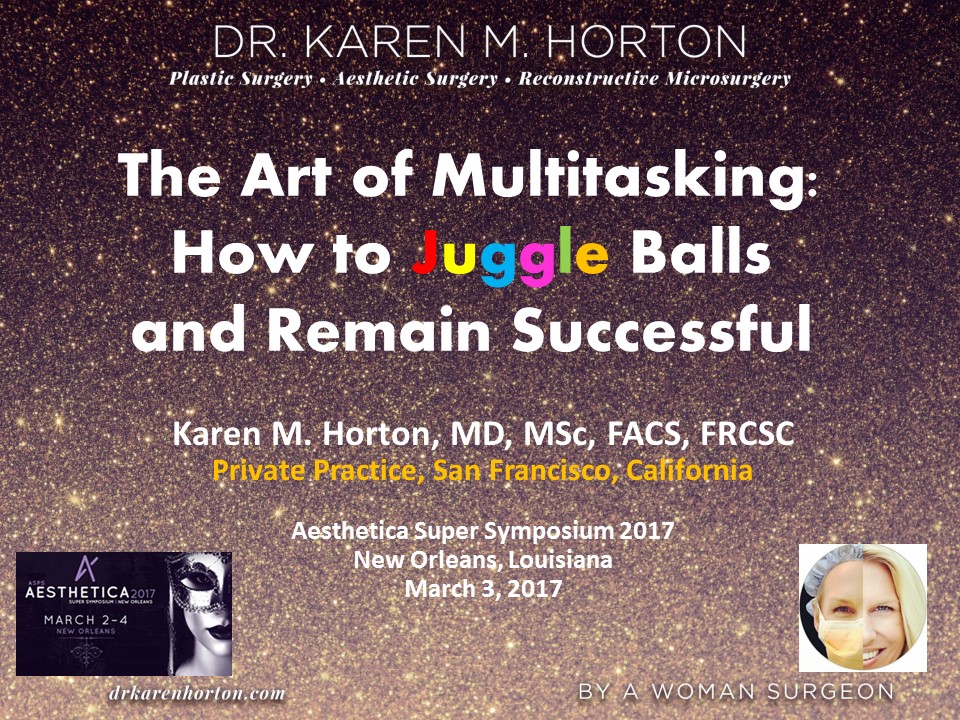 Earlier this month, I was honored to serve as invited guest Faculty for the 3rd annual Aesthetica Super Symposium in New Orleans, a Plastic Surgery conference put on by the American Society of Plastic Surgeons (ASPS).  I was kept VERY busy, giving 6 lectures, participating in a panel of breast surgery experts, and chairing three panels! Needless to say, they made me WORK!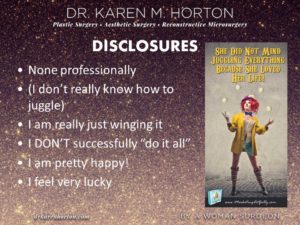 At this meeting, I was one of 5 women Plastic Surgeons on the Faculty of 32 ABMS Board-Certified Plastic Surgeons and invited professionals from industry who spoke as experts in their field.  This small percentage of women is actually the norm for many Plastic Surgery professional meetings.  Only 13% of all Plastic Surgeons are women, and not all feel comfortable speaking in public, particularly in big conferences!  So it was extra-special to be included.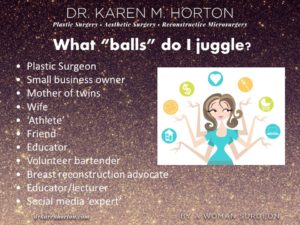 One of my talks was on "work-life balance" and how I "juggle balls" in life and remain successful.  I am honored to share this presentation with you: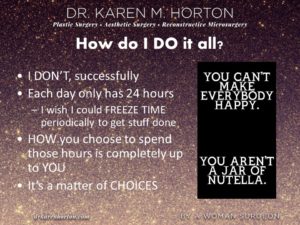 Is it possible to juggle all these balls, successfully?  Nope!  I DON'T really "do it all", in the traditional sense.  Every day has 24 hours, and during the hours I am awake (probably a few more than most people, since I don't need as much sleep as some) – like all Plastic Surgeons – I need to get a LOT done!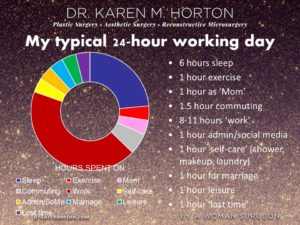 I divided up a traditional 24 hour day during the work week into my activities, and assigned an hour commitment to each.  On some days, my commute might be faster, but I factored in things like getting gas or traffic jams.  Not all work days are 11 hours, but on average, the time I spend taking care of patients is much more that I spend with my family, on myself, or doing other necessary activities in life.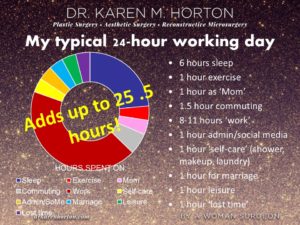 When I added up the hours, they added up to well OVER the 24 hours in a day!  No wonder I can't get it all done!  So – which balls do I juggle?  I decided to go through them, one by one: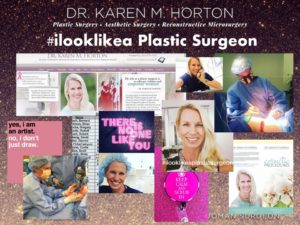 (Since I think in hashtags now), I added hashtags to these descriptions, inspired by the #ilooklikeasurgeon campaign initiated by the Association of Women Surgeons to increase awareness of women surgeons, and the more recent #ilooklikeaplasticsurgeon trend.  As a Board Certified Plastic Surgeon, I spend most hours of each day taking care of others using Plastic Surgery tools and techniques.  Therefore, #ilooklikea PLASTIC SURGEON!
My practice is split between reconstruction of the breast (including Microsurgical reconstructions like the DIEP flap and TUG flap), reconstruction by reduction or a lift after lumpectomy and radiation, and implant-based reconstruction after nipple-sparing mastectomy where I put implants ON TOP of the pectoralis muscle (also called "pre-pectoral reconstruction").  I also perform many breast reductions for insurance.
The other part of my practice is cosmetic surgery of the breasts, body and neck.  I am one of very few women Plastic Surgeons in San Francisco and the Bay Area as a whole, and the entire United States!  I might be the only Microsurgery Fellowship-trained woman Reconstructive Microsurgeon in our area.  New trainees are always graduating, and hopefully there will be more women Plastic Surgeons in the future.  For now, I am pretty unique!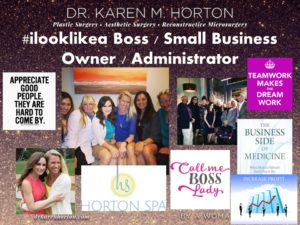 #ilooklikea Boss, Small Business Owner & Administrator:
My office consists of me as the Plastic Surgeon, but my office TEAM makes it all work!  "We are all spokes in a wheel" of successful patient care.  I realize I am the "Boss Lady", but my amazing office team is the one who runs the show, day-to-day and minute-to-minute when I am seeing or operating on patients.  Most of my team has been in the office even longer than I have been in practice – a testament to their loyalty to our patients and how blessed I am to have them work together with me!
In my office, I have a non-surgical cosmetic treatment business called Horton SPA.  Emily Sespaniak, Aesthetic Nurse Practitioner, is an expert injector who specializes in Botox, fillers, IPL laser, CoolSculpting, medical-grade peels and skin care.  Emily is wonderful, and she has been rated #1 on Yelp – a big deal in the San Francisco Bay Area!  #ilovemydreamteam!
The goal of any business is to always grow and increase revenue.  Medical Schools are horribly deficient in teaching medical students about the business side of medicine.  I am always striving to be more efficient and more profitable as a business, while maintaining my perfectionistically high level of patient care.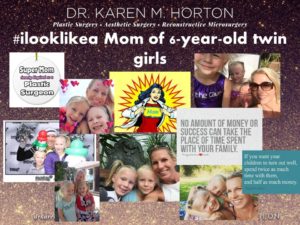 #ilooklikea Mom of 6-Year-Old Twin Girls:
Being a Mom is the best job I've had over the last 6 years!!  I was lucky enough to have a strong woman as a role model and my hero growing up, being the oldest of three girls, and I hope to serve as a similar role model to my daughters as they grow up.  Weekends are my sacred time with my girls, and I endeavor to create quality time with them in the limited hours we have together on Saturdays and Sundays.
I was married for 14 years before we started our family.  Unfortunately, pregnancy for women Residents wasn't supported in the 1990's and 2000's.  Was there sexism in Plastic Surgery training?  Maybe – read this blog post to hear some of my experience.  My and other stories are chronicled in this PRS (Plastic and Reconstructive Surgery Journal) video featuring women Plastic Surgeons discussing infertility and pregnancy issues.
I also share my opinion about sexism in surgery and my personal experience during the years I could have been starting my family (but was intimidated to not do so).  Thankfully, years later, the situation is better for women.  I understand that women Residents in Canada now are not threatened punishment of not being permitted to sit for their Board exams and are allowed a year off after they have a child, "protected" (they do not lose their training spot).  Hooray!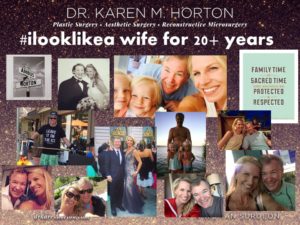 #ilooklikea Wife For Over 20 Years:
My biggest fan and enabler is my husband, Mike Horton.  We met when I was 21, and married when I was 25 years old.  He has been with me though my undergraduate education, my parents' divorce, my Masters of Science degree, Medical School, Plastic Surgery Residency, Microsurgery Fellowship, starting my private practice, trying to start a family, turning to IVF for help, acting as my cheerleader, confidant, stay-at-home husband and homemaker, and now a fantastic stay-at-home Dad!
Many marriages in medicine and surgery in particular do not work out.  I know many women Plastic Surgeons who are divorced, chose to not get married or have children due to the overwhelming demands of their career.
I am immensely LUCKY and fortunate to have found a spouse who supports me unconditionally in my career and who has been there through the tough times, poor times, with us each working 3 jobs to pay rent and tuition, putting off our honeymoon for years, delaying having children, and who put his career aside several times to allow me to excel in mine.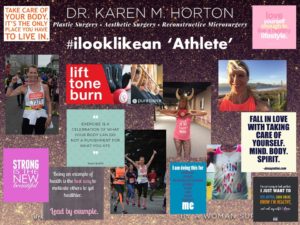 #ilooklikean "Athlete":
I'm not really an athlete, but I like to be athletic.  Running and Pure Barre are my current favorites.  I consider exercise and natural production of endorphins my "happy place", my "meditation", "sanity-saver", or whatever you might call it.
Being strong and fit is very important in a physically demanding career like surgery.  Taking ergonomics and occupational medicine into mind, you should never be using 100% of your strength or endurance in any task at work.  When you exercise outside of work and stress/strengthen your muscles, you avoid work-related injuries.
Multiple studies have shown that surgeons, and in particular Plastic Surgeons and Reconstructive Microsurgeons, develop pain and chronic injuries in their spine, neck, back and hands that limits their ability to perform their job and negatively affects their quality of life.
Playing sports is a wonderful way for girls to learn confidence, teamwork and develop their hand-eye coordination and gross/fine motor skills.  I didn't play team sports as a child or young adult; instead I performed synchronized swimming and rhythmic gymnastics.
While that taught me body control and grace, I now enjoy doing other activities that give me an adrenaline boost, tone my muscles and keep me strong and fit for many years to come!  Next sport?  Maybe stand-up paddle boarding!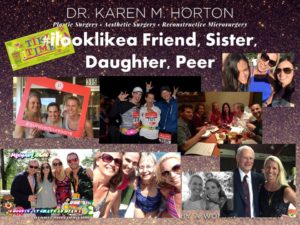 #ilooklikea Friend, sister, daughter and peer:
Spending time with others outside of work and my immediate family is important.  I am very lucky to have developed close friendships with other parents of kids in our neighborhood that have similar interests to me.  Weekends are always fun!  I ran two half-marathons with my sisters last year… that's enough for me, thanks.  I prefer to run 4-7 miles for fun instead.
Every summer, I return to Canada to "the cottage" in Presqu'ile Provincial Park to enjoy a traditional Canadian summer vacation!  I see my parents whenever I can (not enough), and look forward to fun weekend getaways with my kids and friends!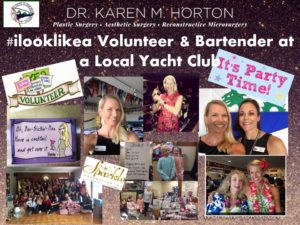 #ilooklikea Volunteer and Bartender:
It is important to give back to your community.  I chose to stay local at this point in my life, participating in fundraisers that support women and children through Sparkle Now, whose mission includes "women helping women, children helping children, people helping people…  Sparkle Foundation makes sure women and children have a sparkle in their eyes on days of importance. We help women because women never ask for help."
I volunteer bartend at Loch Lomond Yacht Club (although we don't have a boat in California), which is right around the corner from my home.  It is a fun way to socialize with multi-generational neighbors and practice shaking my favorite cocktail-to-make-for-others, icy cold martinis!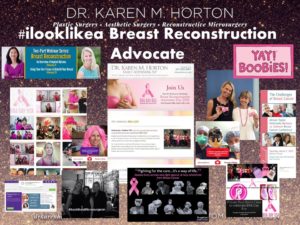 #ilooklikea Breast Reconstruction Advocate:
I have always focused a significant part of my Plastic Surgery practice on advanced breast reconstruction techniques and increasing awareness of techniques that spare major muscles of the body and that use Microsurgical techniques.  I have hosted the San Francisco/Bay Area's Breast Reconstruction Awareness (BRA) Day USA event for 5 years now.
This past year for my BRA Day celebration I combined some of my favorite things (barre classes and breast reconstruction) and hosted a private Pure Barre San Rafael fitness class for some of my patients.  The next day, I hosted a lunchtime event in my office featuring – the highlight of the day – an awesome PHOTO BOOTH!  View memories from BRA Day San Francisco 2016 here.  I'm planning a fun and more diverse event for BRA Day 2017!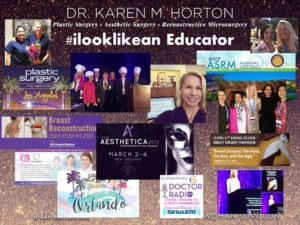 #ilooklikean Educator of Plastic Surgery:
This past year, I have been honored to travel as an invited guest speaker to 7 conferences to speak about social media use in Plastic Surgery, the latest techniques in Microsurgical breast reconstruction, subglandular breast augmentation (putting breast implants on top of the muscle), "pre-pectoral" breast reconstruction (also putting implants on top of the pectoralis muscle), and many other topics (too many to remember right now).
The reason why it is so special for me is that I am NOT an academic Plastic Surgeon.  I don't have time to publish my work in our scientific journals, and I don't have Residents or Fellows to help me out.  Yet, I have still been recognized and invited to speak at all these meetings.  Amazing!  I am very grateful for this recognition and the opportunity to give back to Plastic Surgery trainees and colleagues, sharing my opinions and experiences with others in these formal, professional settings.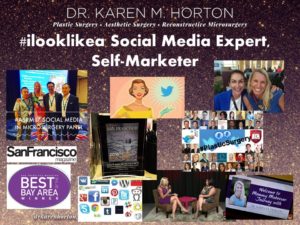 #ilooklikea Social Media Expert and Self-Marketer:
I have apparently come to be known as a "social media expert in Plastic Surgery".  I started posting on Twitter in 2006.  I'm at 22,400 tweets – wow!  Living and working in such a tech-savvy part of the world, it was natural to use social media to promote education and awareness of Plastic Surgery – what it is, and ISN'T, how 90% of the procedures Plastic Surgeons perform are actually reconstructive, and how the surgeries that Board Certified Plastic Surgeons perform can be life-changing, and sometimes life-saving.
Posting on social media isn't ALL about self-promotion, although it's an easy way to share details about your personality as a person, a parent, a contributor in society and a caring, skilled, empathetic Plastic Surgeon…  I could hire a PR person or publicist to do the work, but it's free and most authentic when I do it myself!
The goal of my social media posts on Twitter, Facebook and Instagram are to humanize the specialty of Plastic Surgery, to share with the public interesting facts about who Board-Certified Plastic Surgeons are and the incredible surgeries we perform, and to help to drown out many sensational or irresponsible voices in the stratosphere who are posting about cosmetic surgery or Plastic Surgery but who are NOT the ones doing the surgery!  #BoardCertificationMatters!
So – what IS the elusive work-life balance?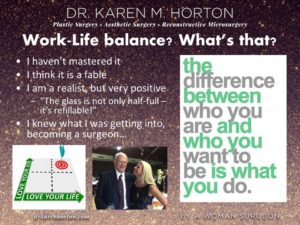 Being a surgeon's daughter, surgery wasn't romanticized as a profession.  I knew it was hard work and an even tougher lifestyle.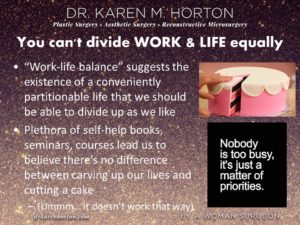 I am not the expert on this topic.  My next blog post will feature some of my female Plastic Surgery colleagues – I asked them to chime in with their experiences and tips for how they successfully juggle work, personal life, chores and more…
~ Karen Horton, M.D. (Plastic Surgeon, Mom of twins, wife, daughter, sister, social media maven, educator, bartender, volunteer, athlete, breast reconstruction advocate,…)