Plastic Surgery Myth #5: Cosmetic Surgeon = Plastic Surgeon: NOT always so!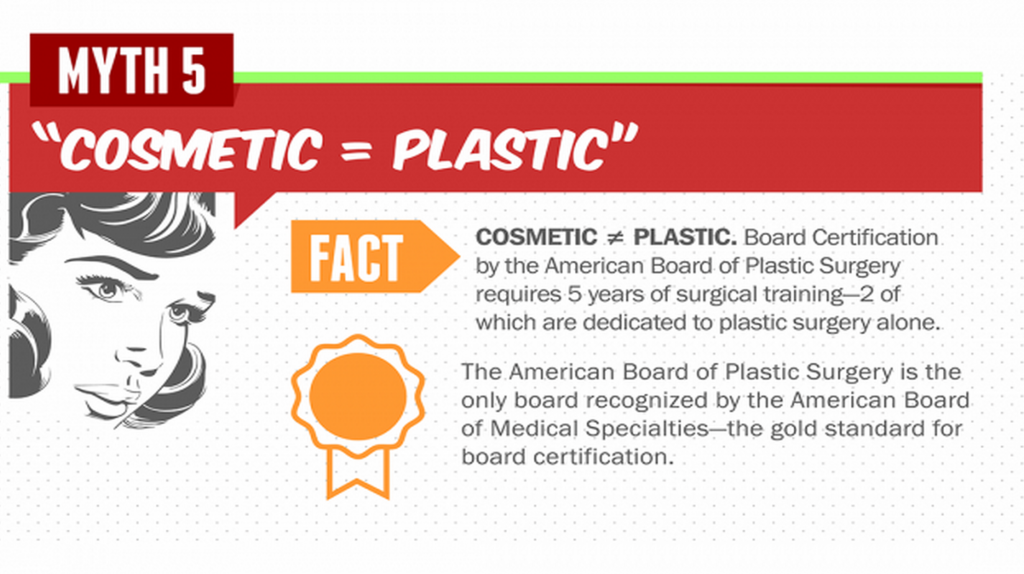 BREAKING NEWS:  Not all Plastic Surgeons are 'cosmetic surgeons', and not all 'cosmetic surgeons' are in fact Board Certified, adequately trained and genuine Plastic Surgeons!  
CONFUSED?  Let me explain:  "Plastic Surgery" is a surgical sub-specialty whose goal is "to correct or restore form and function of the body".  Although cosmetic or 'aesthetic surgery' is the best-known kind of Plastic Surgery, most procedures in the discipline of Plastic Surgery are in fact NOT cosmetic!
Plastic Surgery includes many types of reconstructive surgery including hand surgery, microsurgery, pediatric procedures (cleft lip and palate repair), skin cancers, facial fractures, multi-system trauma, chronic wound treatment and the management of burns.  See my recent blog post about the history of Plastic Surgery, its origins in world wars, and how it has changed over the years to now include cosmetic procedures, both surgical and non-surgical.
Most REAL Plastic Surgeons trained in a 5-6 year surgical Residency program in Plastic Surgery, and they may have additional years of "Fellowship" training in one of the sub-specialties of Plastic Surgery (such as Reconstructive Microsurgery).  Some Plastic Surgeons focus only or mostly on reconstructive procedures, and thus do not call themselves cosmetic surgeons.  The term 'cosmetic surgeon' or 'aesthetic surgeon' really is a marketing term used by many Plastic Surgeons to identify themselves as practitioners open for business to individuals seeking elective cosmetic procedures that are not covered by insurance.
Incredibly, the United States does NOT require all Plastic Surgeons to be Board Certified!  I always counsel individuals to make sure their treating physician is Board Certified in the procedure they are seeking.  However, not all 'Boards' are the same!  Nowadays, any group can organize and create a "Board of We Want to Make People Look Pretty" and certify individuals who pay a fee to become a member!  This is not a joke; I have received many such invitations – only they have more believable titles.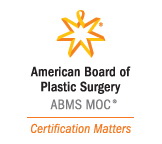 BUYER BEWARE:  Make sure your Plastic Surgeon is Board Certified by the American Board of Plastic Surgery (ABPS), one of 24 medical specialty boards that make up the American Board of Medical Specialties (ABMS).   ABMS is an organization of medical specialty boards with shared goals and standards related to the certification of medical specialists.  Certification includes initial specialty and sub-specialty certification and maintenance of certification throughout the physician's career.
Board Certification of Plastic Surgeons and the and the maintenance of certification is to provide assurance to the public that a physician specialist certified by a Member Board of the ABMS has successfully completed an approved educational program and evaluation process which includes components designed to assess the medical knowledge, judgment, professionalism and clinical and communication skills required to provide quality patient care in that specialty.
So, before trusting your face, breasts or body to any so-called 'cosmetic doctor' who claims to be trained in Plastic Surgery, DO YOUR HOMEWORK!
Ensure your treating physician is actually a valid and certified Plastic Surgeon who is Board Certified by ABPS and ABMS.  They are also usually an Active Member of the American Society of Plastic Surgeons (ASPS) and their local and state medical societies.
Your body and potentially, your life are worth it!