We Love Brilliant Distinctions®!
We love giving our patients additional special offers and discounts, and Brilliant Distinctions is a perfect way to do this!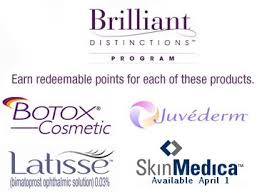 If you're already a Brilliant Distinctions® member, you know the joy of saving money every time you stock up on Latisse® or get a Botox®, Juvederm®, or Voluma™ treatment. For those of you who are wary of signing up for yet another rewards program, I can certainly relate!  We all have enough spam messages in our email inboxes.  However, this rewards program is worth it!
Plus, we will make it virtually effortless for you to earn and redeem points. At every visit, our Front Office Coordinator will update your Brilliant Distinctions® account so that you will never miss an opportunity to earn points. She will then give you the good news in the form of $20, $40 or even $80 off of your treatment!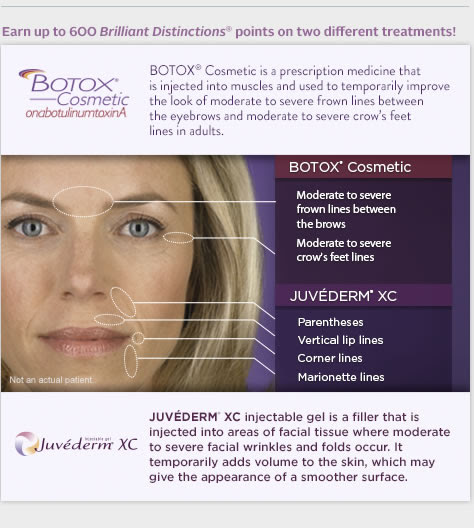 Botox Cosmetic is one of the most popular procedures I perform to smooth out lines in the forehead and crows feet regions, and to refresh the face without looking "done" or frozen.  My aesthetic is NATURAL and my patients specifically seek me out for this result!  Likewise, dermal fillers such as Juvederm help fill in fine lines and areas of volume loss that occurs with aging.
Over-the-counter products that are available at drug stores or medi-spas merely condition your eyelashes and do not actually cause any increased growth or permanent change. In 2008, LATISSE® became the first and only prescription product FDA approved to grow eyelashes — fuller, longer, and darker.  Just ask our own Nurse Mari or Dr. Horton about their personal success with using LATISSE for their lashes!

If you haven't yet signed up for Brilliant Distinctions, it's easy to do so here.  Alternatively, we would love to help you set up an account at your next visit!
To schedule a consultation or learn more about any of our Allergan treatments or products, please feel free to contact us online or call us at 415-923-3067.  Learn more about me by visiting my bio page and checking out my Facebook page!