Why Mommy Makeovers are so rewarding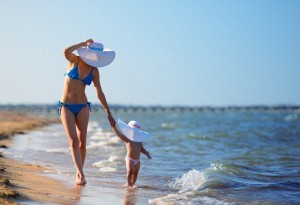 Why do I love offering Mommy Makeovers to my patients?  Because the Mommy Makeover is often the ONLY method I can offer women to regain breast fullness, correct sagginess or drooping, remove stretch marks, the tummy pooch or lower abdominal "twin skin" (as many lovingly call it) and contour other areas of the body such as excess fat deposits, the labia minora or other regions (every woman is different!).
Many non-surgical treatments and fancy machines offered at day spas or non-Plastic Surgeons' offices claim to work magic, and while there can be temporary improvement (and probably some real 'placebo effect', especially when you are paying a lot of money for these treatments), there is nothing that can compare with true surgical results.  A woman's body will undergo some permanent changes after pregnancy – learn about some of these from a GYN expert here.
As a mother myself of fraternal twin girls, I am honored to see my fellow mothers from San Francisco, Marin, the East Bay, Peninsula and elsewhere in the extended Bay Area for their Mommy Makeover consultations.  I can personally relate to how a mother's body changes with pregnancy and breast feeding, and the desire to get your body back while trying to be a good mother, an attentive wife, a full-time professional, and to keep it all going on little sleep and even less "me time"!
What is a Mommy Makeover?  Traditionally, it was a combination of breast surgery (often an augmentation and/or breast lift) combined with a tummy tuck (abdominoplasty).  In reality, the term "Mommy Makeover" is really a marketing term used by those in the Plastic Surgery industry (myself included) to describe cosmetic surgery of the breasts and body in mothers, and to attempt to make it sound more friendly and less scary.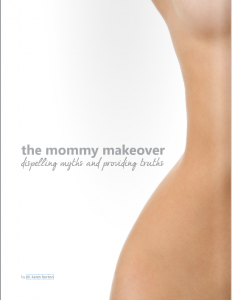 A Mommy Makeover can really be anything you want it to be.  It can include a combination of any or all of the following, depending on your body and your personal goals:
My website goes into additional detail about Mommy Makeover surgery and the variety of options available to women to help restore their figures, body image and often self-esteem after their bodies have undergone permanent changes from pregnancy.  I was also recently interviewed by Multiplicity Magazine about Mommy Makeovers for mothers of multiples – read the article here.
As a Plastic Surgeon, I enter into a short-term but intimate relationship with my patients, that begins at their initial consultation, through the preoperative teaching period and preparation for surgery, into the postoperative recovery period and beyond.  I am entrusted with their health, their life and their bodies, all with the objective of making them look better and achieving their desired results.  I take my job extemely seriously and consider it an honor and a privilege to treat my patients.  
Read my numerous blog posts on Mommy Makeovers to learn more about my aesthetics, my practice philosophy and details about recovery, downtime and more.   I encourage Moms to think about THEMSELVES from time to time, and to avoid feeling guilt when they are considering a Mommy Makeover.  Read my post about this (and see a photo of my twins when they were 5 weeks old!).
To schedule a Mommy Makeover consultation or to learn more about options, complete our online request form or call 415-923-3067 to connect with us!