The Wild 94.9 VIP Event: Mommy Makeovers & CoolSculpting!
As a follow up to Dreena's Mommy Makeover experience at my office, Wild 94.9 held a VIP event for their listeners recently at their iHeartMedia VIP lounge in San Francisco.  This one-of-a-kind special event featured food and wine, a live discussion between Dreena and me about Mommy Makeovers and CoolSculpting.
Dreena came to my office for a Mommy Makeover consult early in October.  At that visit, we discussed all her options for rejuvenation of her breasts, body and other areas of stubborn fat.  In other words, a Mommy Makeover!  
While she is a candidate for surgery, I recommended against a major surgical procedure at this time because she is extremely busy at work and being a MOM!  To hear Dreena's thoughts about her Mommy Makeover consultation in my office, read her blog post here.
At the start of our event, Dreena and I continued the conversation about Mommy Makeovers that we started in a video interview recorded in the iHeartMedia VIP lounge several weeks ago.  To see this video on Dreena's Mommy Makeover blog, CLICK HERE!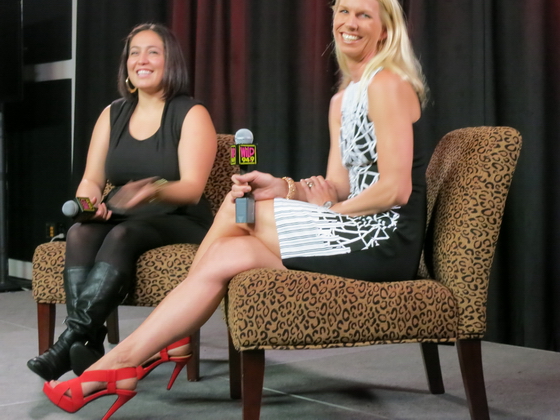 On her Mommy Makeover blog, Dreena also posted a video of her getting a CoolSculpting treatment.  She reported feeling comfortable and relaxed, and that it was a luxury to not be running around after her kids (aged one and three) or rushing to get to work.
After our on-stage discussion, I presented an educational presentation about Mommy Makeover options, both surgical and non-surgical at Horton SPA.
A Mommy Makeover traditionally involves surgery of the breasts and tummy, done together in a single surgery.  
The breasts can be lifted, filled out with an implant (breast augmentation), or occasionally reduced.
A tummy tuck (abdominoplasty) is often added to repair muscles that have been permanently separated from pregnancy, weight gain and skin stretching.
Stretch marks are surgically removed, skin is tightened and tucked, with the goals of a taut, flat, abdomen.
Liposuction is often added to other areas to achieve the very best body contour in a single surgical procedure.
Some women add other procedures such as a labiaplasty (to trim long labia minora) tissue, Botox, fillers or other Horton SPA treatments as well!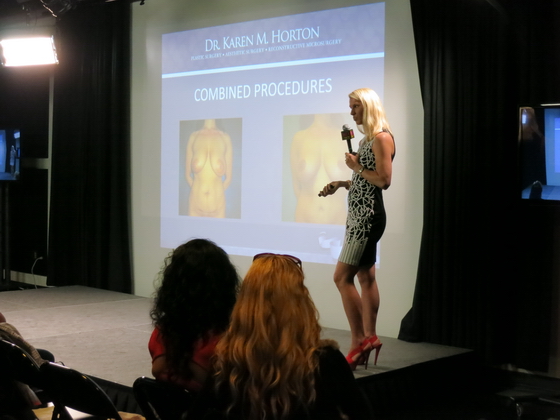 I showed several before-and-after images of Plastic Surgery and gave information about what surgery can achieve, and what it cannot!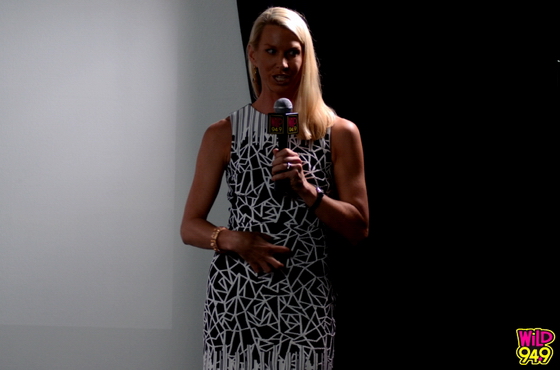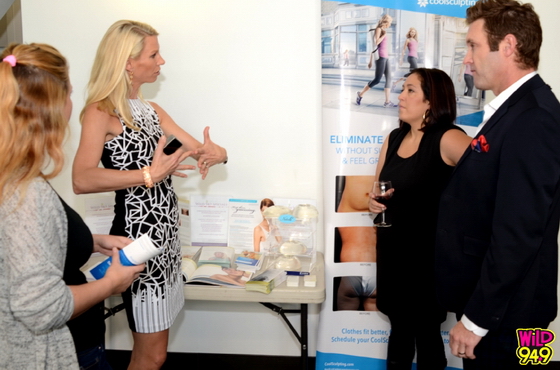 Education is my goal when talking to others about Plastic Surgery – what Plastic Surgery really involves, what it ISN'T, truths and myths about Plastic Surgery, who is a candidate and who should not have surgery!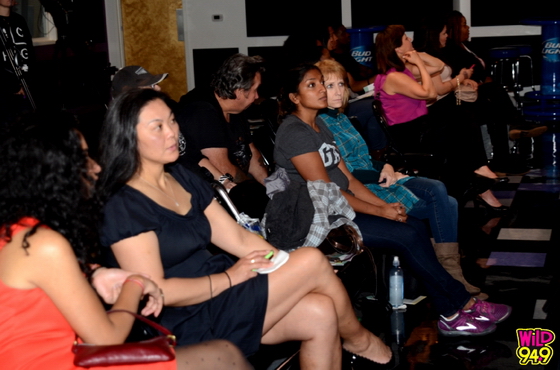 I welcomed questions from the audience and provided real, honest answers about "who is a good candidate for Plastic Surgery?", "who is NOT a good patient?", "When is the best time to have my Mommy Makeover?", and provided additional information about Botox, CoolSculpting, breast augmentation, liposuction, tummy tucks, labiaplasty, breast lifts and more.
We were fortunate to also feature a special presentation about CoolSculpting from  Troy Magnuss from Zeltiq, the company that brought us this FDA-approved, non-surgical, NO DOWNTIME, "fat freezing" technology that I have embraced in my practice.
In all, our VIP Mommy Makeover event was a HUGE success!

THANK YOU to the Wild 94.9 & iHeartMedia team who put our event on:  Dreena Gonzalez, Ashima Sarin, Ashley Patterson, Jenna Holmes, Eric Fisher & Jimmy Le, photographer!
Until the end of 2014, we are continuing to offer Wild 94.9 listeners special discounts!  Click on our Wild 94.9 link to learn more and to schedule your consultation before they are over!!!