Getting to know Wild 94.9's DJ: Dreena's Mommy Makeover Consultation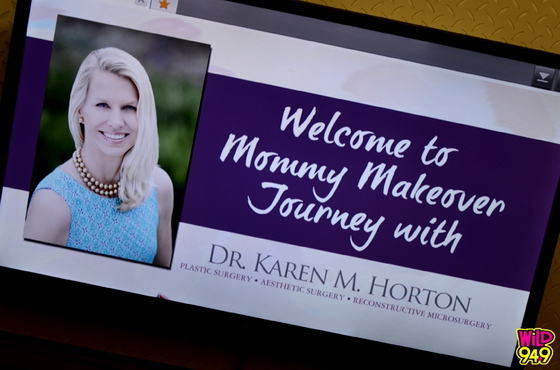 This weekend, I was invited to co-host and present at a live VIP event for Wild 94.9 radio listeners at the iHeartMedia VIP lounge in downtown San Francisco.  This event was part of a partnership I have with Wild 94.9 and their DJ, a mother of two, who was interested in improving her post-pregnancy body and sharing her Mommy Makeover experience with her listeners.
Nearly two months ago, Dreena Gonzalez, a Mom of two little ones and the daytime DJ for Wild 94.9, "the Bay Area's number one music station", came to my office for her Mommy Makeover consultation.  Dreena noticed some permanent changes in her body after having children.  For more information on how pregnancy can change a woman's breasts, tummy and other areas, read my blog post on this topic.
During our first visit, Dreena had a Mommy Makeover consultation with me where I got to know Dreena medically and evaluated her for a potential surgical and/or non-surgical Mommy Makeover.  What can you expect at a Plastic Surgery consultation?  Is it scary?  Intimidating?  Learn all about it here!  
What does a Mommy Makeover involve?  This blog post goes into more detail about what a Mommy Makeover is, and isn't, and what options are available to women seeking to improve their bodies once they are finished having children.  I have published many magazine articles about Mommy Makeovers as well – read one here.
Why did Dreena seek me out for her Mommy Makeover?  My practice focuses on providing the very best care for my patients who are primarily women, and being a mother of twins myself, I understand firsthand how pregnancy can cause permanent and UNWANTED changes in your body!  Learn more here about my Mommy Makeover expertise and why I chose to focus my practice on this sub-specialty of Plastic Surgery.
Dreena reflected on her visit to my practice on her blog.  It was so much fun hosting her in my Pacific Heights Plastic Surgery office and getting to know her as a fellow Mom, a peer and a patient!
While Dreena is an appropriate surgical candidate for a surgical Mommy Makeover, her current lifestyle (working full-time as a DJ and media personality and the young ages of her children, who are dependent on her as a MOM (3 years or younger) – I recommended NOT having surgery at this time, but instead to wait until her little ones were both mobile, potty-trained and she could take the time off from being MOM to be a patient.
Dreena has a LOT going on her life right now.  It was not realistic to plan a major surgery with at least a 6-week postoperative downtime at this stage of her life.  I counsel my patients that ANY surgical procedure is a BIG DEAL!  For Dreena, at this time in her life, a non-surgical procedure instead was more appropriate to target stubborn areas of fat deposits she had noticed post-pregnancy.
The procedure of choice for Dreena?  COOLSCULPTING!  What is CoolSculpting?  Learn all about it in our CoolSculpting blog posts & on the CoolSculpting section of my website.  
Horton SPA CoolSculpted Dreena in 9 areas of her body that could benefit from this non-invasive, FDA-approved, "fat freezing", PERMANENT fat reduction that CoolSculpting offers!  Dreena embraced the "treatment to transformation" approach that CoolSculpting endorses to achieve the most dramatic and permanent results.

See a video of Dreena getting CoolSculpting here.  

As a follow up to her Mommy Makeover, Wild 94.9 invited me to appear as a guest speaker in their VIP lounge and present a brief live presentation about Mommy Makeovers, CoolSculpting and more to their VIP listener guests.  It was a blast!  My next blog post will feature details of the event & many photographs.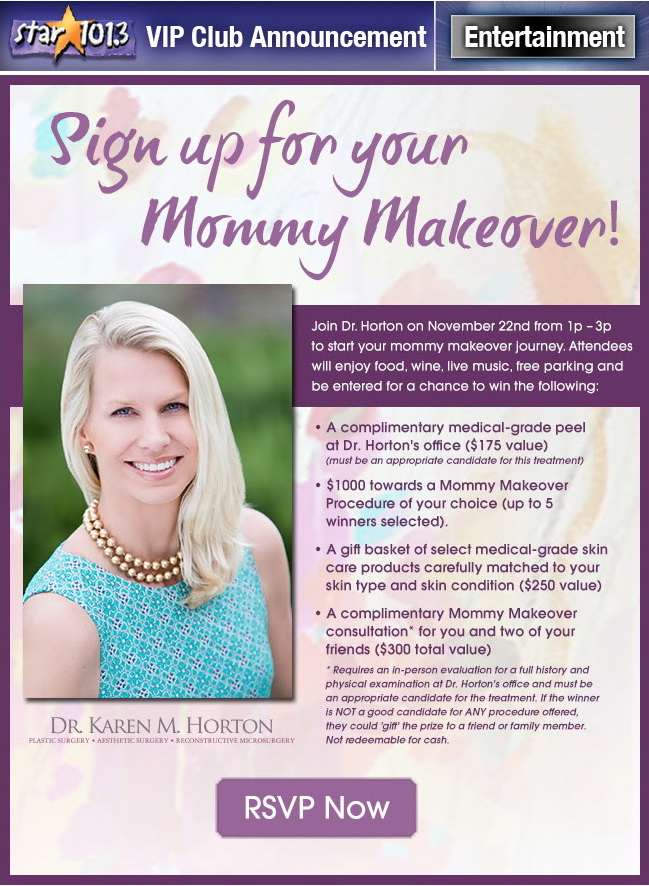 Why is performing Mommy Makeovers so rewarding for me as a Plastic Surgeon, a woman and a mother?  Hear my thoughts here!  
To learn more about Mommy Makeovers, CoolSculpting or other non-surgical options at Horton SPA, call 415-923-3067 or complete our online consultation request form today!