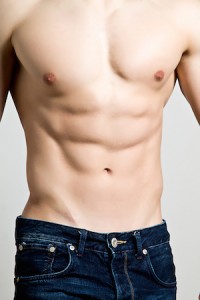 Gynecomastia, which is a common condition characterized by excess male breast tissue, can cause embarrassment or self-consciousness in men of all ages. Although this is often a normal phenomenon, gynecomastia can negatively interfere with the quality of life for men, making them uncomfortable removing their shirts when swimming, at the beach or in intimate situations. Treating gynecomastia can improve body image and self-esteem for men ranging in age from their teen years through their 60s, and often even later.
Though CoolSculpting® can be used to treat gynecomastia, male breast reduction surgery is often more effective for this particular condition. The reason for this is due to the composition of the male breast – it is a combination of firm, fibrous fat (similar to the male flanks region that is ideal for CoolSculpting® treatment), but it also contains some breast tissue that cannot be removed with CoolSculpting®.
The most effective male breast reduction technique for gynecomastia is usually ultrasound-assisted liposuction, or "UAL". (This machine also has some recognized brand names – such as "VASER®" – but the technology is the same, and that's what matters.) This technique requires general anesthesia and about two to three weeks of post-surgical downtime, in addition to a trip to the operating room with a Plastic Surgeon who has experience treating male breast tissue with UAL. During the procedure, the areas of excess breast tissue are first treated with a "wetting solution" (also called "tumescent solution") that contains normal saline, epinephrine to minimize bruising or bleeding, and lidocaine – a local anesthetic that numbs the area postoperatively and minimizes discomfort for several days to weeks.
Next, ultrasound energy is applied directly to targeted areas of male breast tissue through tiny incisions hidden in the natural fold underneath the breast. This causes "cavitation" or "implosion" of the fat cells, essentially "melting" the fat and enabling removal through a third step: the cannula. (Without ultrasound energy, this stiff, firm and fibrous tissue would not be effectively removed.)
The melted gynecomastia tissue is then removed via liposuction using a blunt-ended wand (cannula) and a vacuum. Following this, incisions are closed using dissolving stitches, and a compression vest is applied. Men usually notice a dramatic change from the instant they wake up, and results continue to improve as postoperative swelling and bruising resolves over about three to six weeks. Final results are typically evident at three months, and results are permanent.
In some rare cases of gynecomastia, additional incisions are required around the areola to surgically excise a firm "button" of breast tissue beneath the areola. In other more severe instances, a full female-pattern breast reduction with an anchor scar may be required to remove additional droopy breast tissue and excess skin. This is most common after morbid obesity and massive weight loss, which is not the usual gynecomastia patient we see. Most gynecomastia patients have relatively mild overdevelopment of male breast tissue, which is easily and effectively treated with surgery such as ultrasonic-assisted liposuction.
Contact Our Office
If you are interested in gynecomastia treatment, Dr. Horton can help you determine which treatment would be most beneficial for your needs. Please don't hesitate to contact us today.