In 2014 and beyond, breast augmentation reins supreme!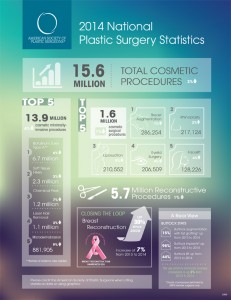 The American Society of Plastic Surgeons (ASPS) recently released its annual statistics report from 2014 and it reports that breast augmentation remains the most popular cosmetic surgical procedure among its members.  Only Board-Certified Plastic Surgeons are members of ASPS, as I have been since the early 2000's as a Resident and an Active Member since 2005.
"Plastic Surgery is on the rise" was the tag line for the report.
In 2014, there were 15.6 million cosmetic procedures, including both minimally invasive and surgical, performed in the United States—an increase of 3% since 2013—according to the latest stats from The American Society of Plastic Surgeons (ASPS).  Cosmetic surgical procedures rose 1%, to nearly 1.7 million procedures in 2014.
Breast augmentation was the most popular Plastic Surgery invasive procedure.  Botox Cosmetic was the top minimally invasive cosmetic procedure.  Horton SPA would agree!
There were also 5.8 million reconstructive surgery procedures performed last year, up 1% from 2013.  As a large portion of my practice involves breast cancer reconstruction, I was pleased to hear this!
ASPS's top 5 cosmetic surgical procedures last year were:
In my practice, I definitely would include breast augmentation and liposuction as some of the most popular surgical cosmetic procedures, together with Mommy Makeovers, labiaplasty, tummy tucks (abdominoplasty), breast lifts (mastopexy) and breast reductions.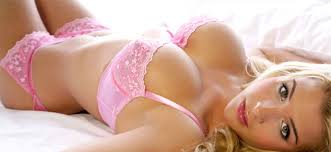 Why is breast augmentation so popular?  Which women are seeking this procedure?  What results are they going for?
The following is a summary of my observations in Bay Area women who come to see me in consultation for breast implants:
Women seeking breast augmentation want to look NATURAL, not fake or obvious to others
The most common aesthetic for Bay Area women's breast is "PROPORTIONAL", natural  and athletic
Women want to continue being physically active soon after recovery and to not have their breast implants interfere with sports, working out or doing their job
Women are looking to simply fill out their bra and avoid using padding to get their look in clothes
They are tired of not filling out a swim suit top or wearing fitted tops!
They want to look and feel feminine, sexy and voluptuous but maintain their overall body image
Women want their breast proportions to match their curves and fit the rest of their body
Women want their implants to feel natural, not hard, so that no one would know they have implants!
The outcome commonly sought is a teardrop shape to the breast that moves with the body, avoiding a round upper curvature or obvious outline
And this is exactly why my patients seek me out!  As a woman and a mother myself, I can relate firsthand to thin, athletic, active women and to mothers who have lost some of the fullness of their breasts after having children and breast feeding.  Mommy Makeovers are one of my favorite combinations of procedures to perform (breast augmentation is a common component of this procedure), and they are so rewarding!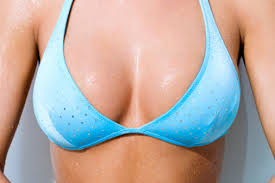 You can learn more about details of breast augmentation in my educational blog about breast implants.  Or come visit me in person!  To be contacted by my office for a breast augmentation consultation, complete our online request form or call 415-923-3067 today.