San Francisco Plastic Surgeon Gives Breast Augmentation A Woman's Touch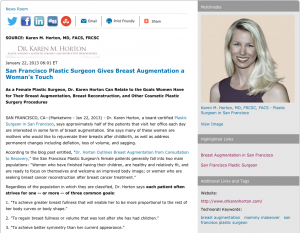 As a female Plastic Surgeon, Dr. Karen Horton can relate to the goals women have for their breast augmentation, breast reconstruction, and other Cosmetic Plastic Surgery procedures.
San Francisco, CA – Dr. Karen Horton, an internationally Board-Certified Plastic Surgeon in San Francisco, says approximately half of the patients that visit her office each day are interested in some form of breast augmentation. She says many of these women are mothers who would like to rejuvenate their breasts after childbirth, as well as address permanent changes including deflation, loss of volume, and sagging.
According to the blog post entitled, "Dr. Horton Outlines Breast Augmentation from Consultation to Recovery," the San Francisco Plastic Surgeon's female patients generally fall into two main populations: "Women who have finished having their children, are healthy and relatively fit, and are ready to focus on themselves and welcome an improved body image; or women who are seeking breast cancer reconstruction after breast cancer treatment."
Regardless of the population in which they are classified, Dr. Horton says each patient often strives for one – or more – of three common goals:
"To achieve greater breast fullness that will enable her to be more proportional to the rest of her body curves or body shape."
"To regain breast fullness or volume that was lost after she has had children."
"To achieve better symmetry than her current appearance."
No matter their goals, Dr. Horton encourages women who are seeking breast augmentation, or even a more comprehensive mommy makeover procedure, to "not feel guilt about considering doing something for themselves as a woman, a mother, or a wife." She educates mothers that Cosmetic Plastic Surgery can be an empowering and positive experience. For example, she says breast augmentation surgery has many benefits for women such as:
Boosting one's self-esteem
Regaining breast volume and fullness
Improving breast symmetry
Improving fit for bras and clothing
Feeling comfortable and natural in one's own skin
In regards to the comfort and care she is able to provide her patients, Dr. Horton says, "As a female Plastic Surgeon who shares the same anatomy as the great majority of individuals I see in the office, most of my patients confide that they feel comfortable sharing their thoughts and concerns with me not only as their surgeon, but as a woman." She adds that as a mother of twins, a healthy individual, a wife, and a full-time professional career woman, she only recommends procedures that she would have performed on her own body.
About Karen M. Horton, MD, FRCSC, FACS
Dr. Karen Horton is a graduate of the University of Toronto. She is a Board-Certified Plastic Surgeon and was recently designated a Fellow of the American College of Surgeons. She is also an active member of the American Society of Plastic Surgeons, the Canadian Society of Plastic Surgeons, and the California Society of Plastic Surgeons among many other prestigious organizations.
Dr. Horton is available for interview upon request.