Beauty & Bubbles to celebrate summer! Horton SPA raffle winners announced…
We recently held our Beauty & Bubbles event to kick off summer 2015!  Horton SPA, located in my San Francisco Plastic Surgery office, features Botox, dermal fillers, CoolSculpting, medical grade skin care, IPL lasers and medical-grade peels.
Horton SPA treatments are administered 5 days a week by our "gentle injector" and skilled Board Certified Aesthetic Nurse Practitioner Emily Sespaniak, who is expert at ALL non-surgical cosmetic treatments in our office.  Emily has a light touch and natural aesthetic.  She is the greatest!
We are pleased to share images of our event with you and to announce winners of our raffle!  Scroll down to learn about our event and see who the winners are…
What is CoolSculpting?  Read our blog posts about CoolSculpting, an incredible permanent fat reduction treatment that avoids surgery, needles, downtime and minimizes bruising and discomfort afterward.
Our office staff have all experienced CoolSculpting ourselves.  Hear about MY PERSONAL fat freezing experience here, our Patient Coordinator Mary Pasache's CoolScupting treatment and read Jenny Do's blog post about how CoolSculpting banished her bulge!
AFTER her Botox treatment, Samantha enjoyed the perks of being a Horton SPA patient – pampering and treats while getting non-invasive aesthetic treatments!
Thanks to all our attendees for making Beauty and Bubbles a fantastic success and a lot of fun!
While we work long (but rewarding!) days and value our personal time away from the operating room and the office, we LOVE hosting these after-hour events to educate our patients about the latest treatments, perform LIVE demonstrations of treatments to show firsthand what the treatment is like, and to offer our VIP patients special offers and discounts for that night only!
Sign up for our email newsletters here to be the first to hear about upcoming events in our office!
And, to announce the winners of our raffle…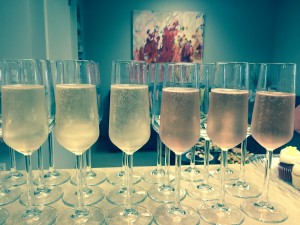 CoolSculpting treatment winner – Suzie Fitzpatrick!
Latisse winner – Jen Alford!
Botox treatment winner – Debbie Bernier!
Please call our office at 415-923-3067 and speak to Jenny or Mary to schedule your follow-up visit and to redeem your winnings!
To schedule a consultation with Dr. Horton or Emily, complete our online consultation request form or call our office today!