The psyche of cosmetic surgery – expected ups & downs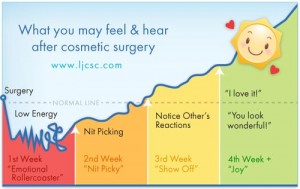 I tell patients every day during their consultations that "Plastic Surgery is very psycho-social".  What does this mean?
Plastic Surgery generally addresses issues on the exterior of the body – the skin and soft tissues, fat, body contours and sometimes the delicate bony structures (of the face, hands and wrists).  Plastic Surgery was designed to help restore, rebuild or rejuvenate form and function.  Learn more about what exactly Plastic Surgery is, why we use the word "plastic" and hear my thoughts on my profession here in some other blog posts.
Although as a Plastic Surgeon I generally care for patients on their OUTSIDES, what I do also affects my patients on the INSIDE, too – where the results directly affect body image, self image and self-esteem.  In my practice this focuses heavily on surgery of the breasts – both cosmetic and reconstructive.
What I do for a living is so extremely rewarding, and I think it is important as a practitioner, a woman, a mother and a fellow caring human being that I consider how having a Plastic Surgery procedure affects my patients.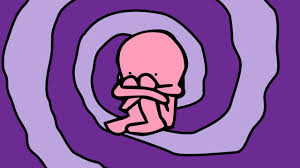 There are a series of ups and downs that every patient goes through when thinking about having a Plastic Surgery procedure, during the planning phases, the immediate postoperative recovery and further on in their recovery period where their body is changing and they are getting used to their "new you".
I warn people that before their procedure, patients may second-guess themselves and wonder "Do I really need to have this procedure?", or "WHY am I doing this?".  This is entirely normal and is a HUMAN reaction that is a combination of nerves, anticipatory anxiety and weighing the pros and cons of surgery, as I encourage all my patients to do.
No one should rush into a cosmetic procedure, particularly if they can't afford it, they have not learned all the risks and benefits of the procedure, they have not done their "homework" to prepare for surgery (which consists of talking to other patients in my practice and finding "wish pictures" for breast augmentation or revision breast surgery), or if they do not feel ready to have surgery!
"Having Plastic Surgery is a big deal".  This is the message I deliver to my patients, no matter or extensive or how small the procedure is.  Taking time off work, away from your children if you are the primary caregiver, spending money that you could instead put toward a home renovation or vacation, having physical downtime, swelling or bruising, incisions that look scary for several weeks, and not being able to exercise, garden, take power walks or whatever your physical activity of choice is – is daunting for anyone!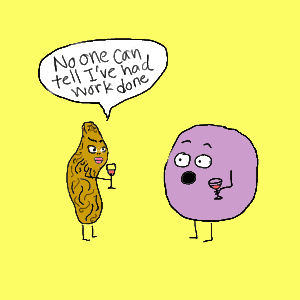 People are often worried that their results will make them look strange, weird, or obvious to others.  My patients who have already had their procedures know why I say "the best Plastic Surgery is walking all around us, but you would never know!".  The goal for most patients is to have NATURAL results, where they are really the only one who knows (along with their partner or close friends they've confided in).  It is possible and realistic to have natural results where you still look like yourself, only rested, rejuvenated and youthful.
The purpose of Plastic Surgery is to help you feel "more comfortable in your skin", to feel proportional, natural and beautiful, and to allow you to move forward without focusing on __________ (insert your least favorite body part here) when getting dressed, putting on a swim suit, working out at the gym, etc.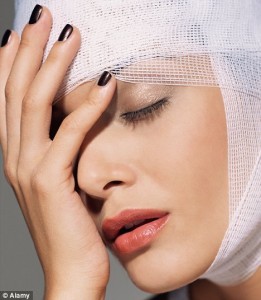 There can be a significant amount of GUILT, especially for Moms, when they are planning a procedure such as a Mommy Makeover.  Hear my thoughts about "Mommy guilt" in cosmetic surgery here.  This is a normal emotion for someone who cares about others and usually puts everyone ahead of themself (i.e. mothers or the primary caregiver!).
During the immediate time after surgery, there is loss of control (of your body, how you look, how you feel, about your schedule, and you generally are wondering why on earth did you do this?!) – we see our patients in regular, frequent follow up to see how they are doing, both inside and out.
There is a change in body image after a cosmetic procedure.  Although it is most usually a positive change, it is still a change from what you know as "normal", and it takes time to get used to the "new normal".  Just like a drastic hairstyle change, when you first look in the mirror, there can be anxiety or panic, but over time, you get used to the change, you accept and even like it, and eventually you forget how things were before.  The same process occurs with a change in your body after a cosmetic or reconstructive procedure.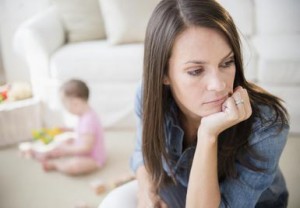 Likewise, with Plastic Surgery, there are common emotional ups and downs that patients go through in the time period after surgery, illustrated above.  There can include:
Panic – "What have I done?"
Anxiety, regret or remorse – this is a totally normal response to having a procedure done with downtime
Self-doubt – "Did I really need it?"
Worry – about the final results, particularly during the first 6 weeks when incisions look scary and the results are far from the final product
The feeling of "oh no" after cosmetic surgery can last for days to several weeks, particularly during the period where you are not allowed to lift more than 5 pounds (your children or a heavy bag), when you are not working, not exercising, and you are totally out of your comfort zone and usual routine.
While I don't agree with all the timing of emotional stages after Plastic Surgery in the first image of this blog post, there are some common stages patients go through, including:
Low energy & an emotional roller coaster – this can last days to several weeks, depending on your particular situation, the amount of surgery you have had, your support system, level of physical fitness and overall emotional state in general
"Nit-picking" – being concerned about how things look and evaluating "my surgical results" is not possible or realistic for at least 6 weeks, up to 3 months or longer after surgery.   However, this is when you start looking under the garments and critically evaluating the appearance of your body.  This is often the most frustrating time, since you are still in the loss-of-control phase and everything often still looks quite scary!  This lasts for several weeks, often 2-3 months, rather than the 'week 2' as diagrammed above.
Noticing others' reactions – for breast and body surgery, like many of my patients have, the results are NOT noticeable to others, which is what we wanted!  However, after a breast augmentation, tummy tuck, liposuction or other surgical procedures, around 3-6 weeks postop is when you can start to see evidence what the results will be once ALL the swelling is gone, which takes 3-12 months.
Joy, hearing "you look wonderful" and feeling like "I love it!" – again, this often does not realistically occur at the 4 week stage.  However, everyone goes though different emotions during their recovery, and after you are able to resume exercise, when you get back to your usual routine and feel some sense of control return, there usually IS a feeling of "I'm so glad I did it!"
By 6 weeks, incisions that started off irregular or rippled looking start to flatten out, the new contours of the body start to take shape, and patients can resume their normal activities.  By 3 months, the results are more evident but scars are red, raised or ugly looking (this is NORMAL and when we start scar therapy!), and it takes up to a full year for the "final, final" results after any Plastic Surgery procedure.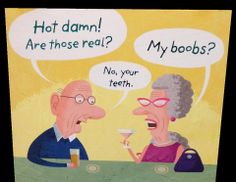 My before & after photo gallery purposely shows some results at the early postoperative stages because for most patients, this is when they are inspecting their results closely, scrutinizing them and are most stressed about whether what they are seeing is normal.  It is not fair to only show results at the 1-2 year mark after surgery when scars are faded and barely perceptible because by then, patients are fully healed, happy and they have moved on emotionally and psychologically.
On the other side of this, patients are routinely happy, with a 99% happiness rate for some procedures!   But recovery takes time, and we support our patients through the good times and the rough periods, and are always available for reassurance in person, over the phone and via email.  We care for our patients inside and out, which is very applicable to Plastic Surgery!
To learn more about Plastic Surgery or to schedule a consultation where you will learn more about options for YOU and how it will affect you – in a POSITIVE way! – call 415-923-3067 or complete our online consultation request form today.