Our patients love us on Yelp!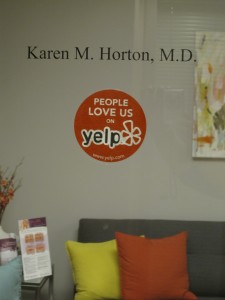 A few years ago, we didn't even know what Yelp was.  Now, in the Bay Area at least, it is the dominant online review site that patients look to for recommendations about everything, including Plastic Surgery!
What is Yelp?  Yelp is an open-source, online review site that was founded in 2004 to help people find great local businesses like dentists, hair stylists and mechanics.  Since that time, Doctors are listed and reviewed on Yelp, where current and former patients, visitors to the practice and even disgruntled individuals can post reviews about their experience and the opinion of the business/practitioner.  Once a business or practitioner is reviewed, the listing cannot be taken down or modified.
Who posts reviews on Yelp?

The people who write reviews on Yelp are often the same ones who usually turn to Yelp first as a source of information for a beauty salon, the best local restaurants, car detailing, a fix-it business, etc.  They trust Yelp to be their referral source by way of reading reviews by customers of the business and to get an inside scoop on the level of service, competency, and atmosphere of that service.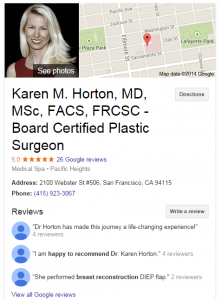 Other review sites such as Google reviews are commonly used and come up when performing an internet search of a practice.  These are less anonymous and tend to be succinct and posted by individuals who have had procedures they don't mind others knowing about – such as breast cancer reconstructon.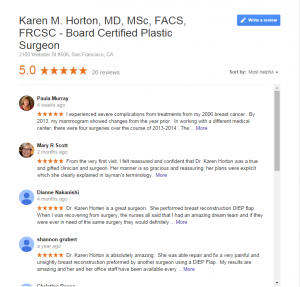 Here is an example recent online review of my practice from a patient on Yelp:
We do ask our patients to review us if they have had a good experience, and most are enthusiastic about this opportunity to help spread the word about our office.  However, the reality is that most of us who don't have any particular issues or problems that are happy with their experience are BUSY and they forget.  I certainly can relate to this!
We feature many of our patient reviews from hand-written cards in the Testimonial section of our website.  These reviews are the most personal, and we are thrilled to share them with other new patients.
However, if a patient feels they have not had the best experience, they are upset, scared or angry, they can take to the internet to vent and get their negative feelings off their chest, as they would complain to a confidant or close friend.  Reviews that are the most salacious, wordy and emotional are often highlighted on these sites, since drama is more exciting and all positive messages (just like reality TV!)  This is unfortunate, as they sometimes do not tell the whole story, or on occasion, might be false.
What do reviews of Plastic Surgeons have to do with serving beer?
As a former bartender and waitress (working part-time during university to find my tuition for my undergraduate degree, Masters degree and Medical School), I understand firsthand how a patient/customer's experience can mold their opinion of a business and stimulate communication with their inner circle of friends and family members.  It is well known in the service industry that if you provide excellent service to a customer and they have a great experience, they will often tell one person and recommend the business, but if they have a bad experience, they will tell at least 4, up to 10 other people!
The same rule applies to the patient experience in a Plastic Surgeon's office:  If a patient is happy with their experience in the office and pleased with their surgical outcome, they might mention it to a close friend or family member.  Many Plastic Surgery patients are extememly private and don't want to share that they've modified their bodies for cosmetic reasons.  Most of our patients are indeed very pleased with their results, and they get on with their lives!  (Remember, "the best Plastic Surgery is walking all around us, but you would never know…"  If a patient's experience is overwhelmingly fantastic (as we hope all our patients feel!), they might take the time to write a wonderful detailed review online while they are still in the afterglow of their treatment.
What do negative Yelp reviews mean?
You can't please everyone, and sometimes patient can just have a bad day.  As a practitioner, a natural "people pleaser" and a business owner, it hurts in the gut to ever see a negative review about my practice.  However, there is no way to document whether a review is in fact REAL, particularly the poster is anonymous.  Online reviews are protected by the first amendment right, and there is no way to remove a review once it is posted, even if a business complains that it is inaccurate.  Some businesses have complained to the Better Business Bureau that their negative reviews contain false information or that they are not written by a real patient or customer.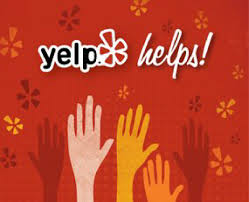 Does Yelp help?  
We think so!  Every week, I see a number of new patient consults who have found me on Yelp!  We love our patients from Yelp, and we encourage them to review us on that site after they have visited with us.
To learn more about our office, visit my website, read our authentic patient testimonials, call 415-923-3067 or contact us online!