Only BRA Day Event in San Francisco and Bay Area to Be Hosted by Dr. Karen Horton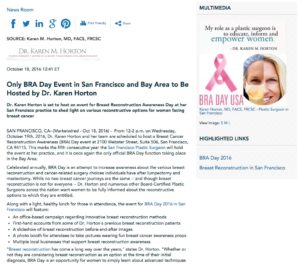 Dr. Karen Horton is set to host an event for Breast Reconstruction Awareness Day at her San Francisco practice to shed light on various reconstructive options for women facing breast cancer.
San Francisco, CA — From 12–2 p.m. on Wednesday, October 19th, 2016, Dr. Karen Horton and her team are scheduled to host a Breast Cancer Reconstruction Awareness (BRA) Day event at 2100 Webster Street, Suite 506, San Francisco, CA 94115. This marks the fifth consecutive year the San Francisco Plastic Surgeon will hold the event at her practice, and it is once again the only official BRA Day function taking place in the Bay Area.
Celebrated annually, BRA Day is an attempt to increase awareness about the various breast reconstruction and cancer-related surgery choices individuals have after lumpectomy and mastectomy. While no two breast cancer journeys are the same—and though breast reconstruction is not for everyone—Dr. Horton and numerous other Board-Certified Plastic Surgeons across the nation want women to be fully informed about the reconstructive options to which they are entitled.
Along with a light, healthy lunch for those in attendance, the event for BRA Day 2016 in San Francisco will feature:
An office-based campaign regarding innovative breast reconstruction methods
First-hand accounts from some of Dr. Horton's previous breast reconstruction patients
A slideshow of breast reconstruction before-and-after images
A photo booth for attendees to take pictures wearing fun breast cancer awareness props
Multiple local businesses that support breast reconstruction awareness
"Breast reconstruction has come a long way over the years," states Dr. Horton. "Whether or not they are considering breast reconstruction as an option at the time of their initial diagnosis, BRA Day is an opportunity for women to simply learn about advanced techniques like single-stage implant reconstruction and microsurgical free flap reconstruction that have helped countless patients restore their sense of femininity and wholeness after breast cancer. Everyone interested in learning about and/or joining in the promotion of breast cancer reconstruction awareness is welcome, and I truly hope to see a wonderful turnout of supporters and prospective individuals."
About Karen Horton, MD, MSc, FACS, FRCSC
Dr. Horton is certified by the American Board of Plastic Surgery and is a Fellow of both the American College of Surgeons and the Royal College of Physicians and Surgeons of Canada. In addition to a full range of cosmetic procedures for the face, body, and breasts, she offers several breast reconstruction options for women undergoing lumpectomy or mastectomy as part of their breast cancer treatment. These include single-stage implant reconstruction, DIEP / SIEA / TUG flap reconstruction, and fat grafting to the breasts.
For more information about Dr. Horton, visit drkarenhorton.com and facebook.com/drkarenhorton.
Contact:
Dr. Karen M. Horton
2100 Webster St.
#506
San Francisco, CA 94115
(415) 923-3067
Rosemont Media
(858) 200-0044
www.rosemontmedia.com