Women in Microsurgery – Inspirational remarks from up-and-coming Microsurgeons

I am a proud Plastic Surgeon and Reconstructive Microsurgeon. And I am one of very few women in this field! 
I'm an active member of the American Society of Plastic Surgeons (ASRM), and one of the founding members of the Women's Microsurgery Group (WMG),  created as a subgroup within this professional society.

What is Microsurgery?  Reconstructive microsurgery is a surgical field within the discipline of Plastic Surgery that uses specialized operating microscopes and precision instrumentation are utilized to perform intricate operations on tiny structures, often 1 mm in diameter or less.
Utilizing magnification up to fifty times that produced by the naked eye and stitches finer than a hair, surgeons are able to repair transected blood vessels and nerves far smaller than the human eye can discern.
The advent of 'free tissue transfer' (also known as 'free flap' surgery because the blood supply is disonnected from the donor site, moved free in the air and then reconnected under the microscope at the recipient site) has enabled Microsurgeons to borrow tissues from areas of relative excess and re-establish its circulation with microsurgical connections at a distant location to restore missing form and function – for example for wartime injuries, industrial accidents and cancer reconstruction from head to toe.
One of the major activities of the WMG is to sponsor up-and-coming surgeons to inspire them to learn more about this sub-specialty within the discipline of Plastic Surgery.  For the second year in a row, two Women's Microsurgery Group Travel Scholarships have been established to foster early interest in Reconstructive Microsurgery in women Medical Students or Surgical Residents.  Awardees receive full funding to our ASRM annual scientific meeting, including travel, hotel and registration fees.  Hooray!
As a WMG Committee member, I was asked to go through 22 applications from women who are training in Medical School or Surgical Residency in Plastic Surgery or Orthopedic Surgery and who are applying for the ASRM WMG travel scholarship.  
During this lengthy process, I was elated to see that many trainees who are just learning about Microsurgery – or who have had the opportunity to witness firsthand and participate in complex reconstructive cases making use of Reconstructive Microsurgery – echoed my sentiments about the field of Microsurgery and why I wanted to make it part of my profession!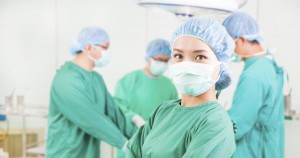 Here are some of their thoughts from applications (anonymously shared), with my comments:
Please note that I have added capitals to titles I believe have earned them, such as 'Plastic Surgeon', 'Reconstructive Microsurgeon', 'Microsurgery' and 'Researcher'.  After all those years of training, dedication, education and sacrifice to help others, PLEASE honor these achievements and add capitals!
"'Reconstructive Microsurgery'.  Two words backed by endless possibility and innovation.  Microsurgery – by its very definition – only emerged with the advent of the surgical microscope and advancements in magnification.  To me, the spirit of Microsurgery reflects innovation, creative change, and the exciting challenge to forge further ahead, be bold, and advance our surgical boundaries."
I personally remember the very first time I looked down the operating microscope during my training in Plastic Surgery at the University of Manitoba in 2002.  My teacher, Dr. Tom Hayakawa, had recently returned from his Fellowship in Reconstructive Microsurgery at the Buncke Clinic in San Francisco, where Microsurgery was born in the United States, and where I ultimately would go for further Microsurgery training and later start my private practice.
"I knew I had discovered something remarkable that I had to explore further."
At my own first ASRM annual scientific meeting in 2003, I met other Microsurgeons and truly found that I had 'found my breed'.  The research and incredible complex reconstructive cases presented opened my eyes further to what Reconstructive Microsurgery can do to help others whose bodies have been mangled or affected by tumor, trauma or congenital reasons.
"Among the surgical subspecialties, Microsurgery is exquisitely unique."
Hand transplantation had just begun, and face transplantation was still in its conception during my early ASRM meetings, and advancements were ongoing in all fields, but particularly in the area that I ultimately was inspired to focus on in my practice – breast reconstruction using the body's own tissue such as the DIEP flap, the SIEA flap and the TUG (inner thigh) flap.
 "With amazement, I watched two Plastic Surgeons transfer abdominal soft tissue to a woman's chest and mold the raw material into warm, viable breasts where the cruelty of cancer had created a lack."
I completely agree.  It really is amazing that we can successfully transplant skin and fat tissue from one part of the human body to another on just one tiny artery measuring 1-3 mm in diameter and 1-2 tiny veins, and that it will survive and live in this new location!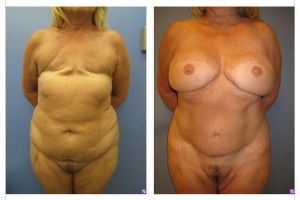 See my blog post that documents the stages in a woman's breast reconstruction using the DIEP flap, including many before-and-after images of her transformation that indeed WAS life-changing for her!
"The DIEP flap necessitates meticulous craftsmanship on the part of the surgeon and results in profound improvements in the patient's self-satisfaction and body image." 
The DIEP flap is currently one of the absolutely highest-echelon options in autologous breast reconstruction we can offer women at this time in history.  Microsurgical free flap breast reconstruction creates a warm, soft, living tissue reconstruction that lasts forever.
Microsurgical breast reconstruction procedures help to counteract radiation-related damage to surrounding tissue, they can very nearly identically match a normal breast on the other side, and taking fat and skin from the abdomen or inner thigh has the benefit of creating a tummy a tuck or lift as an added bonus to the donor site!
However, not all women are candidates for a Microsurgical breast reconstruction.  Although breast implant reconstruction remains a great option for many women who do not have enough donor site tissue for a free flap, if given the option between using the body's own tissue and a foreign body, I would usually choose the most natural option = a woman's own fat!
"I have been raised to always seek self-improvement and to focus on ways to make other's lives easier."
This candidate sounds like a natural born caregiver to me!  I can relate.  My life also consists in self-improvement and to better the lives of others, both through reconstructive and cosmetic procedures of the breast, body and face.
Most Microsurgeons who are inspired to learn about and receive further Fellowship training in Reconstructive Microsurgery were inspired like the applicants to the WMG ASRM travel scholarship (and like I was too!) by those caring and skilled Microsurgeons who perform these incredible surgeries daily.
Most Plastic Surgeons do not perform Microsurgery, but nearly all Reconstructive Microsurgeons are first Board Certified Plastic Surgeons.  Why don't all Plastic Surgeons do Microsurgery?  Money, surgical skill, personality, perseverance and patience!
What is not well known is that insurance companies do NOT adequately reimburse these complex surgeries that are only performed by specially-trained, dedicated Reconstructive Microsurgeons.  The rates paid for the cases I perform are embarrassingly low – far lower than even to cover my daily office overhead.
It would be extremely difficult to survive on the insurance reimbursements granted by insurance companies in California.  I realize that other states receive much better reimbursements for the very same surgeries.  Good for them!  Regrettably, my hands are tied as a Microsurgeon in California.
So why do I continue performing Microsurgery? 
I tell my patients and colleagues that I do Reconstructive Microsurgery cases because I enjoy them, they are the most challenging intellectually, technically and strategically and because I get to continue to work with one of my other teachers, Dr. Rudy Buntic!  Dr. Buntic is my Microsurgical partner and Co-Surgeon on all my Microsurgery cases.  We work very well as a team; each surgery is like a dance, and we are long-term partners who anticipate each other's' next move and rarely miss a step!
"A painter, a pianist, a Surgeon, and a homemaker share one thing in common – the utility of their hands and inability to succeed when injured.  Any level of disability can be devastating and can have a multifold impact on their lives and well-being." 
Many of the first cases I participated in during my training were repairing mangling hand injuries – 'replantation' of amputated fingers, thumbs, an ear, the scalp and even a nose (requiring reconnecting blood vessels, nerves, tendons and bone where present), 'revascularization' (restoring blood flow when it is severed but the part is still attached), and 'toe-to-thumb transplantation' (which moves a big toe up to the stump of a lost thumb with its arteries, veins, nerves, tendons, bones, joints, and skin to replace function to the hand).  Incredible!!!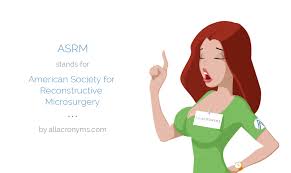 "As I learn about replantation, free flap options, nerve transfers, targeted muscle re-innervation, and complex tissue transplantation the more excited I am that I have dedicated myself to this field.  The possibilities seem endless!"
Research in Reconstructive Microsurgery is always ongoing.  While I no longer perform basic science research, I am constantly evaluating the results of my patients and their outcome for the purpose of improving techniques and outcomes for future patients.
"Microsurgery… is also about demonstrating the humility of knowing when to show restraint and hold back until research further advances the field.  This fine balance between daring innovation and confronting limitations with research is what excites me to become a future Reconstructive Microsurgeon and a Researcher." 
One particular skill of a practicing clinician and Reconstructive Microsurgeon is knowing when to say "no".  Not everyone is a candidate for surgery, and during a Microsurgery procedure, minute-by-minute assessments about blood flow, perfusion of tissue, blood vessel caliber and adequacy of anastomotic patency is undertaken.  No two patients are alike, and no Microsurgery case is the same.

Our Microsurgery success rate is approximately 99%, and I am honored to be presenting some of my clinical work at the upcoming American Society for Reconstructive Microsurgery annual scientific meeting in January 2016 in Phoenix, Arizona.
Thank you to the ASRM Women's Microsurgery Group Travel Scholarship applicants for the inspiration for this blog post.  I love Microsurgery, and am so glad to hear that other women are being inspired by my profession as well!
To learn more about Microsurgical breast reconstruction or to schedule a consultation with Dr. Karen Horton, call 415-923-3067 or complete our online consultation request form today.