Nipple-Sparing Mastectomies: Why we love our Breast Surgeons!
Why am I able to provide our patients with the very best results in advanced breast cancer reconstruction techniques and immediate breast reconstruction after mastectomy?  Because of our fabulous Breast Surgeons!
As a Plastic Surgeon who specializes in breast cancer reconstruction, I rely on the surgeon who performs the mastectomy, known as a Breast Surgeon, to do the very best job.  I am present for the entire procedure, including the mastectomy, and often assist them with removal of the breast tissue before I perform breast reconstruction.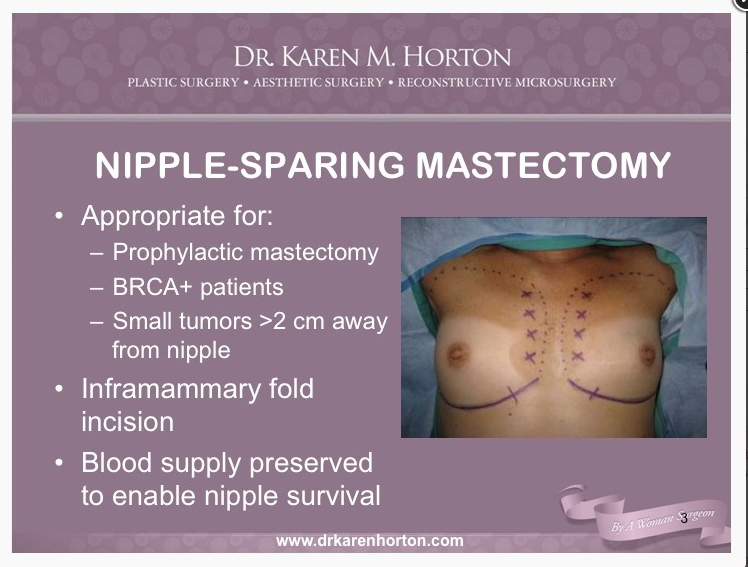 The Breast Surgeons I choose to work with specialize in nipple-sparing mastectomy (NSM), a state-of-the-art procedure that preserves the entire 'envelope' of the breast including the nipple and areola skin by way of an incision that is hidden in the natural fold of the breast.   It is hidden in a bra or bikini and is associated with the best cosmetic results and best survival of the nipple following cancer-related surgery.
Nipple-sparing mastectomy is appropriate for small breast cancers that are far away from the nipple and areola, in cases of DCIS (non-invasive breast cancer) and for women seeking a with prophylactic mastectomy because they carry the BRCA gene.
Just like Angelina Jolie, women wish to get on with their lives following mastectomy surgery but to preserve their femininity and body image while reducing their risk of breast cancer.  Read Dr. Horton's blog post about NSM, Angelina Jolie's story and saving nipples here.
Following a mastectomy, Dr. Horton's practice offers breast reconstruction involving placement of permanent, postoperatively adjustable breast implants in a single stage, tissue-based reconstruction involving Microsurgery such as the DIEP or the TUG (inner thigh) flap, or a combination of procedures tailored to a woman's specific reconstructive needs and her personal aesthetic goals for surgery.
For women who do not need a total mastectomy to treat their tumor, a lumpectomy by our Breast Surgeon is often coordinated with an immediate reconstructions using a breast lift or reduction technique.  This approach affords a single surgical procedure and single recovery, which is usually followed by radiation therapy.
Whatever the technique used for breast reconstruction, the success of the final aesthetic outcome is predicated upon survival of the breast skin, the nipple and avoidance of wound healing issues and infection.  Our Breast Surgeons are vital to a successful reconstruction result!  
When a woman is diagnosed with breast cancer, she often seeks out her breast reconstructive surgeon first.  The cosmetic result of her planned breast reconstruction is the driving force.  Our patients often travel far and wide (often from other states and even other countries) for DIEP. SIEA or TUG flap surgery that is only offered by Plastic Surgeons who also offer Reconstructive Microsurgery:  my sub-specialty within Plastic Surgery and breast reconstruction.
In private practice, I choose which Breast Surgeons to work with.  As such,I choose to only refer my patients to the absolute BEST:  Breast Surgeons who care as much about the final reconstruction result and the appearance of the breasts after surgery as I do!  Our Breast Surgeons specialize in nipple-sparing mastectomy, carefully planned aesthetic lumpectomies that do not leave ugly and obvious scars, gentle tissue-handling techniques, and they tend to ONLY perform breast surgery as their primary specialty.
After I meet a new patient who needs a mastectomy or lumpectomy for breast cancer, I select the Breast Surgeon who will best meet their needs and provide the best treatment, with the highest chance for success – including the very best cosmetic outcome!  
So THANKS to our Breast Surgeons who not only cure women of breast cancer or effect significant risk-reduction via prophylactic surgery in BRCA positive women, they enable the very best cosmetic results in breast reconstruction!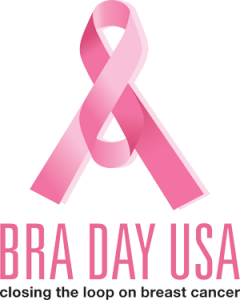 Dr. Horton is thrilled to host the Bay Area's only Breast Reconstruction Awareness Day (BRA Day) event this October 2014, our annual nationally celebrated breast reconstruction awareness event.
Learn more about BRA Day and increasing awareness about breast cancer reconstruction on the official BRA Day USA site.
Read Dr. Horton's other blog posts about breast cancer reconstruction here.
To learn more about immediate breast reconstruction techniques offered by Dr. Horton, view our printable Advanced Breast Reconstruction pamphlet PDF, complete our online Contact Us form or call 415-923-3067 today!