Plastic Surgery Myth #2: It's too expensive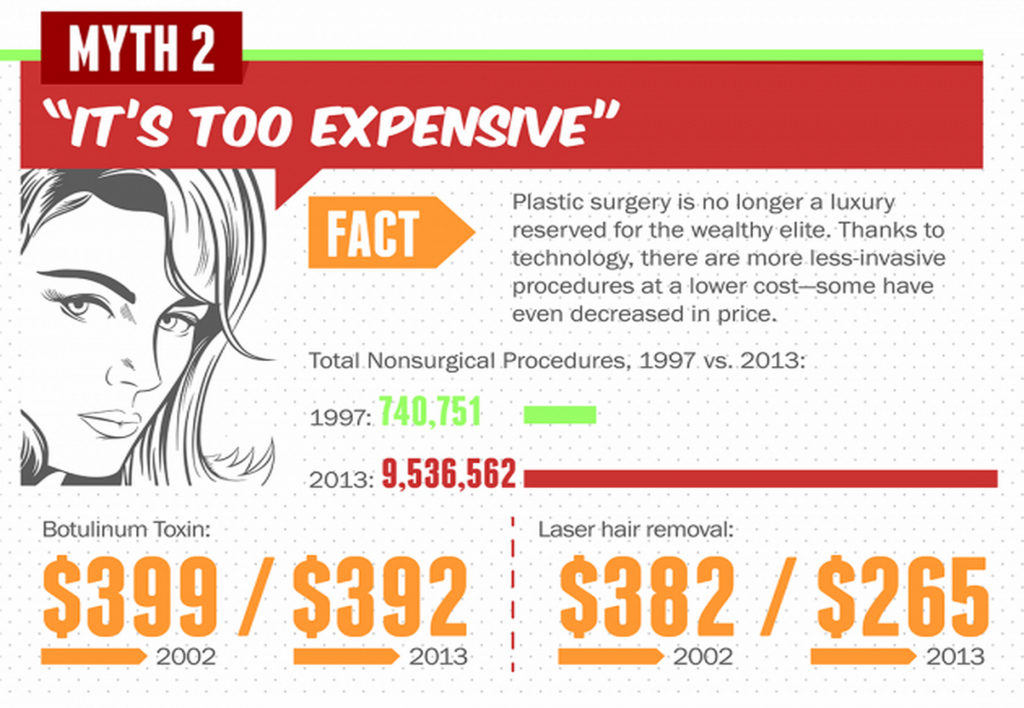 Is Plastic Surgery really ONLY for the rich and famous?  Is it really THAT expensive?  NO!!!
They myth that most Plastic Surgery procedures are extremely expensive and out of the question for the average person is actually quite the opposite.
Most of my patients are not wealthy 'Housewives of the Bay Area".   Nor are they the super-elite or infamous Hollywood celebrities – although many of my patients are phenomenal successes in their respective fields:  high tech, acting, music, dance, fine art, business, medicine, law and one of the most important jobs of them all…  being a MOM!
The individuals I see in consultation for Plastic Surgery are normal, everyday people who are looking to "put their best face forward" and look as young as they feel; improve their body contour after pregnancy or weight loss; lift and enhance their breasts; improve their skin's condition or treat pigmentation abnormalities (brown spots or redness); relieve excess weight from heavy, oversized, pendulous breasts; trim hanging excess labia minora tissue; or rejuvenate their face and neck so their face reflects the vitality and fitness of their lifestyles and healthy Bay Area bodies!
The decision to have a Plastic Surgery procedure is a personal, responsible decision that is often saved for or budgeted into one's expenses, just like having an expensive haircut, massage or personal training package.  Before deciding to have a cosmetic procedure, it should be thoroughly researched, with experience and safety at the forefront of one's mind.  A Board-Certified Plastic Surgeon's office is a MUST!  Do your homework:  don't rush to the nearest discount online coupon service offering "bargain basement Botox" – in this situation, you usually get what you pay for…
In fact, many of the common cosmetic procedures performed in a Plastic Surgery office such as Botox, fillers, or IPL laser procedures do NOT actually involve surgery, have little to no downtime, and the average costs have DECREASED over the last few years!  Results from these procedures last many months to a year or more, and in many cases are permanent (laser hair removal, pigmentation treatment, and results of surgery).
One of the latest technologies to permanently reduce fat, CoolSculpting, costs much less than the surgical alternative – liposuction – because the expense of operating room time and anesthesia is eliminated.  And there is no surgical downtime!  How amazing is that!?!?
To learn about the different types of Plastic Surgery, non-surgical aesthetic procedures such as those offered at Horton SPA, call our office at 415-923-3067 today for a comprehensive consultation, or fill out our online contact form to request a visit to find out more TODAY!