Breast Reconstruction: Using Your Own Tissue To Rebuild Your Breast

Recently, I was asked to be Guest Presenter for Living Beyond Breast Cancer's two-part webinar series on breast reconstruction options My topic was about flap-based reconstruction, or using your body's own tissue to build a new breast.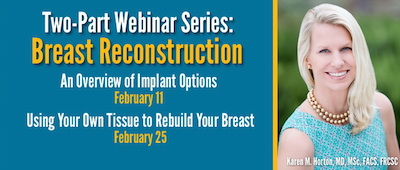 Over 480 people pre-registered for the event, and at least 100 participated in online questions and answers or called in live to be heard on air as I answered their questions afterward.
I gave a 35 minute live presentation over the internet, and then welcomed questions from participants about breast reconstruction such as:
My webinar presentation focused on using your body's own tissue to build a new breast, known as flap reconstruction.  While I do perform many implant reconstructions using adjustable permanent implants in a single stage, my other area of subspecialty for breast reconstruction is Reconstructive Microsurgery.  Microsurgery allows tissue from one part of the body to be transplanted to another part (such as the breast) without sacrificing a major muscle to act as the carrier – like in the TRAM flap (takes the rectus abdominis muscle) or the LAT flap (sacrifices the latissimus dorsi muscle).
Some of the key points of my presentation, in addition to answering the questions above, were:  
If a woman has enough "donor site tissue" (extra fat from the abdomen, inner thighs or other areas of her body) that can be used to create a new breast, why not use the body's own tissue and avoid all the potential complications of implants?
Not all Plastic Surgeons are Microsurgeons.  When seeking a flap reconstruction, you should find a Microsurgeon with experience in the DIEP flap and/or alternative such as the inner thigh (TUG) flap (at least 50-100 cases in practice, with a low complication rate).  Do your homework when considering allowing a surgeon to operate on your body!
To see my presentation slides, click on the slide below:  
To learn more about the plethora of options available to women facing breast cancer or who are seeking risk-reducing mastectomy for BRCA gene carriers, visit the breast reconstruction pages of my website.
To schedule a consultation or to learn more about breast reconstruction options, call 415-923-3067 or complete our online consultation request form today.