San Francisco Plastic Surgeon Participates In BRA Day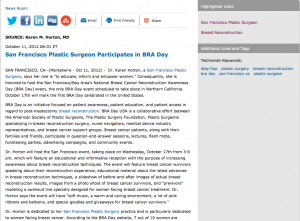 San Francisco, CA – Dr. Karen Horton, a San Francisco Plastic Surgeon, says her role is "to educate, inform and empower women." Consequently, she is honored to host the San Francisco/Bay Area's National Breast Cancer Reconstruction Awareness Day (BRA Day) event, the only BRA Day event scheduled to take place in Northern California. October 17th will mark the first BRA Day celebrated in the United States.
BRA Day is an initiative focused on patient awareness, patient education, and patient access in regard to post-mastectomy breast reconstruction. BRA Day USA is a collaborative effort between the American Society of Plastic Surgeons, The Plastic Surgery Foundation, Plastic Surgeons specializing in breast reconstruction surgery, nurse navigators, medical device industry representatives, and breast cancer support groups. Breast cancer patients, along with and their families and friends, participate in question-and-answer sessions, lectures, flash mobs, fundraising parties, advertising campaigns, and community events.
Dr. Horton will host the San Francisco event, taking place on Wednesday, October 17th from 3-6 pm, which will feature an educational and informative reception with the purpose of increasing awareness about breast reconstruction techniques. The event will feature breast cancer survivors speaking about their reconstruction experience, educational material about the latest advances in breast reconstruction techniques, a slideshow of before-and-after images of actual breast reconstruction results, images from a photo shoot of breast cancer survivors, and "previvors" modeling a swimsuit line specially designed for women facing breast cancer treatment. Dr. Horton says the event will have "soft music, a warm and caring environment, a lot of pink ribbons and balloons, and special goodies and giveaways for breast cancer survivors."
Dr. Horton is dedicated to her San Francisco Plastic Surgery practice and is particularly dedicated to women facing breast cancer. According to the BRA Day website, 7 out of 10 women are unaware of their options regarding breast reconstruction. Dr. Horton's goal is to increase the local awareness of the public about the breast reconstruction options available, and to empower women about the latest and greatest techniques such as nipple-sparing mastectomy, immediate implant reconstruction and microvascular transplantation procedures that do not sacrifice major muscles of the body.
Dr. Horton's father was a breast Surgical Oncologist who specialized in breast cancer treatment at the University of Toronto for 30 years; her sister, Ingrid, is a Genetic Counselor who counsels breast cancer patients and "previvors" (individuals who carry a copy of the BRCA gene that predisposes to breast and/or ovarian cancer) in their decision-making process about whether to undergo risk-reduction surgery. Although breast cancer does not run in her family, each member of her family is a caregiver in some form, and Dr. Horton says that it seems "only natural that I feel so passionately about helping others facing this disease." Breast reconstruction is a large part of her practice (60-70%), and her practice specializes in both single-stage immediate breast implant reconstruction following mastectomy for breast cancer and microsurgical breast reconstructions such as the DIEP flap, SIEA flap and TUG (inner thigh) free flap.
As a Plastic Surgeon and a woman, Dr. Horton believes it is her calling to help spread the word about the options available for women facing the disease, and to serve as the "light at the end of the tunnel" or the "silver lining" in the entire breast cancer journey. Hosting the San Francisco/Bay Area BRA Day event in the lobby of her office allows Dr. Horton to continue to educate the general public and raise awareness in conjunction with National Breast Cancer Awareness Month.
About Karen M. Horton, MD
Dr. Karen Horton is a Board-Certified Plastic Surgeon and Reconstructive Microsurgeon specializing in cosmetic and reconstructive surgery for women. A graduate of the University of Toronto, Dr. Horton served as a Fellow of the Royal College of Physicians and Surgeons of Canada (F.R.C.S.C.) before moving to the Bay Area to complete her Fellowship in Reconstructive Microsurgery in San Francisco. Dr. Horton was most recently designated a Fellow of the American College of Surgeons (F.A.C.S.). She is also an active member of the American Society of Plastic Surgeons, the California Society of Plastic Surgeons, and the International Society of Aesthetic Plastic Surgery among others.
To contact Dr. Karen Horton and her staff, visit the practice's website drkarenhorton.com or call 415-923-3067. The practice's office is located at 2100 Webster Street, Suite 506, San Francisco, CA 94115. The center's Facebook page can be found at facebook.com/drkarenhorton and Twitter participants can follow her at twitter.com/drkarenhorton.