New Uses Cause Rise in BOTOX Injections Says San Francisco Plastic Surgeon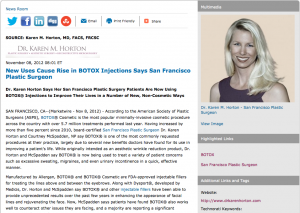 Dr. Karen Horton says her San Francisco Plastic Surgery patients are now using BOTOX® injections to improve their lives in a number of new, non-cosmetic ways.
San Francisco, CA — According to the American Society of Plastic Surgeons (ASPS), BOTOX® Cosmetic is the most popular minimally-invasive cosmetic procedure across the country with over 5.7 million treatments performed last year. Having increased by more than five percent since 2010, board-certified San Francisco Plastic Surgeon Dr. Karen Horton and Courtney McSpadden, NP say BOTOX® is one of the most commonly requested procedures at their practice, largely due to several new benefits doctors have found for its use in improving a patient's life. While originally intended as an aesthetic wrinkle reduction product, Dr. Horton and McSpadden say BOTOX® is now being used to treat a variety of patient concerns such as excessive sweating, migraines, and even urinary incontinence in a quick, effective manner.
Manufactured by Allergan, BOTOX® and BOTOX® Cosmetic are FDA-approved injectable fillers for treating the lines above and between the eyebrows. Along with Dysport®, developed by Medicis, Dr. Horton and McSpadden say BOTOX® and other injectable fillers have been able to provide unprecedented results over the past few years in enhancing the appearance of facial lines and rejuvenating the face. Now, McSpadden says patients have found BOTOX® also works well to counteract other issues they are facing, and a majority are reporting a significant response to the procedure.
"BOTOX® can be used to treat a number of medical conditions, including cervical dystonia, eye disorders, upper limb spasticity, chronic migraine, urinary incontinence, and hyperhidrosis," says McSpadden. "BOTOX® Cosmetic is also frequently used 'off-label' for other areas of the face and body for cosmetic purposes, including in the forehead, around the eyes (crow's feet), 'bunny lines' (the scrunching muscles on each side of the nose), the upper lip for a gummy smile or for vertical lip lines, dimples in the chin, the corners of the mouth, and even the neck."
During the procedure, Dr. Horton and McSpadden say BOTOX® is injected into the muscle beneath the skin to the desired treatment area, blocking the action of acetylcholine and inhibiting the function of the muscles so that they are unable to contract. They say the effects can take up to two weeks before patients experience the full result, but many begin to notice an improvement within 24 to 48 hours. Whether they are looking to increase the vibrancy of their appearance or stop excessive sweating, Dr. Horton and McSpadden say studies of both BOTOX® and Dysport® have confirmed both the safety and effectiveness of the procedure.
"Most people respond very well to BOTOX® or other neuromodulator treatments, and the results are effective, if done in the correct location and using the appropriate doses," says McSpadden. "It is considered safe to continue using BOTOX® year after year, as it does not 'build up' in your system, and after 20+ years of use and clinical studies, there is no known reason to stop treatments if the patient likes the results and tolerates the treatment well."
As with any cosmetic procedure, Dr. Horton and McSpadden encourage their San Francisco Plastic Surgery patients to consult with a board-certified Plastic Surgeon and an experienced aesthetic nurse before undergoing any treatment. By choosing the right practice, they say patients can find the procedure that provides the right results for their needs, regardless of whether their goals are aesthetic or functional.
About Karen Horton, MD, FACS, FRCSC
Dr. Karen Horton earned her medical degree from the University of Toronto Medical School, after which she completed five years of training in Plastic Surgery. She is board-certified in Plastic and Reconstructive Surgery and a Fellow of the Royal College of Physicians and Surgeons of Canada, as well as a Fellow of the American College of Surgeons. Dr. Horton has published several textbook chapters and scholarly articles on her techniques in Plastic Surgery, in addition to receiving numerous research awards. She offers a wide range of procedures, both surgical and nonsurgical, including everything from breast augmentation and reconstruction, to dermal fillers.
About Courtney McSpadden, NP
A graduate of UCLA and Samuel Merritt College in Oakland, Courtney McSpadden, NP is a Registered Nurse and Nurse Practitioner with Dr. Horton's practice. Dedicated to helping others through medicine, she has also worked in gynecology and obstetrics, and as a health educator for new and expecting parents. McSpadden has gained extensive experience in a wide variety of cosmetic injections and skin treatments from BOTOX® Cosmetic to intense pulse light therapy.
Located at 2100 Webster Street Suite 506 in San Francisco, CA 94115, Dr. Horton's practice can be reached at (415) 923-3067. It can also be contacted online via the websites drkarenhorton.com or facebook.com/drkarenhorton.