Is the Clear + Brilliant™ Laser Treatment Right for Me?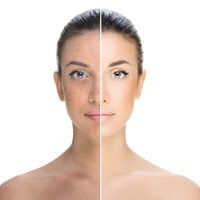 The Clear + Brilliant™ is a non-ablative laser, meaning there is no downtime! This has made it a popular choice by patients who don't want the 1-2 weeks of downtime experienced with some of the other lasers on the market. There are two types of the Clear + Brilliant™ laser and our office offers both.
The Original handpiece is designed to address the early signs of skin aging. It's great for those in their 20s and 30s looking to get a head start on a good anti-aging regimen, but patients of all ages and skin types can benefit from this treatment. In fact, the Clear + Brilliant™ is safe for even the most sensitive skin types because it is non-ablative. It targets fine lines and wrinkles and works particularly well on acne-prone skin and post-acne marks. The laser treatment stimulates collagen to brighten dull skin and improve texture.
The Permea handpiece is indicated for melasma-type hyperpigmentation. It renders the skin more permeable so that medical-grade skincare can penetrate the deeper layers of the skin and work more effectively. It is safe for melasma sufferers because it doesn't involve the same high level of heat associated with other devices on the market. Heat and sun exposure, along with hormonal factors, are the biggest triggers of melasma. The Clear + Brilliant™ can also help improve the redness associated with rosacea; however, IPL tends to be the gold standard for this condition.