Which Men Are NOT Good Candidates for Liposuction?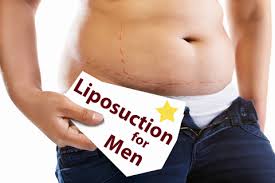 Though liposuction is designed to remove stubborn buildups of fat from various regions of the body, it is NOT an alternative to weight loss!  Liposuction is a body contouring procedure, rather than a weight loss method.  It is important that both men and women considering liposuction understand the procedure in detail, including who is a good candidate and the best timing of the procedure.
So… which men are good candidates for liposuction?  And are men really having Plastic Surgery?  YES!
If a man is obese and has a long way to go before he reaches his ideal body weight or a lower body mass index (BMI), he is generally NOT considered a good candidate for liposuction.  Yo-yo weight fluctations should be avoided, and a stable weight should be achieved for 3-6 months before considering a body contouring procedure such as liposuction.
Additionally, if he is unhealthy and/or has medical problems that are not well controlled – such as diabetes, high blood pressure, or other conditions that require more urgent treatment – he should optimize his health and weight BEFORE considering liposuction.
As a safe, conservative Plastic Surgeon, I also prefer NOT to operate on people who smoke, as smoking cigarettes containing nicotine – or any other nicotine delivery system, such as e-cigarettes, nicotine gum or the patch – which causes vasoconstriction, or spasm of the small blood vessels under the skin that are necessary for normal blood circulation to the tissues during surgery and while healing.
To be considered an ideal candidate for liposuction, a man SHOULD be overall healthy, at or near his desired weight, and have good skin tone and elasticity. Furthermore, he should have pockets of fat that have proven resistant to a nutritious diet and regular exercise. These pockets of fat tend to be genetically distributed and can usually be grasped between two hands.
If around the abdominal area, fat deposits appropriate for permanent removal by liposuction can be felt under the skin rather than deep inside the abdominal cavity.  Intra-abdominal fat CANNOT be treated with liposuction – only dietary modifications and regular exercise can reduce the amount of this fat that increases the dangers of high blood pressure, heart attack, stroke and diabetes.

Ultimately, meeting this criteria, along with selecting a skilled and experienced Board Certified Plastic Surgeon (who understands the male physique and respects that men need to be treated differently than women!), is essential to achieving optimal liposuction results.
– Dr. Karen Horton, San Francisco Board Certified Plastic Surgeon
Contact Our Practice
If you have any further questions about your candidacy for liposuction, or if you are interested in learning more, we encourage you to contact our office today to schedule a liposuction consultation with Dr. Horton.