When Is Neck Lift a Better Option than Neck Liposuction for Men?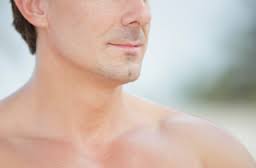 Which is better for men:  a neck lift or liposuction?  Well, it depends on the problem – too much fat or loose skin and jowls. Liposuction of the neck will permanently remove stubborn fat deposits in the neck, chin and jawline region.  However, liposuction will not improve skin tone or correct excess baggy, loose skin that wobbles when the neck is turned (sometimes referred to as a "turkey waddle"), or jowls below the neck line. Men with these specific indications on the neck are generally better candidates for a neck lift.
A neck lift does exactly what it sounds like – it lifts skin of the neck and lower face to naturally tuck and re-drape baggy, loose neck skin upward in addition to eliminating jowls and excess fat in this region. A properly performed male neck lift will maintain the masculine appearance of a man's face and face, as opposed to making him look feminized or different. During the procedure, incisions are short and typically concealed in the crease in front of the ear, as well as just below the sideburn. An additional tiny incision is often used in the crease under the chin to liposuction out fat in the neck region during the same operation. In the end, jowls are corrected, the neckline is given a more youthful contour and years are usually taken off in a single procedure.  Results of a neck lift are forever!   – Karen Horton, MD Contact Our Office For more information about a neck lift versus liposuction of the neck for men, or to schedule a consultation with Dr. Horton, please contact us today.