Plastic Surgery Myth #10: It's Just for Women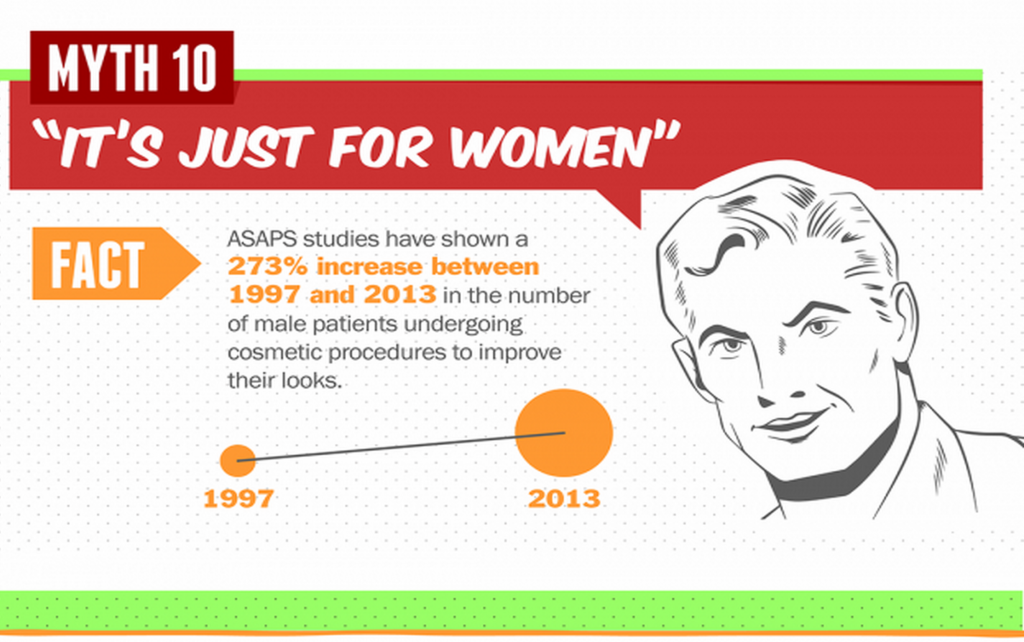 Is Plastic Surgery for the ladies only?  Absolutely not!  MEN want to look and feel their absolute best just as much as women.  
Maintaining a healthy, firm and athletic physique is important for men, as they continue to feel vital and youthful as they age. Men's bodies and faces undergo changes as men age, different to women but in expected and predictable ways.
Men want to "put  their best face forward" at work and in social settings, just like women, but to maintain a masculine appearance, without any evidence of visiting a Plastic Surgeon's office!
The following are procedures that men specifically seek for improvement of their body contour, face and other areas:
While the outcome of procedures designed for men are the same as for women – to look natural, refreshed, firmer, more toned and athletic, the details of surgery usually differ from Plastic Surgery tailored to women.
Each male Plastic Surgery procedure is individualized to a man's body physique, his skin tone and texture, lifestyle, his goals for surgery and available downtime.
The goal is to maintain a masculine appearance – NOT to look feminized, "done" or different!  We can all think of male Hollywood celebrities who have had significant changes in their appearance following Plastic Surgery.  This is what my male patients want to avoid!
Plastic Surgery for men is nothing to be shy or embarrassed about.  The results of male Plastic Surgery should have masculine and natural-looking results, with minimal downtime.
To schedule a consultation for yourself or for your male spouse, complete our online consultation request form or call 415-923-3067 today!
Sign up for our email newsletter to be the first to learn about promotions for men, specials and open houses specifically for MEN.