2013 ASPS Plastic Surgery Statistics Announced Today!
2013 brought steady growth in the Plastic Surgery world.  Today, ASPS (the American Society of Plastic Surgeons, of which I am a member) announces that 15.1 million total cosmetic procedures were performed in the United States in 2013, up 3% over compared to 2012.  Both minimally-invasive and surgical Plastic Surgery procedures were analyzed.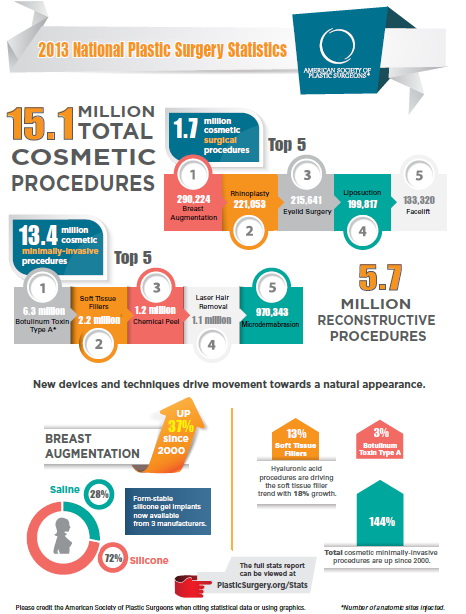 Excitingly, 2% more reconstructive surgery procedures (totaling 5.7 million patients)  were performed last year.  Behind the boost are new products and advances in technology.  
What were the most commonly performed procedures?  ASPS looked at both NON-surgical cosmetic procedures, such as those performed by Courtney McSpadden, FNP at Horton SPA:
The top 5 minimally-invasive cosmetic procedures were:
Botox! (6.3 million injections, up 3%)
Soft tissue "hyaluronic acid" dermal fillers (2.2 million procedures, up 13%) such as Juvederm, Restylane, Perlane.  Nearly 1.7 million procedures were performed last year, up a whopping 18% from 2012.
Chemical peels (1.2 million procedures, up 3%)
Laser hair removal (1.1 million procedures, down 4%)
Microdermabrasion (970,000 procedures, no change)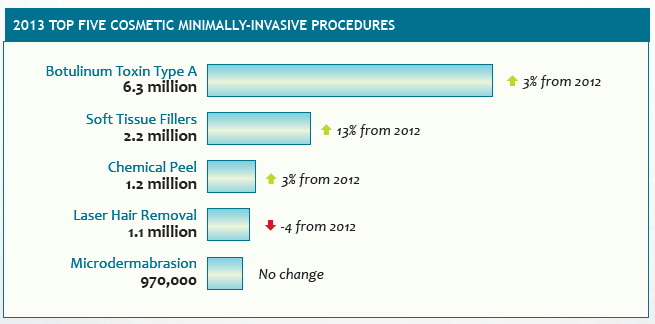 The top 5 surgical procedures in 2013 were: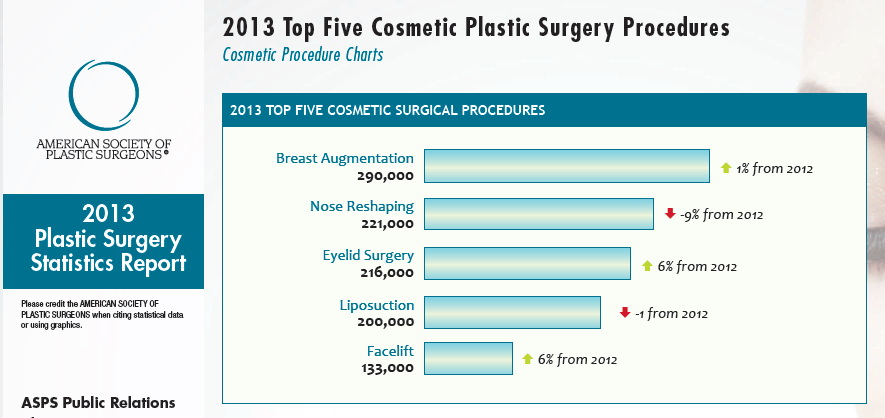 I am very happy to also learn that the total number of breast reconstruction procedures is also on the rise: 96,000 up 4%!  Hopefully, our BRA Day (Breast Reconstruction Awarness) campaigns such as the events I hosted in 2012 and 2013 are helping to spread the word about advanced breast reconstruction techniques!
The American Society of Plastic Surgeons (ASPS) is the world's largest organization of Board Certified Plastic Surgeons.  Representing more than 7,000 Member Surgeons, the Society is recognized as a leading authority and information source on aesthetic and reconstructive Plastic Surgery.  ASPS comprises more than 94% of all Board-Certified Plastic Surgeons in the United States.
Dr. Karen Horton is internationally Board Certified by both the American Board of Plastic Surgery and the Royal College of Physicians and Surgeons of Canada since 2005.