Why Horton SPA?
In an era of mass retail coupons inundating our email inbox, hawking everything from food to skydiving to medical treatments, people might wonder- why would I go to Courtney McSpadden, an Aesthetic Nurse Practitioner at Horton Spa, instead of a dermatologist or a med-spa for cosmetic treatments??
Here's why…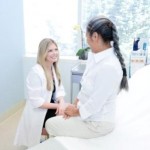 My Personal Touch:
I spend a minimum of 45 minutes with all new patient consultations, learning about your skin, reviewing your medical history, performing a thorough exam of your face and any other areas of concern. We work together to create a realistic treatment plan that will help address your short-term and long-term goals for beauty and healthy skin. You get to leave the office with a personalized treatment plan, created just for you, taking into consideration your "beauty budget" and the amount of time you can realistically spend taking care of your skin. After any injectable treatment, you will be encouraged to return for a complementary 2 week "perfection check", just to make sure that you are completely satisfied with the results. My patients refer to me as "the Gentle Injector", so even those who are nervous in general, afraid of needles, or "first timers" are able to relax in my office, knowing that they are in great hands and receiving a top quality treatment with a highly experienced practitioner.
At a dermatologist's office, you may have a hurried 10-15 minute office visit, and be rushed out the door only to have to pay a $25-$50 co-pay. This specialty of physician spends most of their day performing biopsies, diagnosing and treating skin problems, and providing medical treatments related to the skin, with an occasional Botox treatment here or there.  Questions you may have once you leave the office are generally referred to a medical assistant, instead of the practitioner who treated you. At Horton Spa, you will always work directly with me, and I personally provide patient education, administer all the treatments, and I am available to answer any questions you have before or after your treatment. All I do, all day, every day, is medical aesthetics. This is not something that I do as a "side job" to earn a little extra cash, as you may find with some practitioners who administer Botox. My sole professional focus is on providing high-quality cosmetic treatments in a safe manner, with optimal patient satisfaction with what I do.
At a "med-spa", the practitioners are often rushed because patients are packed into their schedule, not giving them enough time to truly listen to you and address your concerns. You might see a different practitioner with each treatment, and you don't always know their experience level with the treatment they are providing. Most med-spas require that their practitioners follow formulaic, "one size fits all" treatment protocols that don't take your unique face, past experiences, and concerns into account. At Horton Spa, you know exactly who will be treating you, which allows us to develop trust and a long-term relationship. You have the confidence of knowing that Dr. Karen Horton, a well-respected plastic surgeon, stands behind my work and she is available for consultation if the need arises.
Our Office: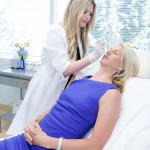 We are an all-female cosmetic practice, located in a beautiful office in Pacific Heights. You can relax in our newly-remodeled front office, and when it is time for your treatment, you will be welcomed into our sunny and calming treatment room, which feels more like a day spa than a medical office. As a nurse practitioner specializing in injectable treatments and aesthetic skin care, my patients are able to relax, knowing they will receive only the best care, with safety and comfort being our primary goals.
Horton Spa is part of Dr. Karen Horton's Plastic Surgery practice, and we have the highest standards of quality and care for both surgical and non-surgical treatments. We do not offer "Groupons" or any other mass coupon offers, which encourage patients to go from location to location, only looking for the lowest price. There is concern with these very low-priced "deals" that the Botox may be over-diluted, requiring you to need more (= pay more) to achieve the desired results. Frighteningly, there have even been reports of offices using "fake Botox" that has caused severe medical problems for their unwitting victims. At Horton Spa, our goal is to develop long-term relationships with our patients, which helps to create the best outcomes and results. We only use name-brand products that we purchase directly from the manufacturers for the highest level of safety and quality. Botox is a treatment that should be performed every 3-4 months, and it is essential to get to know a patient's unique anatomy over time to be able to provide consistent results with each treatment. Every provider injects Botox or Dysport a little bit differently, and these subtle differences can make a big impact on how you look for the next 4 months after a treatment. At Horton Spa, we respect that many people are on a budget, but we do not believe quality should be compromised to save a dollar here or there.
Natural-Looking Aesthetic:
At Horton Spa in San Francisco, we understand that our patients want to look good for their age and "refreshed", not overdone or artificial looking. Patients frequently express that they are concerned that Botox will give them a "frozen face" and filler will make them look unnatural, and I assure them that big lips and huge cheeks are not the way I practice. Dr. Horton and I both agree that the best plastic surgery or injectable treatments are all around us, but cannot be detected by others! I was born and raised in Northern California, where the aesthetic look that is most desirable by most is subtle and natural-looking. Many of my patients over the years have stated that they will only come to me for injectable treatments, as they prefer my natural-looking aesthetic results. I consider this a huge complement, and I am humbled that people trust me with their faces.
If you are interested in cosmetic medical services, and want natural-looking results and an overall focus on skin health, give Horton Spa a try. Call our office at (415) 923-3067 to make an appointment with me. We know you will be impressed with what we can do for you!
In health and happiness,
Courtney