San Francisco Plastic Surgeon Reveals Truths and Benefits of a Mommy Makeover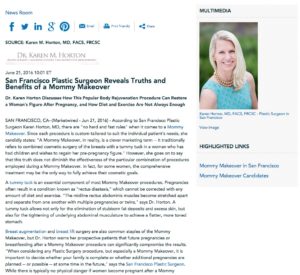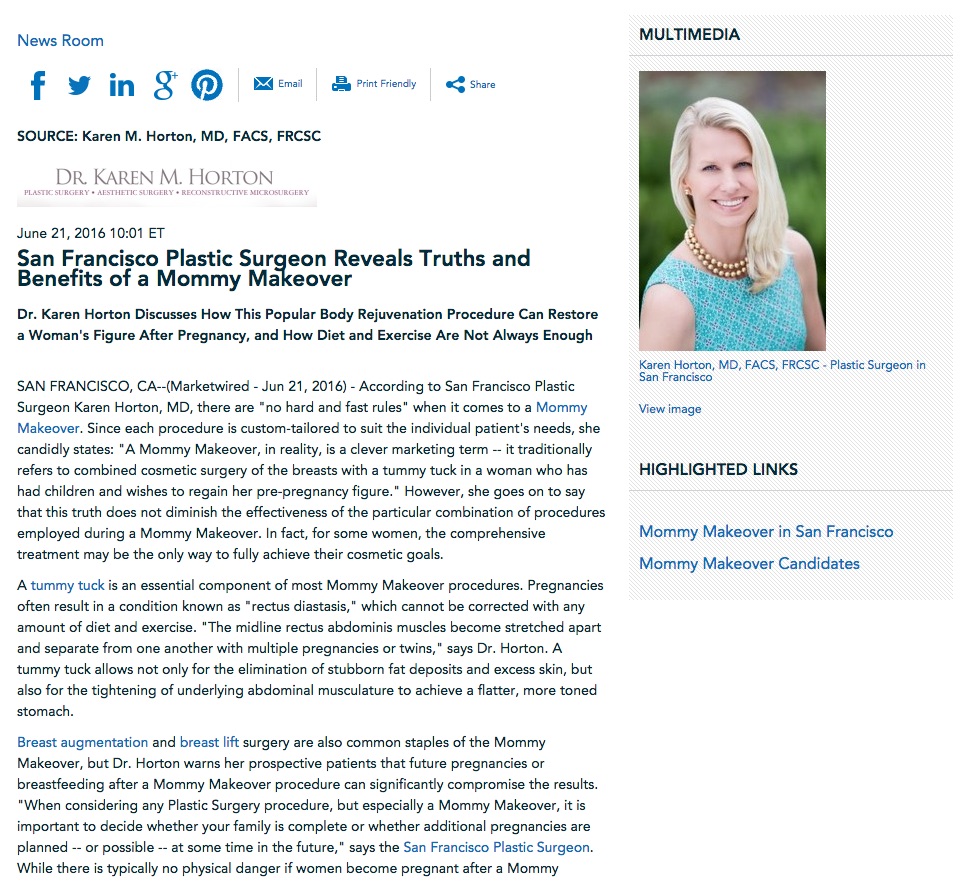 Dr. Karen Horton discusses how this popular body rejuvenation procedure can restore a woman's figure after pregnancy, and how diet and exercise are not always enough.
San Francisco, CA – According to San Francisco Plastic Surgeon Karen Horton, MD, there are "no hard and fast rules" when it comes to a Mommy Makeover. Since each procedure is custom-tailored to suit the individual patient's needs, she candidly states: "A Mommy Makeover, in reality, is a clever marketing term – it traditionally refers to combined cosmetic surgery of the breasts with a tummy tuck in a woman who has had children and wishes to regain her pre-pregnancy figure." However, she goes on to say that this truth does not diminish the effectiveness of the particular combination of procedures employed during a Mommy Makeover. In fact, for some women, the comprehensive treatment may be the only way to fully achieve their cosmetic goals.
A tummy tuck is an essential component of most Mommy Makeover procedures. Pregnancies often result in a condition known as "rectus diastasis," which cannot be corrected with any amount of diet and exercise. "The midline rectus abdominis muscles become stretched apart and separate from one another with multiple pregnancies or twins," says Dr. Horton. A tummy tuck allows not only for the elimination of stubborn fat deposits and excess skin, but also for the tightening of underlying abdominal musculature to achieve a flatter, more toned stomach.
Breast augmentation and breast lift surgery are also common staples of the Mommy Makeover, but Dr. Horton warns her prospective patients that future pregnancies or breastfeeding after a Mommy Makeover procedure can significantly compromise the results. "When considering any Plastic Surgery procedure, but especially a Mommy Makeover, it is important to decide whether your family is complete or whether additional pregnancies are planned – or possible – at some time in the future," says the San Francisco Plastic Surgeon. While there is typically no physical danger if women become pregnant after a Mommy Makeover, she notes that future pregnancies and breastfeeding can alter the volume of their natural breast tissues and ultimately change the appearance of their breasts.
"The ideal candidate for a Mommy Makeover is a woman who preferably has finished having her children and is able to focus attention on herself," states Dr. Horton. In addition to the physical considerations, she notes that a woman should have a good support system in place before undergoing a Mommy Makeover so she can properly rest during the recovery period. Dr. Horton also stresses the importance of mental preparation before the procedure. She prefers to plan surgeries when her patients have "stability in their personal and professional lives … not at a time of personal turmoil or a major change such as a move, divorce, or significant medical problem." Knowing that a Mommy Makeover can entail complex emotions, Dr. Horton carefully discusses what each woman can expect from the surgery during the consultation process so she can help ensure both the physical and mental well-being of her patients.
About Karen Horton, MD
Certified by the American Board of Plastic Surgery, Dr. Horton offers an expansive array of cosmetic and reconstructive procedures for breasts, face, and body, as well as numerous non-surgical treatments for the skin at her Bay Area practice. She is a Fellow of both the American College of Surgeons and the Royal College of Physicians and Surgeons of Canada. Dr. Horton is also an active member of the American Society of Plastic Surgeons and the California Society of Plastic Surgeons. She is available for interview upon request.
To learn more, visit drkarenhorton.com, plus.google.com/+Drkarenhorton/about, and facebook.com/drkarenhorton.
Contact:
Dr. Karen M. Horton
2100 Webster St.
#506
San Francisco, CA 94115
(415) 923-3067
Rosemont Media
(858) 200-0044
www.rosemontmedia.com