Candidates for Mommy Makeover in San Francisco CA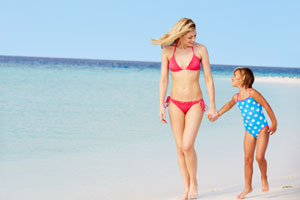 The ideal candidate for a Mommy Makeover is a woman who preferably has finished having her children and is able to focus attention on herself. She should be healthy, as close as possible to her ideal weight, and have a good support system to help out after surgery during her recovery.
Why is support so important after a Mommy Makeover? Most Moms will feel a sense of "Mommy guilt" when they have their Mommy Makeover. I counsel my patients about this extensively and warn women that even though they understand their recovery might be tough (and despite being a strong-willed mother and excellent multi-taskers or delegators), they are HUMAN and will go through all the expected emotions after a cosmetic procedure that takes them out of their normal routine and results in a loss of control.
Thoughts after a Mommy Makeover can include panic, remorse, regret, and a feeling of "What have I done! I'm a bad mother and selfish for having cosmetic surgery and not taking care of my children!" for the first few days or weeks after surgery. It is normal to go through an emotional roller coaster after any cosmetic procedure that takes you out of your comfort zone. I have blogged about this topic previously – learn more about the ups and downs after cosmetic Plastic Surgery procedures here.
Any patient considering Plastic Surgery should be at or as close to their ideal weight as possible, be relatively physically fit, should eat a balanced and healthy diet without any major nutritional deficiencies, and have stability in their personal and professional lives. We need to plan surgery "when the waters are calm," not at a time of personal turmoil or a major change such as a move, divorce, or significant medical problem.
Moms should arrange for help with their children after surgery for at least three weeks so they can focus on being a PATIENT first and concentrate on healing. Doing so helps them more quickly return to being the superstar mother that they are following their initial recovery, and it's particularly important for full-time, stay-at-home-Moms whose primary responsibility is to care for their children and who always put others before themselves.
Lastly, Mommy Makeover patients should have an ample amount of time for recovery. Following the initial few days and weeks after surgery – when Moms have their drains removed, pain is controlled with Tylenol only, and they resume driving and performing the usual activities of daily living – mothers regain a sense of control, and feelings of guilt typically dissipate. By six weeks, Moms usually "turn the corner" and start exercising again. By three months, results are generally evident, though scars may take at least a full year to completely mature. (Learn more about expected postoperative Mommy Makeover recovery here.)
If you are interested in a Mommy Makeover, I encourage you to seek the expertise of a Board Certified Plastic Surgeon who has extensive experience and demonstrable results in this comprehensive cosmetic procedure. Following a thorough evaluation and discussion of your unique needs, goals, and personal life, he or she should be able to determine whether or not a Mommy Makeover would be an appropriate treatment option for you at this point in time.