Hyperhidrosis (excessive sweating) can be treated with Botox!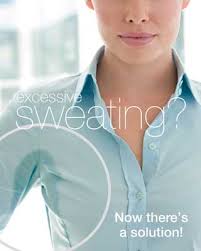 With summer here, we've been receiving several inquiries from patients regarding treatment for hyperhidrosis (excessive underarm sweating).  Hyperhidrosis affects both men and women and can be difficult to hide.  Patient often complain that they cannot wear white or colored shirts due to visible staining or messy color transfer from clothing to skin. What many don't know is that there's an FDA-approved solution for this problem!
What is hyperhidrosis?  Hyperhidosis is a medical condition in which a person sweats excessively and unpredictably. People with hyperhidrosis may sweat even when at rest!  It may involve several areas of the body including the underarms (axilla), hands and feet.  In most cases, no cause can be found but there appears to be a hereditary link.
How is hyperhidrosis treated?  Does treatment really work?  
Treatment of hyperhidrosis is offered in our office
as a quick, easy treatment that involves a 
quick and painless Botox injection
 to the area that is excessively sweating to stop transmission of the sympathetic nervous system fibers that contribute to hyperhidosis.
Botox injections for hyperhidrosis is increasingly popular due to the fact that it's quick, easy, effective and lasts about 4-6 months. Summer time is all about vacationing to warm sunny places.  The last thing you want to worry about is what shirt or dress you're wearing for fear of embarrassing stains!
The treatment itself involves tiny 2-unit injections of Botox Cosmetic using the smallest needle known to mankind!  To learn more about Botox injections for excessive sweating, click this link for the official product website.
Most patients will require 50 units of the product under each arm (100 units total).  A topical numbing agent is applied prior to treatment to minimize discomfort.  There is NO downtime with this treatment!   It takes about a week for the Botox to kick in, however, if you have an upcoming event it is recommended you have the procedure 2 weeks beforehand to ensure all areas have been adequately treated.
For most patients, the effects of treatment will last 4-6 months. The time to call to schedule your next treatment is when the sweating returns!
Patients seeking Botox treatment for hyperhidrosis will often take advantage of our Botox bank (100 units for $1200).  This is a $300 savings compared to the regular price of $15/unit.
Treatment with Botox injections for severe sweating is FDA-approved, and its safety and efficacy has been demonstrated in several large studies of patients with primary axillary hyperhidrosis. There has been no evidence to suggest that patients develop a tolerance to Botox over time, so the number of units required for your treatment should remain consistent with repeated treatments.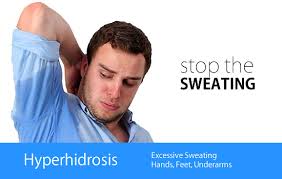 You don't have to spend the summer carefully planning the colors you wear or avoiding sleeveless tops because of excessive sweating!
To be dry this summer, learn more about this procedure, or to schedule a consultation, give our office a call at 415-923-3067 or complete our online consultation request form today!
I look forward to treating you!