Plastic Surgeon in San Francisco Reveals All About Earlobe Repair Surgery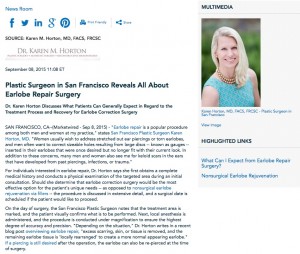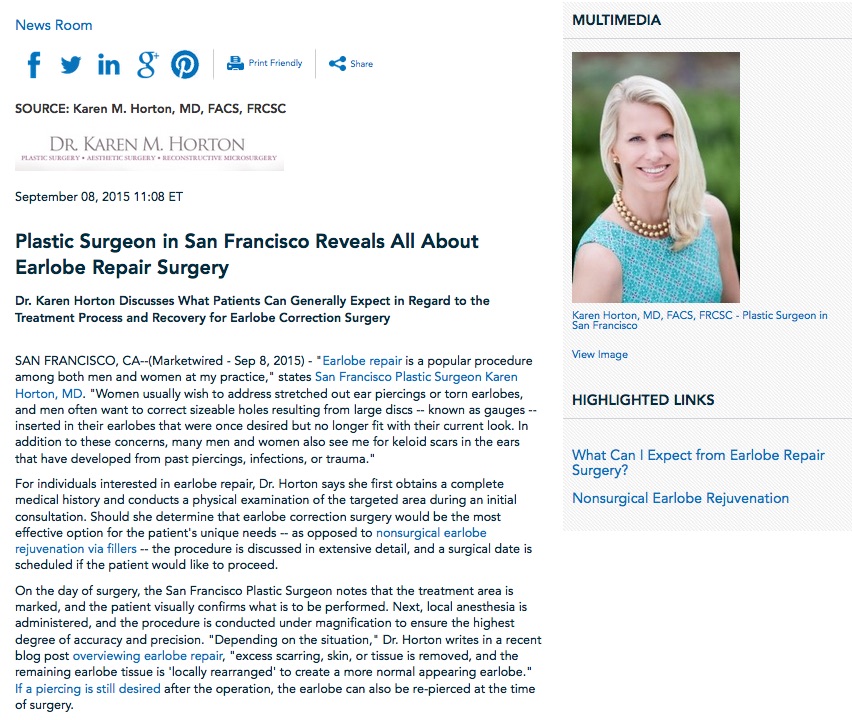 Dr. Karen Horton discusses what patients can generally expect in regard to the treatment process and recovery for earlobe correction surgery.
San Francisco, CA — "Earlobe repair is a popular procedure among both men and women at my practice," states San Francisco Plastic Surgeon Karen Horton, MD. "Women usually wish to address stretched out ear piercings or torn earlobes, and men often want to correct sizeable holes resulting from large discs – known as gauges – inserted in their earlobes that were once desired but no longer fit with their current look. In addition to these concerns, many men and women also see me for keloid scars in the ears that have developed from past piercings, infections, or trauma."
For individuals interested in earlobe repair, Dr. Horton says she first obtains a complete medical history and conducts a physical examination of the targeted area during an initial consultation. Should she determine that earlobe correction surgery would be the most effective option for the patient's unique needs – as opposed to nonsurgical earlobe rejuvenation via fillers – the procedure is discussed in extensive detail, and a surgical date is scheduled if the patient would like to proceed.
On the day of surgery, the San Francisco Plastic Surgeon notes that the treatment area is marked, and the patient visually confirms what is to be performed. Next, local anesthesia is administered, and the procedure is conducted under magnification to ensure the highest degree of accuracy and precision. "Depending on the situation," Dr. Horton writes in a recent blog post overviewing earlobe repair, "excess scarring, skin, or tissue is removed, and the remaining earlobe tissue is 'locally rearranged' to create a more normal appearing earlobe." If a piercing is still desired after the operation, the earlobe can also be re-pierced at the time of surgery.
In regard to recovery from earlobe repair, Dr. Horton explains that some temporary swelling and/or bruising can be expected initially, but these side effects should diminish relatively quickly. "Downtime is typically minimal, with most individuals returning to work and/or normal daily routines the day after their procedure. That said, patients are advised to avoid strenuous activities and rigorous exercise for approximately one to two weeks in order to help ensure proper healing."
Ultimately, when performed by an experienced Board Certified Plastic Surgeon, Dr. Horton states that earlobe repair can be an exceptionally gratifying procedure for many individuals, enabling them to move forward with their lives without thinking about the appearance of their earlobes.
About Karen Horton, MD
Certified by the American Board of Plastic Surgery, Dr. Horton offers a comprehensive range of cosmetic and reconstructive procedures for the breasts, face, and body, as well as several nonsurgical skin care and med-spa treatments. She is a Fellow of both the American College of Surgeons and the Royal College of Physicians and Surgeons of Canada, and she remains active in the American Society of Plastic Surgeons, the California Society of Plastic Surgeons, and various other prestigious medical organizations. Above all, Dr. Horton is devoted to ensuring every patient receives the safest, most effective care possible for their unique needs and desires.
For more information, visit drkarenhorton.com, plus.google.com/+Drkarenhorton/about, and facebook.com/drkarenhorton. Dr. Horton is available for interview upon request.
Contact:
Dr. Karen M. Horton
2100 Webster St.
#506
San Francisco, CA 94115
(415) 923-3067
Rosemont Media
(858) 200-0044
www.rosemontmedia.com