Earlobe Repair: A Brief Overview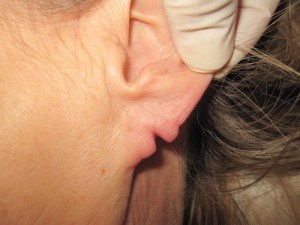 Earlobe repair is a simple procedure that is performed under local anesthesia in my office. It typically takes less than half an hour to complete, and downtime is generally minimal. The average cost of earlobe surgery is around $1500, which is usually not covered by insurance; however, my office offers various financing and payment plan options through CareCredit® to help cover the expense of the procedure.
Prior to the operation, an in-person consultation is first required, during which a complete history and physical examination of the area to be addressed takes place. I use this time to determine which procedure(s), if any, will best address the patient's wants and needs, and we discuss the treatment in great detail. Surgery then occurs on a second date, which can be as soon as a week after the consultation.
At this time, the area to be treated is marked, the patient visually confirms what is to be done and local anesthetic medication is injected. Depending on the situation, excess scarring, skin or tissue is removed, and the remaining earlobe tissue is "locally rearranged" to create a more normal appearing earlobe.
I perform the procedure under magnification, using surgical "loupes" (operating microscope glasses) that magnify the surgical site several times, so that the most precise repair can be achieved.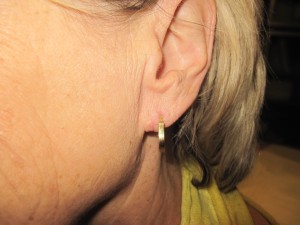 The numbing medication lasts for several hours, and pain afterward is typically minimal. Risks and complications – which are rare, but can include infection, bleeding, creation of hypertrophic or irregular scars, asymmetry between the earlobes, and infrequently, reoccurrence of the deformity – can occur, although very rarely.
However, most patients do very well and are satisfied with their results, often able to move forward and not think about their earlobes any longer!
This is the sign of "good Plastic Surgery": a procedure that makes an abnormal area look normal while allowing the patient to forget about this part of their body and focus on other things, like their career, personal life or family!
Contact Us
If you are interested in earlobe repair and would like to schedule a consultation with Dr. Horton, please contact our office today.