Why it's a HONOR as a Plastic Surgeon to treat children of my patients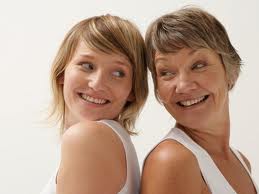 This morning, one of my Mommy Makeover patients brought her daughter in to the office to see me in consultation as a new patient.  I performed this mother's abdominoplasty nearly 4 years ago, when I was very pregnant with twins myself and was looking forward to the adventures of motherhood myself.
Since this Mom's tummy tuck and liposuction, I have seen her only a few times in follow up because this patient has been very busy being a Mom, working full time and taking care of her children! (I usually "ask to see my patients YEARLY in follow up, forever" so that I can ensure their results continue to look and feel their best, and of course, Plastic Surgeons need long-term follow up photographs of their results!) But this morning, she visited my office and instead of following up for herself, she brought in her daughter for evaluation.
This 15-year-old young woman complained of discomfort with exercise, difficulty running and riding a bike due to excess labia minora tissue that gets stuck to her leg with physical activity.  She learned about the labiaplasty procedure after doing some research herself online, and asked her mother to help her find a Physician who could help alleviate her symptoms.
My patient first brought this young woman to their local OB-GYN, which is usually a good first place to start. Unfortunately, this doctor did not understand the reasons why young women would seek a labiaplasty, which are always physical symptoms such as difficulty running, exercising, riding a bicycle, doing yoga and often embarrassment in intimate situations or even in the dressing room with other women.  The young woman and her mother were told "Oh, I've seen much worse than that!  That is nothing to complain about."  They were not listened to, and were made to feel vain and silly by even inquiring about labiaplasty as an option for correction.
Luckily, they didn't give up and instead sought an opinion from me, a Board Certified Plastic Surgeon with extensive experience in labiaplasty.  Correction of redundant labia minora tissue is a procedure I love to perform, as it is technically challenging, it is usually life-changing for women, young and old, and as a woman, I understand the anatomy and lifestyle issues related to this procedure!
We discussed the surgery in detail, and this empowered young woman and her mother left my office with education and real information about the labiaplasty procedure. I was inspired to blog about this experience, because it truly is an honor to see family members and friends of my current patients, but in particular their children!  To be entrusted with the care of loved ones of my patients is a privilege.  As a Mom, I get it!
And I was honored to have my patient next bring her daughter to see me for another opinion. I stay in touch with my patients in the long run, and "I get to know my patients head to toe, inside and out" although we are usually caring for an external part of their body.  We develop an intimate doctor-patient relationship for a short period of time from the initial consultation, through the preoperative preparation and in follow up visits during the healing period, which lasts for at least 6 weeks, up to a year for most surgeries. And to see children of my patients and to be entrusted in their care is the biggest compliment and honor I could receive!
Thanks to my patient and her daughter who I visited with today, and to all my patients and their family members for making my days so immensely rewarding!  I love my job!