ALCL and breast implants? The rare incidence of Anaplastic Large Cell Lymphoma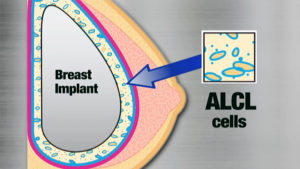 UPDATED 1/5/18:  Here is the most recently updated facts about ALCL and breast implants:
Latest Information on ALCL:  The Food and Drug Administration (FDA) has recently updated the public information on its website about breast implant associated anaplastic large cell lymphoma (BIA-ALCL). We have known about this disease for quite some time and the FDA has been providing updates since 2011.
What is breast implant associated-anaplastic large cell lymphoma (BIA-ALCL)?
A rare type of lymphoma that develops adjacent to breast implants.
It usually develops as a swelling of the breast 3 to 14 years after the insertion of breast implants, which is due to fluid collecting around the implant or it can present as a lump in the breast or armpit.
BIA-ALCL is not breast cancer
BIA-ALCL develops in the fluid around breast implant and is usually contained by the fibrous capsule around implants it does not develop in the breast tissue.
What are the symptoms of BIA-ALCL?
The most common symptom is a persistent swelling of the breast but can include other symptoms such as a lump in the breast or armpit.
These symptoms develop between three and 14 years following the insertion of breast implants and most commonly around eight years.
The swelling of the breast is due to fluid accumulating around the implant.
The lymphoma develops around the breast implant in the fluid and in most cases is contained within the fibrous capsule the body makes around the implant and is not in the breast tissue itself.
What is the risk of developing BIA-ALCL?
The current risk is estimated to be 1 in 30,000. However,

there has never been a documented case in a patient with only a smooth implant

.
Because this is a rare disease it is difficult to be certain about the absolute risk of developing this disease.
The risk of breast cancer (in general) is about one in eight women, with or without breast implants.
Are some women more at risk than others?
It is not possible to predict who will develop BIA-ALCL.
It has occurred in women who have breast implants for cosmetic reasons and also for breast reconstruction.
It has occurred in women with both saline implants and silicone implants
How is BIA-ALCL diagnosed?
If a woman develops swelling of the breast which has an implant they are sent for an ultrasound scan and if fluid is detected this will be removed and tested for BIA-ALCL.
Specific tests are asked for to exclude or diagnose BIA-ALCL (cytology and CD30).
Most fluid collections around breast implants are not BIA-ALCL but proper testing will be able to tell them apart.
Mammograms are not useful in diagnosing BIA-ALCL.
In confirmed cases MRI and PET/CT scans may be performed to help stage the disease.
Should women with breast implants be screened for BIA-ALCL?
At this point expert opinion is that women without symptoms or changes in their breasts do not need a regular ultrasound scan.
Breast implants are not lifelong devices. If there are changes in your breasts associated with breast implants and especially if there is general swelling or a lump you should have a breast examination and this may need to be investigated further
What is the treatment of BIA-ALCL?
The majority of cases are cured with the removal of implants and the fibrous capsule around them from both breasts.
The majority of patients require no additional treatment.
All known cases where there were no delays in diagnosis have resulted in 100% cure at this time.
Should breast implants be removed just in case?
Breast implants are not lifelong devices and in general all will need to be removed or replaced at some point in a woman's lifetime.
The most common reasons for implant removal or replacement are capsular contracture, implant migration, implant rupture.
Without symptoms or signs of BIA-ALCL routine implant removal is not required unless there are other concerns.
Do we know what causes BIA-ALCL?
Bacteria have been identified within the lymphoma and around implants in affected breasts.
There is accumulating evidence that a long-term inflammatory response to the presence of these bacteria is one of the factors that may cause of BIA-ALCL.
There may also be genetic factors involved for individual women.
We are continuing to investigate this disease to improve our understanding.
Are there ways to make breast implant surgery safer?
There is accumulating evidence that bacteria are associated with other complications of breast implant surgery as well such as the risk for capsular contracture which does not lead to cancer.
Infection control standards are extremely important in breast surgery to ensure best outcomes and Specialist Plastic Surgeons are expertly trained to ensure the highest standards of patient safety and lowest risk of infection.
If you have swelling of the breast associated with a breast implant you may need a referral for an ultrasound to remove some fluid for testing and this will be able to determine if BIA-ALCL is present (Immunohistochemistry is performed to identify a T-cell lymphoma that is positive for the CD30, and cytology).
Most breast swelling that occurs after breast implants is not due to BIA-ALCL however it does needs to be excluded.
Can new breast implants be inserted when BIA-ALCL is treated?
Yes. Smooth implant have been replace at a delayed interval in treated patients as well as immediately in some cases.
Where can I get more information?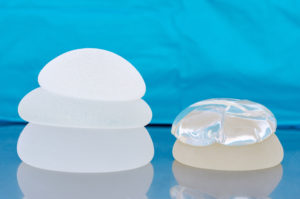 Since the initial BIA-ALCL case report in 1996, ASPS recognizes approximately 186 cases in the United States and a total of 509 worldwide as of January 2018. To date, there are no reported cases of BIA-ALCL in patients exposed to only smooth devices.
A recent 
Newsweek
 article
 outlines the findings of the study.  While the Netherlands researchers assert their study conclusively ties breast implants to the lymphoma, ASPS/PSF, ASAPS/ASERF and the FDA continue to work proactively to study BIA-ALCL.
ASPS has been at the forefront of tracking BIA-ALCL cases through its PROFILE registry, a collaborative effort with the FDA to continue to learn more about the condition – and any confirmed cases of BIA-ALCL should be reported to the PROFILE registry at 
ThePSF.org/PROFILE
 and the 
FDA's MAUDE database
.
Since early 2010 when ASPS and ASAPS convened a joint advisory council to study cases of BIA-ALCL, the Society has continued to keep ASPS members informed of new developments in this area of ongoing research.
The Society's primary goal is to assist our members with the care of their patients. To this end, the Society offers a BIA-ALCL resource center at 
plasticsurgery.org/alcl
, which includes: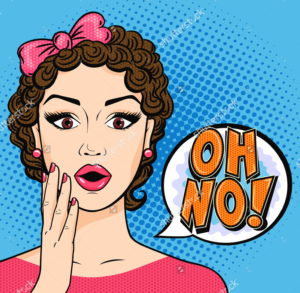 In 2017, the media caught on to a story (that is not really new) about an extremely rare condition associated with breast implants known as breast implant-associated (BIA)-ALCL.
If you have a breast augmentation or implant-based breast cancer reconstruction, DON'T PANIC!
Some quick facts about BIA-ALCL:
BIA-ALCL is not a breast cancer, but a rare and treatable T-cell lymphoma that usually develops as a fluid swelling around breast implants.
The lifetime risk for this disease appears to be about 1 case for every 30,000 textured implants. This equates to a 0.003 percent risk. Thus far, there have been no confirmed cases of BIA-ALCL in women who have had only "smooth-surface" breast implants.
The FDA is not recommending removal of textured implants. Rather, the FDA recommends, as do I, that every woman conduct regular self-examination. If you develop swelling or a lump in your breast, contact my office right away. I will comprehensively evaluate you and order the appropriate tests to determine if any treatment is indicated.
Women who develop BIA-ALCL can often be cured by simply removing the implant and the scar tissue surrounding it. Some patients may require additional treatment (such as radiation or chemotherapy). Following removal, replacement with a smooth surface implant may be an option.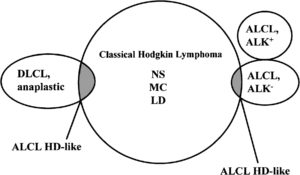 ALCL is in the family of other lymphomas, and is a very rare subtype.  BIA-ALCL is very different from systemic ALCL:  this is a different disease with a very different disease progression.
The FDA has been following extremely rare incidences of BIA-ALCL (breast implant associated anaplastic large cell lymphoma), which are nearly 100% associated with TEXTURED breast implants.
This is one of several reasons why I only use smooth silicone gel implants.
As long as you are looking and feeling good, without any unusual swelling or fluid collection around your implant, then you are absolutely fine.  If you were to develop a "late seroma" (over 10 years after breast implants are placed), the treatment algorithm advises radiologic imaging to diagnose a seroma, then ultrasound-guided removal of the fluid for immunohistochemical analysis.  Fluid from around your implant would be sent for cytology, specifically looking at the CD30 marker.
Definitive treatment of BIA-ALCL is removal of the implant and total capsulectomy (removal of the entire scar tissue capsule around the implant).  BIA-ALCL associated with breast implants seem to be less aggressive than systemic ALCL.  Capsulectomy and explantation usually is the only treatment needed.
Learn more from our Plastic and Reconstructive Surgery (PRS) Journal editor, Dr. Rod Rohrich:  
The FDA has been following these rare breast implant-associated (BIA)-ALCL cases for many years:
Here is a more lengthy video with excellent information from my colleague Dr. Mark Clemens at MD Anderson Cancer Center:
While it remains difficult to determine the exact number of BIA-ALCL cases associated with breast implants, to date there have now been 509 cases reported to the FDA Manufacturer and User Facility Device Experience (MAUDE) database as of Feb. 1, 2017.  To date, there has been NO confirmed smooth surface-only cases of ALCL reported.
Keep in mind that while the MAUDE database may have 509 reports, they are not individual patients, nor are they proven to have BIA-ALCL.  Our the ASPS PROFILE database likely gives a more accurate picture.  Learn more about actual BIA-ALCL numbers in this ASPS-ASAPS publication and receive answers to frequently asked questions about breast implants and BIA-ALCL.
For more information, please visit the American Society of Plastic Surgeons' web page on ALCL and the FDA's page on ALCL.
If you have concerns about your implant, please call our office at 415-923-3067 and make a follow up appointment with Dr. Horton at your convenience.