San Francisco Plastic Surgeon Highlights Benefits of Mastopexy with and Without Implants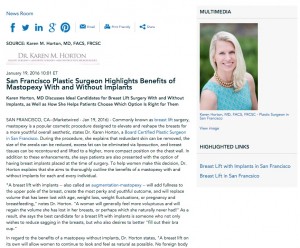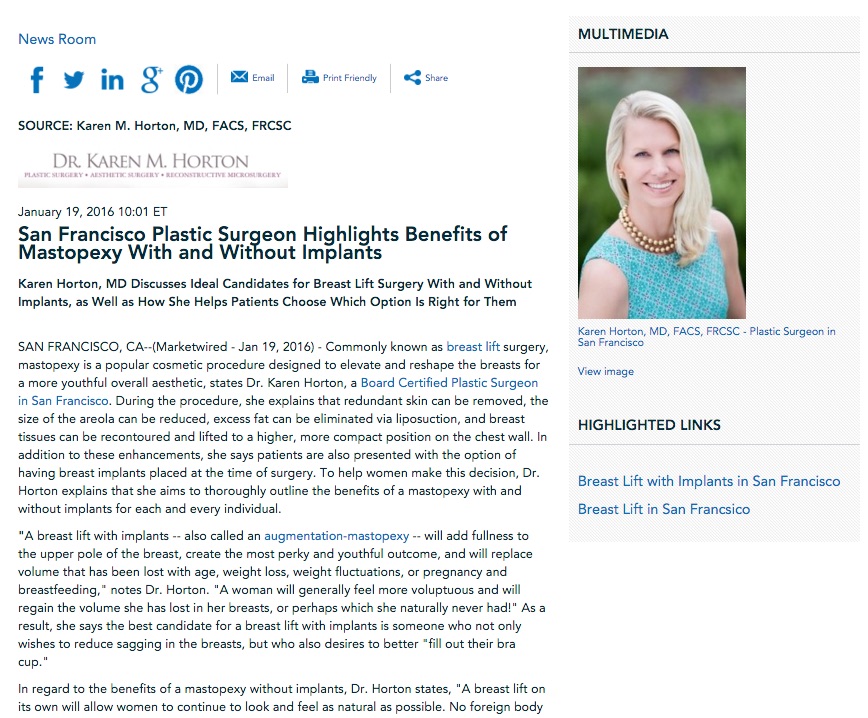 Karen Horton, MD discusses ideal candidates for breast lift surgery with and without implants, as well as how she helps patients choose which option is right for them.
San Francisco, CA — Commonly known as breast lift surgery, mastopexy is a popular cosmetic procedure designed to elevate and reshape the breasts for a more youthful overall aesthetic, states Dr. Karen Horton, a Board Certified Plastic Surgeon in San Francisco. During the procedure, she explains that redundant skin can be removed, the size of the areola can be reduced, excess fat can be eliminated via liposuction, and breast tissues can be recontoured and lifted to a higher, more compact position on the chest wall. In addition to these enhancements, she says patients are also presented with the option of having breast implants placed at the time of surgery. To help women make this decision, Dr. Horton explains that she aims to thoroughly outline the benefits of a mastopexy with and without implants for each and every individual.
"A breast lift with implants – also called an augmentation-mastopexy – will add fullness to the upper pole of the breast, create the most perky and youthful outcome, and will replace volume that has been lost with age, weight loss, weight fluctuations, or pregnancy and breastfeeding," notes Dr. Horton. "A woman will generally feel more voluptuous and will regain the volume she has lost in her breasts, or perhaps which she naturally never had!" As a result, she says the best candidate for a breast lift with implants is someone who not only wishes to reduce sagging in the breasts, but who also desires to better "fill out their bra cup."
In regard to the benefits of a mastopexy without implants, Dr. Horton states, "A breast lift on its own will allow women to continue to look and feel as natural as possible. No foreign body is inserted, so the risks of infection, capsular contracture, implant failure/rupture, and the need for additional surgeries to remove and replace the implants are avoided." The ideal candidates for this procedure, she adds, are generally women who are "happy in a bra" that does not have padding and who also desire to achieve the effect of wearing a mildly supportive bra without actually having to wear one.
Ultimately, Dr. Horton explains that there are numerous benefits to receiving a mastopexy with or without breast implants, and choosing which technique is right for a certain individual will depend on her unique goals and aesthetic desires. "After meeting a woman for a breast lift consultation, I give her some homework! In addition to connecting her with former patients she can talk to, I have her find 'Wish Pictures' – or 'Yes' and 'No' photos – that correspond to what she wants or doesn't want for her mastopexy results.
"By seeing my patients' 'Yes' and 'No' pictures, I can best understand the subtleties of what they like and don't like for their own breasts, and I can design their procedure accordingly to achieve these specific results."
About Karen Horton, MD
Dr. Horton is certified by the American Board of Plastic Surgery and a Fellow of both the American College of Surgeons and the Royal College of Physicians and Surgeons of Canada. In addition, she remains an active member of some of the aesthetic field's most prestigious organizations, including the American Society of Plastic Surgeons and the California Society of Plastic Surgeons. At her Bay Area practice, Dr. Horton offers an expansive array of cosmetic and reconstructive procedures for breasts, face, and body, as well as numerous non-surgical treatments for the skin. She is available for interview upon request.
To learn more, visit drkarenhorton.com, plus.google.com/+Drkarenhorton/about, and facebook.com/drkarenhorton.
Contact:
Dr. Karen M. Horton
2100 Webster St.
#506
San Francisco, CA 94115
(415) 923-3067
Rosemont Media
(858) 200-0044
www.rosemontmedia.com