San Francisco Plastic Surgeon Describes a Variety of Liposuction Benefits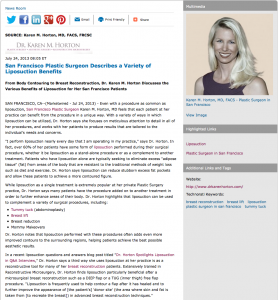 From body contouring to breast reconstruction, Dr. Karen M. Horton discusses the various benefits of liposuction for her San Francisco patients.
San Francisco, CA – Even with a procedure as common as liposuction, San Francisco Plastic Surgeon Karen M. Horton, MD feels that each patient at her practice can benefit from the procedure in a unique way. With a variety of ways in which liposuction can be utilized, Dr. Horton says she focuses on meticulous attention to detail in all of her procedures, and works with her patients to produce results that are tailored to the individual's needs and concerns.
"I perform liposuction nearly every day that I am operating in my practice," says Dr. Horton. In fact, over 60% of her patients have some form of liposuction performed during their surgical procedure, whether it be liposuction as a stand-alone procedure or as a complement to another treatment. Patients who have liposuction alone are typically seeking to eliminate excess "adipose tissue" (fat) from areas of the body that are resistant to the traditional methods of weight loss such as diet and exercise. Dr. Horton says liposuction can reduce stubborn excess fat pockets and allow these patients to achieve a more contoured figure.
While liposuction as a single treatment is extremely popular at her private Plastic Surgery practice, Dr. Horton says many patients have the procedure added on to another treatment in order to further enhance areas of their body. Dr. Horton highlights that liposuction can be used to complement a variety of surgical procedures, including:
Tummy tuck (abdominoplasty)
Breast reduction
Mommy Makeovers
Dr. Horton notes that liposuction performed with these procedures often adds even more improved contours to the surrounding regions, helping patients achieve the best possible aesthetic results.
In a recent liposuction questions and answers blog post titled "Dr. Horton Spotlights Liposuction in Q&A Interview," Dr. Horton says a third way she uses liposuction at her practice is as a reconstructive tool for many of her breast reconstruction patients. Extensively trained in Reconstructive Microsurgery, Dr. Horton finds liposuction particularly beneficial after a microsurgical breast reconstruction such as a DIEP flap or a TUG (inner thigh) free flap procedure. "Liposuction is frequently used to help contour a flap after it has healed and to further improve the appearance of [the patient's] 'donor site' (the area where skin and fat is taken from [to recreate the breast]) in advanced breast reconstruction techniques."
Dr. Horton says breast cancer reconstruction patients can also benefit from "lipofilling" or "free fat grafting", a liposuction technique that harvests excess fat cells from one area of the body and relocates them to another. Dr. Horton commonly uses this technique as a final contouring step after her patients' initial reconstructive procedure. She says fat grafting helps to fill in any areas that need additional contouring after breast reconstruction, such as minor depressions or "hollows" in the region beneath the collarbone and above the breast reconstruction. With lipofilling, Dr. Horton says her breast reconstruction patients can ultimately achieve the benefit of enhanced contouring in the breast area, as well as liposuction of another body area at the same time.
All in all, Dr. Horton says liposuction can be effective in a variety of ways, depending on each patient's needs. Whether patients can benefit from liposuction or an alternative procedure, she says patient education is paramount at her practice. Dr. Horton says using education as a tool to empower patients to make the best possible decisions about their bodies is one of the most important aspects of care.
About Karen M. Horton, MD, FACS
Dr. Karen Horton is a Plastic Surgeon focusing on cosmetic and reconstructive surgery for the face, breasts, and body. After earning her medical degree at the University of Toronto, she completed five years of training in Plastic Surgery, followed by a Fellowship in Reconstructive Microsurgery in San Francisco. Dr. Horton is a Fellow of the Royal College of Physicians and Surgeons of Canada and a member of the American Society of Plastic Surgeons. She was also recently named a Fellow of the American College of Surgeons. Dr. Horton is available for interview upon request.
For more information about Dr. Horton and her San Francisco Plastic Surgery practice, visit drkarenhorton.com, twitter.com/drkarenhorton, or facebook.com/drkarenhorton.