Video: Breast Lifts Up 70% Since 2000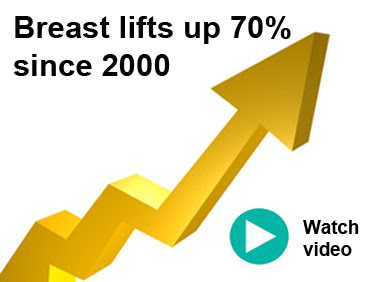 Statistics from the American Society of Plastic Surgeons in 2013 show that breast lift procedures are growing at twice the rate of breast implant surgeries. While breast implants are still the most popular choice among women, breast lifts have grown by 70% since 2000, outpacing breast implants two-to-one.
WHY ARE BREAST LIFTS SO POPULAR?  Here are some of my thoughts about why women seek a mastopexy (breast lift) procedure:
Some women with a satisfactory amount breast volume are specifically looking for the effect of "wearing my bra, without having to wear my bra".

Rejuvenation and lifting the breasts creates a more youthful, athletic and natural appearance without looking "fake" or augmented.
The NATURAL look is in!  Many women are going for the smaller, perkier "Brazilian" look rather than a southern California or Vegas bust-line these days…
"Ptosis", or droop of the nipples, can only be corrected by a breast lift procedure.  If your nipples are well below the fold of the breast (Grade II ptosis) or pointing to the floor (Grade III ptosis), then a mastopexy is designed just for you!
Following pregnancies and breast feeding, a breast lift is often indicated to help correct "deflation" and sagging of the breasts.
After significant weight loss, breast volume is also further depleted, magnifying any preexisting droop.
A breast implant can be placed at the same time as a breast lift (known as a mastopexy-augmentation) if additional volume is desired in addition to lifting of the nipples and reshaping of the breasts.

To learn more about mastopexy and how a breast lift might be right for you, visit the educational breast lift information on our website and view our before-and-after photo gallery of breast lift results!