San Francisco Plastic Surgeon Specializes In Tummy Tuck Treatments For Women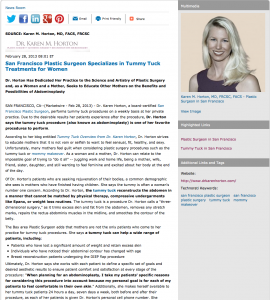 Dr. Horton has dedicated her practice to the science and artistry of plastic surgery and, as a woman and a mother, seeks to educate other mothers on the benefits and possibilities of abdominoplasty.
San Francisco, CA – Dr. Karen Horton, a board-certified San Francisco Plastic Surgeon, performs tummy tuck procedures on a weekly basis at her private practice. Due to the desirable results her patients experience after the procedure, Dr. Horton says the tummy tuck procedure (also known as abdominoplasty) is one of her favorite procedures to perform.
According to her blog entitled Tummy Tuck Overview from Dr. Karen Horton, Dr. Horton strives to educate mothers that it is not vain or selfish to want to feel sensual, fit, healthy, and sexy. Unfortunately, many mothers feel guilt when considering plastic surgery procedures such as the tummy tuck or mommy makeover. As a woman and a mother, Dr. Horton can relate to the impossible goal of trying to "do it all" – juggling work and home life, being a mother, wife, friend, sister, daughter, and still wanting to feel feminine and excited about her body at the end of the day.
Of Dr. Horton's patients who are seeking rejuvenation of their bodies, a common demographic she sees is mothers who have finished having children. She says the tummy is often a woman's number one concern. According to Dr. Horton, the tummy tuck reconstructs the abdomen in a manner that cannot be matched by physical therapy, compressive undergarments like Spanx, or weight loss routines. The tummy tuck is a procedure Dr. Horton calls a "three-dimensional surgery," as it trims excess skin and fat from the abdomen, removes any stretch marks, repairs the rectus abdominis muscles in the midline, and smooths the contour of the belly.
The Bay area Plastic Surgeon adds that mothers are not the only patients who come to her practice for tummy tuck procedures. She says a tummy tuck can help a wide range of patients, including:
Patients who have lost a significant amount of weight and retain excess skin
Individuals who have noticed their abdominal contour has changed with age
Breast reconstruction patients undergoing the DIEP flap procedure
Ultimately, Dr. Horton says she works with each patient to define a specific set of goals and desired aesthetic results to ensure patient comfort and satisfaction at every stage of the procedure: "When planning for an abdominoplasty, I take my patients' specific reasons for considering this procedure into account because my personal goal is for each of my patients to feel comfortable in their own skin." Additionally, she makes herself available to her tummy tuck patients 24 hours a day, 7 days a week, both before and after their procedure, as each of her patients is given Dr. Horton's personal cell phone number. She continues to follow up with her San Francisco Plastic Surgery patients yearly after surgery so she can evaluate their long-term outcomes and any changes to ensure her patients continue looking good and feeling good.
About Karen M. Horton, MD, FACS
Dr. Karen Horton is a graduate of the University of Toronto and completed her Fellowship in Reconstructive Microsurgery in San Francisco. She is a board-certified Plastic Surgeon and specializes in cosmetic and reconstructive surgery for women. She is available for interview upon request.