Dr. Karen Horton Shares Knowledge with The Luxury Spot
Dr. Karen Horton is dedicated to helping patients improve their quality of life, and one way she achieves that goal is by continuously educating the public on cosmetic and reconstructive surgery.
Plastic surgery can be a big decision and educated patients are more empowered to make the best possible choices. Having a greater understanding of your treatment plan can help ensure you get the results you desire.
The Luxury Spot, a New York based style, travel and fashion website, recently reached out to Dr. Horton for her take on calf implants, a cosmetic procedure that is currently trending among men and women seeking more shapely or athletic looking legs.
Dr. Horton on Calf Implants
Dr. Horton explains that calf implants are not a one-size-fits-all solution, but are actually highly customizable for a reason, "The calf space is usually quite small and the skin needs to be closed over the implant without tension." So, depending on the natural size of the patient's calf area and the patient's desired results, calf implants range in size and can be custom ordered.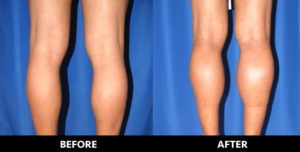 Dr. Horton goes on to explain that the anatomy of the calf area is "not very forgiving of swelling and is not easily stretched" so patients interested in calf implant surgery should do thorough research to find an experienced Plastic Surgeon.
The Luxury Spot also asked about price, which is a common question for prospective plastic surgery patients. While Dr. Horton's practice specializes in a variety of reconstructive and cosmetic surgeries, she notes that colleagues charge between $4,500 and $12,000 for calf implant surgery.
Contact Dr. Horton for Plastic Surgery in San Francisco
Dr. Horton is a highly experienced and internationally Board Certified Plastic Surgeon with a warm and welcoming private practice in the Pacific Heights district of the San Francisco Bay Area.
Contact us if you have any questions about cosmetic or reconstructive surgery for men or women.