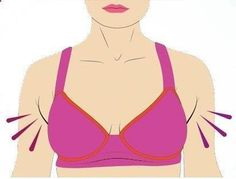 In all types of Plastic Surgery, the entire "aesthetic unit" of that region of the body should be addressed. If there is additional contouring of excess UNWANTED fat needed to enhance the cosmetic results of surgery, it should be sucked out with liposuction!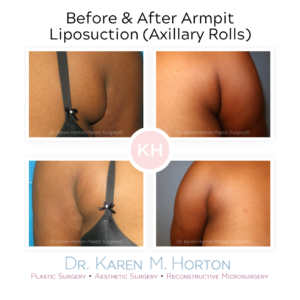 For abdominoplasty (tummy tuck) surgery, this includes the upper and lower abdomen, flanks and pubic region. For the face and neck, includes the submental region (under the chin). And for cosmetic and reconstructive procedures of the breast, this includes the axillary rolls (armpit fat).
A breast reduction or lift really isn't complete until the bra roll is reduced using liposuction! Adding suction lipectomy also allows the scar under the breast to be shorter, gets rid of the "bra bulge" and gives better definition to the the sides of the breasts.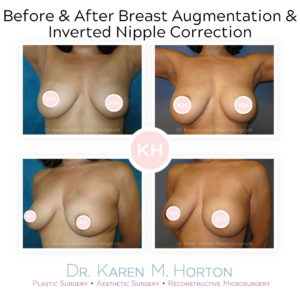 Even for straightforward breast augmentation procedures in slender women, a little lipo goes a long way! For breast augmentations, I don't charge extra for this. It's a bonus for my lovely patients and gives them results that I AM happy with! (and I'm a hard to please perfectionist).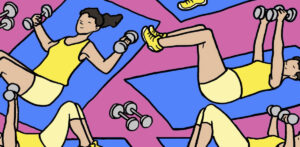 Can this armpit fat be exercised away? Unfortunately, no. Countless exercise programs claim to help you "tone" this area, but in all honesty, that excess fat really just needs suctioning out so it's gone forever (once the fat cells are removed, they can no longer regenerate). You can't tone away the axillary roll.
Fat is removed by 1-2 tiny incisions (2-3 millimeters) hidden in each armpit crease or near the fold under the breasts. Liposuction removal looks brutal and rough but the force required is actually the same you'd use to push a vacuum cleaner across your floor. This video was taken for the very first American Society of Plastic Surgeons (ASPS) Instagram takeover I was honored to be asked to host in 2015:
I have added liposuction of the axillary rolls to breast augmentations, breast reductions, lifts (mastopexy) and all types of breast reconstruction for at least 15 years now. I do liposuction of the armpits as part of the overall procedure, not as an upselling tactic or cosmetic add-on. It only takes 10-15 minutes (our patient is asleep anyway), it's quick and easy to perform, and other than temporary swelling, bruising and minor discomfort in this area, there is essentially no downside. Axillary roll liposuction enhances the results in a subtle but significant way that gives my patients the very best aesthetic results.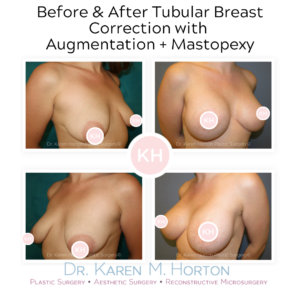 Even in breast cancer reconstructions, the axillary roll and bra roll should be addressed. Liposuction is added to the secondary stage surgery at the same time as nipple and areola reconstruction, fat grafting and other revision details such as implant exchange or scar revisions.
When I see before and after photos where liposuction WASN'T added, ALL I NOTICE is that obvious annoying fat that protrudes out of tank tops and draws attention away from the surgical results. I don't understand why every Plastic Surgeon doesn't perform fat removal of the armpits at the time of breast surgery. I believe it provides women with the nicest, most beautiful breasts – which every woman deserves!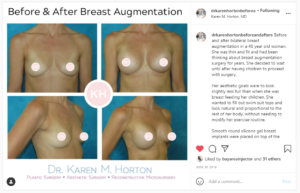 Even in my own breast augmentation, a little bit of liposuction enhanced by results – examine MY before and after and notice the small accumulation of axillary roll fat before surgery, and how it is gone afterwards!
To learn more about adding liposuction of the armpits in aesthetic or reconstructive breast surgery, contact our office and/or send us confidential photos through our website here.