Is Labiaplasty Painful?
Our first two blog posts in this series, "Is Labiaplasty for Me?" and "What Are the Costs and Benefits of Labiaplasty?" explained who could benefit from this procedure, what fees you might pay, and the results many patients can expect from labiaplasty treatment. In our final installment of this series, we want to address one of the primary concerns of most people researching labiaplasty: Is it painful?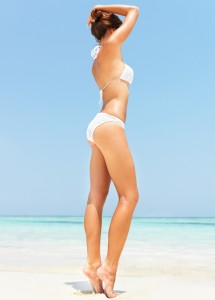 Labiaplasty is performed as an outpatient procedure that can typically take up to two hours, and most patients can return home within a couple of hours following the procedure. Our internationally board-certified San Francisco plastic and cosmetic surgeon, Dr. Karen Horton, believes total relaxation under general anesthesia helps to decrease the heart rate and blood pressure to a non-stress level, therefore decreasing the risk of excess bleeding. A local anesthetic is also used as a numbing agent for the postoperative recovery period and to additionally prevent bleeding and bruising. Dr. Horton utilizes microsurgical techniques and magnification to facilitate a meticulous procedure, ensuring the highest level of patient safety, comfort, and control during treatment.
While minimal bruising, swelling, itching or discomfort can be normal in the first few days after surgery, many of these effects should begin to subside after the first week following treatment. Most of our patients describe a few days to about a week of discomfort, which can usually be alleviated with over-the-counter pain medication like Tylenol. Many women are surprised that they feel very little pain, and our patients tell us that they typically only experience mild and manageable discomfort for one week, feeling almost completely recovered within a few weeks after the procedure.
Women universally are satisfied with their results and express having increased confidence with the appearance of this area of their bodies after surgery. Having a labiaplasty can result in improved ability to perform physical activities, such as running, bike riding, and yoga, as well as having greater confidence while wearing a bathing suit or becoming intimate with a partner.
Conclusion
Labiaplasty can bring very satisfying results for many different types of women. If you are feeling self-conscious or experiencing discomfort due to excess labial tissue, Dr. Horton can help. Many of our patients are very pleased with the results from their labiaplasty, including a recent patient, who says:
"I am 30-years-old and had thought about having this procedure for about five years before finally deciding to go ahead with it. My labia were very uncomfortable, and beyond the physical discomfort I was experiencing, I was extremely self conscious about how I looked. After meeting with Dr. Horton, I immediately knew that I wanted to have the labiaplasty procedure done.
I had the surgery two weeks later and really only felt any bad pain that very first night. I rested in bed for two days just to make sure I did not push myself, but after having had the surgery on a Friday afternoon, I was back at work on Monday and felt fine.
After researching all the good and the bad about the surgery, I was really surprised that I did not have very much swelling and had absolutely no bruising. I felt general discomfort for about two to three weeks but did not have any actual pain, and the discomfort seemed mainly to be because of the stitching that was dissolving. The first few days I did have to take the Ativan and Vicodin I was prescribed; however, I was able to taper off of the pain medication throughout the following week.
It is about two and a half months since surgery, and I feel absolutely amazing. Dr. Horton and her team were wonderful throughout the entire process. They took the time to thoroughly educate me, get to know me, and made sure I was doing this for the right reasons. I was given excellent, genuine care from the very start.
For anyone seriously considering this procedure, I highly recommend it – I finally feel comfortable, confident, and am so thankful for the wonderful care that I received from my doctor and her staff.
Thank you, Dr. Horton, for being a wonderful doctor."
Contact Us
We hope our three-part series on labiaplasty was beneficial and informative. If you have any other questions, or if you are interested in meeting with Dr. Karen Horton for a private consultation, please contact us.