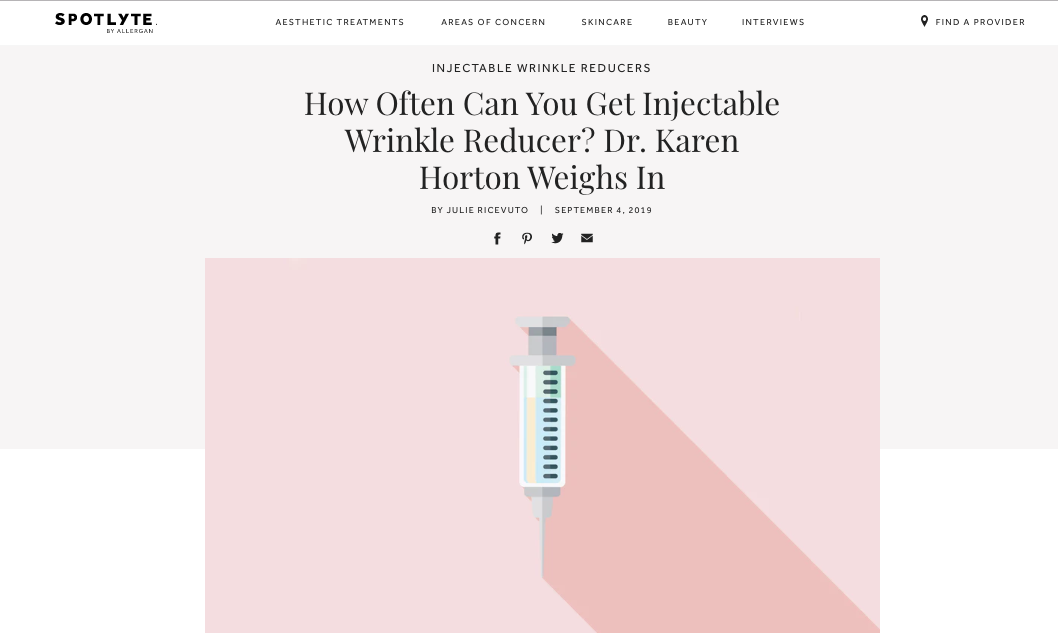 Spotlyte, a source for up-to-date content about beauty and medical aesthetic treatments, reached out to San Francisco Plastic Surgeon Dr. Karen Horton for her expert opinion on injectable wrinkle reducers.
What Are Injectable Wrinkle Reducers?
Everyone is unique, but most of us have a lot in common when it comes to aging. Injectable wrinkle reducers are designed to treat the visible signs of aging that many of us would like to change – frown lines between the brows, horizontal forehead wrinkles, and crow's feet around the eyes. Dr. Horton explains that injectables, such as BOTOX, can soften the pull of underlying muscles to make skin look smoother.
How Often Can You Get Injectable Wrinkle Reducers?
The main question that Spotlyte had for Dr. Horton was about the recommended frequency for injectable wrinkle reducers. Patients who see great results can be eager for their next appointment, but fans of this quick, non-surgical solution are advised to space out their appointments at least 3 months apart. Dr. Horton explains, "we tell people to think of it as a quarterly treatment."
Read the full article to learn more about Dr. Horton's thoughts on injectable wrinkle reducers.
Contact Dr. Karen Horton & Emily Sespaniak, MSN, NP-C
Dr. Karen Horton is a Board-Certified Plastic Surgeon with a well-established practice in the Pacific Heights district of the San Francisco Bay Area. Dr. Horton and Board-Certified Nurse Practitioner Emily Sespaniak specialize in helping women look and feel their best. Emily is highly skilled in administering cosmetic injectables and experienced in delivering natural-looking results. Contact us with any questions or to schedule a consultation appointment with Dr. Horton or Emily.