San Francisco Plastic Surgeon Discusses The Benefits Of Different Liposuction Techniques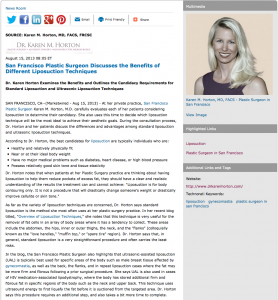 Dr. Karen Horton examines the benefits and outlines the candidacy requirements for standard liposuction and ultrasonic liposuction techniques.
San Francisco, CA – At her private practice, San Francisco Plastic Surgeon Karen M. Horton, M.D. carefully evaluates each of her patients considering liposuction to determine their candidacy. She also uses this time to decide which liposuction technique will be the most ideal to achieve their aesthetic goals. During the consultation process, Dr. Horton and her patients discuss the differences and advantages among standard liposuction and ultrasonic liposuction techniques.
According to Dr. Horton, the best candidates for liposuction are typically individuals who are:
Healthy and relatively physically fit
Near or at their ideal body weight
Have no major medical problems such as diabetes, heart disease, or high blood pressure
Possess relatively good skin tone and tissue elasticity
Dr. Horton notes that when patients at her Plastic Surgery practice are thinking about having liposuction to help them reduce pockets of excess fat, they should have a clear and realistic understanding of the results the treatment can and cannot achieve: "Liposuction is for body contouring only. It is not a procedure that will drastically change someone's weight or drastically improve cellulite or skin tone."
As far as the variety of liposuction techniques are concerned, Dr. Horton says standard liposuction is the method she most often uses at her plastic surgery practice. In her recent blog titled, "Overview of Liposuction Techniques," she notes that this technique is very useful for the removal of fat cells in an array of body areas where it has a tendency to collect. These areas include the abdomen, the hips, inner or outer thighs, the neck, and the "flanks" (colloquially known as the "love handles," "muffin top," or "spare tire" region). Dr. Horton says that, in general, standard liposuction is a very straightforward procedure and often carries the least risks.
In the blog, the San Francisco Plastic Surgeon also highlights that ultrasonic-assisted liposuction (UAL) is typically best used for specific areas of the body such as male breast tissue affected by gynecomastia, as well as the back, the flanks, and in repeat liposuction cases where the fat may be more firm and fibrous following a prior surgical procedure. She says UAL is also used in cases of HIV medication-associated lipodystrophy, where the body has stored additional firm and fibrous fat in specific regions of the body such as the neck and upper back. This technique uses ultrasound energy to first liquefy the fat before it is suctioned from the targeted area. Dr. Horton says this procedure requires an additional step, and also takes a bit more time to complete.
When choosing a technique, Dr. Horton says she carefully screens her patients to determine if they are candidates for liposuction first, and then decides which technique is most appropriate for their unique circumstances. "Education is paramount," says Dr. Horton, "and in my practice, my goal is to empower patients so that they can make the most informed decisions about their bodies."
Dr. Horton recommends the continuation of a healthy lifestyle after any liposuction procedure to maintain the best results.
About Karen M. Horton, MD, FACS
Dr. Horton is a member of the American Society of Plastic Surgeons, the Canadian Society of Plastic Surgeons, the American Medical Association, and many other national and international organizations. She earned her medical degree at the University of Toronto, and continued her education with a fellowship in Reconstructive Microsurgery in San Francisco. A Fellow of the Royal College of Physicians and Surgeons of Canada, Dr. Horton offers a full range of cosmetic and plastic surgery procedures, including liposuction, breast enhancement, body contouring, and non-surgical options. She is available for interview upon request.
For more information about Dr. Horton and her San Francisco Plastic Surgery practice, visit drkarenhorton.com, twitter.com/drkarenhorton, or facebook.com/drkarenhorton.
Contact:
Dr. Karen Horton
2100 Webster Street
Suite 506
San Francisco, CA 94115
415-923-3067
Rosemont Media
tom@rosemontmedia.com
(858) 200-0044
www.rosemontmedia.com